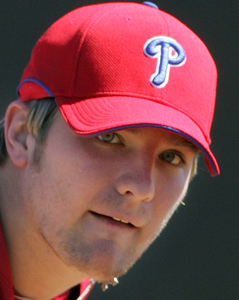 Good morning/afternoon from Fort Myers, Fla.
It's a pretty perfect day out, not too hot, not too cold, not too windy, not too still. Good day for baseball. The Phillies haven't exactly brough the dream team with them, but today isn't really about the position players. It's about Adam Eaton - specifically, the 75 pitches he''ll likely be throwing against the Minnesota Twins. From my vantage point, this is an important day for the righty. Pitch well, show no signs of back problems, and you have to figure he is pretty close to being pencilled in as the No. 5 starter when the season begins. Eaton was originally scheduled to pitch yesterday, but some morning rain brought about some juggling of appearances. Kyle Kendrick went from pitching in a minor league game in Tampa to starting yesterday's 3-0 win over the Pirates. Eaton, meanwhile, was pushed back to today.
Last time out, Eaton pitched three scoreless innings, allowing five hits and looking the best he has all spring.
What else is pecolating?
Here's the run-down:
1) Kyle Drabek: I've spent the past few days monitoring the situation of 2006 first-round pick Kyle Drabek. We hadn't heard much about him since he underwent Tommy John surgery last July 25 (coincidentally, the birthday of his father, former Cy Young winner Doug Drabek). At the moment, Kyle is scheduled to see his first work off the mound next month. Currently, he's throwing long toss at around 65 feet. The Phillies seem happy with his progression. Tommy John surgery is by no means a career ender, particularly when it happens with a kid this young. As evidence, witness the Yankees' decision to draft N.C. State righty Andrew Brackman with their first over all pick and hand him a $3.5 million bonus, despite knowing that he was getting ready to undergo Tommy John surgery. Read all about it today in the Daily News. Or just click here (though we'd appreciate if you donated your 0.75 to the worthy sports writer of your choice).
2) Pat Burrell: He was scratched from the line-up yesterday. The Phils shrugged it off and said it was because the left-fielder would be travelling to Fort Myers today. I didn't see him out on the field during batting practice, but he's listed on the line-up card, so for the moment, I'm operating under the assumption that he is one of the few regulars who made the trip.
3) Line-up: Speaking of the scorecard, here's the line-up for today's game -- 1) Shane Victorino, CF; 2) Eric Bruntlett, 2B, 3) Greg Dobbs, 1B; 4) Pat Burrell, LF; 5) Chris Snelling, DH; 6) Wes Helms, 3B; 7) So Taguchi, RF; 8) Carlos Ruiz, C; 9) Ray Olmedo, SS.
4) Livan Hernandez is starting the game for the Twins.
5) Who's hot: Geoff Jenkins and Jayson Werth have both played well lately, particularly yesterday. Jenkins, whose USC Trojans suffered a disappointing loss last night and screwed my bracket, went 3-for-3 with a solo home run yesterday. Werth hit a single in the Grapefruit League game and a home run in an appearance in a minor league game earlier in the day.