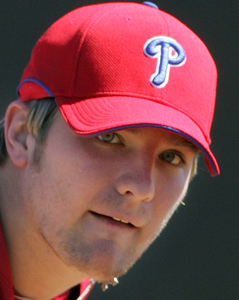 Good morning/afternoon from Fort Myers, Fla.
It's a pretty perfect day out, not too hot, not too cold, not too windy, not too still. Good day for baseball. The Phillies haven't exactly brough the dream team with them, but today isn't really about the position players. It's about Adam Eaton - specifically, the 75 pitches he''ll likely be throwing against the Minnesota Twins. From my vantage point, this is an important day for the righty. Pitch well, show no signs of back problems, and you have to figure he is pretty close to being pencilled in as the No. 5 starter when the season begins. Eaton was originally scheduled to pitch yesterday, but some morning rain brought about some juggling of appearances. Kyle Kendrick went from pitching in a minor league game in Tampa to starting yesterday's 3-0 win over the Pirates. Eaton, meanwhile, was pushed back to today.
Last time out, Eaton pitched three scoreless innings, allowing five hits and looking the best he has all spring.
What else is pecolating?