Success at hitting requires the mastery of two opponents. The first opponent, the pitcher, is ever-changing. It is a variable that presents one of the most severe limitations of the evaluative abilities of even the most advanced statistics. A home run off of Chris Volstad counts the same as a home run off of Tim Lincecum. There are some ways to measure performance against pitchers of varying strength, which we will look at in a future blog post. For the most part, though, any of the standard measures we use to quantify overall success fail to accurately reflect how a batter might perform in a specific situation against a specific pitcher. This holds true for all statistics, from basic unit tabulations like home runs to ratios like on base percentage to complex approximations like WAR. For instance, all of those numbers say that Ryan Howard should be at a heavy disadvantage against a left-handed starter like Johan Santana, yet Howard is 8-for-25 with four home runs, two walks and five strikeouts against the former Cy Young winner. Those same numbers suggest Howard should hold a heavy advantage against a righthander like Tim Redding, yet Redding has held the first base man to three hits and three walks with 11 strikeouts in 28 career at-bats. From a statistical perspective, these sample sizes are too small to hold much of a predictive value. But Major League Baseball does not take sample size into consideration when it doles out championship rings. Four plate appearances against Chris Carpenter is a small sample size. Seven innings against Edwin Jackson is a small sample size. A Best-of-Five series is a small sample size. In the end, the only thing that matters is the result.
We have issued the disclaimer approximately 948 times, but we will issue it again: you can't make definitive personnel judgments based on a five-game postseason series. At the same time, the Phillies have reached a point where their fans are no longer satisfied with the results yielded by a 162-game sample. Losing three straight years to the eventual world champions, which they are three Cardinals wins away from accomplishing, reveals just how close this organization is -- or was -- to matching the accomplishments of some of the greatest dynasties in the history of the National League. It also reveals just how thin of a membrane separates success from disappointment.
Which brings us to the second opponent a hitter much master to accomplish his goal. It is an opponent that is far more constant than the pitcher who happens to be standing on the mound. In fact, it is the most constant opponent in the universe. Because it is the universe. Or, at least, it is the set of physical laws that govern the universe. Much has been made of the Phillies' age this offseason. Over the past week, many respected baseball minds have chimed in with the observation that the Phillies "need to get younger." But a few minutes of rational thought reveals the sheer illogic of this statement. If the inconsistency that plagued the Phillies' line-up could be rectified through youth, Ruben Amaro Jr. would be on the phone today swinging deals for Miley Cyrus and Taylor Swift and that guy who every day plays catch with his dead brother.
Saying that the Phillies need to get younger is like saying Congress needs to get busier. The House is not going to start churning out bi-partisan legislation simply because we replace John Boehner with Gunnery Sergeant Hartman and Nancy Pelosi with the pill-popping mother from Requiem for a Dream. All we would get is a narcisistic man yelling at the top of his lungs and a hopped up woman living in a paranoid dream world. In other words, we would get cable news.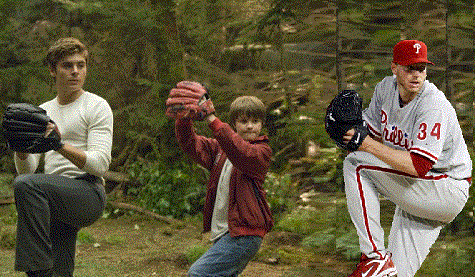 Replacing the old with the young to perform a certain task only makes sense if the young can perform the task better than the old. The Phillies are not trying to lower the premium on their life insurance bill. They are trying to reach the World Series, and one of the ways they can improve their odds is by fielding a lineup that can use a cylindrical wooden object to make productive contact with a fast-moving sphere on any given night in any given situation against any given pitcher. We're talking physics. One of the biggest reasons the Cardinals were able to qualify for the playoffs was their offseason decision to fill an outfield vacancy with a 35-year-old veteran who had not played the position since 2007 and was coming off the worst offensive season of his career.
The point isn't that St. Louis out-smarted the Phillies. The point is that the Phillies should not and, given their track record, probably will not allow age to be the deciding factor in any of their offseason decisions. Their problem was not that the line-up had too many older players. The problem was that the line-up had too many older players with similar skill sets.
Four of the first five hitters in the order are extreme pull hitters from the left side of the plate. Jimmy Rollins, Shane Victorino, Ryan Howard, Chase Utley - all pull hitters. As Raul Ibanez has aged, he has progressively increased his pull tendency. I constructed a spread sheet based on data from Baseball-Reference.com, and the results jibe with everything you saw on the field. No team in the National League pulled the ball to the right side more than the Phillies did this season. More than a third of the balls that their left-handed hitters put into play went to the right third of the field. The league average was 29 percent. The Phillies checked in at 33.7 percent. The four teams that came closest to them were the Cubs, Braves, Nationals and Pirates.
Ryan Howard pulled the ball 42.8 percent of the time. Jimmy Rollins did it 40.5 percent of the time when batting left-handed. Chase Utley did it 33.9 percent of the time. Shane Victorino did it 32.6 percent of the time as a lefty. Throw Raul Ibanez into the mix: he pulled the ball 33.4 percent of the time. Any time one of those hitters stepped to the plate, an opposing defense could figure that there was at least a 1-in-3 chance that the ball was going to the right side of the field. Not only that, they could figure that odds were better than even that the ball would be in the air. For every ground ball the Phillies hit, they hit 1.4 fly balls. Their .82 groundball-to-flyball ratio ranked 12th in the league. The Cardinals, who scored the most runs in the NL, ranked first with .96 ratio.
We are not suggesting that the higher a teams groundball ratio, the more runs they will score. Same goes for pull rate. In 2007, when they posted their highest single-season run total since before integration, the Phillies ranked 14th in the NL with a .71 groundball rate and pulled the ball to right field more frequently than all but two teams. The Phillies have been a flyball hitting team since the emergence of this current crop of hitters. They had the lowest GB ratio in Larry Bowa's last season as manager and they had the lowest GB ratio in Charlie Manuel's first season as manager. They have finished in the bottom half of the NL in each of the last eight seasons.
That is the way this line-up has always been built, and for a long time it worked. They are heavy on left-handed hitters who drive fly balls to right field.
Those who have watched this offense closely over the last five years know that it has always been plagued by maddening droughts. Why have they always been feast-or-famine? Why do they all seem to struggle against the same type of pitcher? Well, because they are all the same type of hitter (to varying degrees, of course).
The problem is that while the Phillies are hitting fly balls to right field at their usual rate, those fly balls are not traveling as far as they once did. From 2006-09, the Phillies finished in the top three in the NL in home run/flyball ratio. In 2009, 9.7 percent of their fly balls left the ballpark, the best mark in the league. But in 2010, they slipped to eighth with a rate of 7.5 percent. This year, they finished 10th at 7.1 percent. It doesn't take a beautiful mind to figure it out: if the number of fly balls remains constant, and the number of flyballs leaving the park drops, then chances are the team is making more outs. Over the last two years, that's exactly what has happened.
In 2007, their lefties hit .438 with an .818 slugging percentage to the pull side, which ranked first and second in the NL. In 2011, they hit .335 with with a .611 slugging percentage to the pull side. The NL ranks? 15th and 12th.
Either the Phillies do not have the capability to play as they once did, or they are not playing up to their capabilities. Either way, they have seen their on base percentage and slugging percentage drop, which means they are making more outs (reaching base less often means making outs more often) while accumulating fewer bases when they don't make outs.
You can argue that a lot of this has to do with personnel changes. They became more left-handed when they replaced Pat Burrell with Raul Ibanez, who hit for power this season but not much else during the final year of his three-year deal. Jayson Werth was a player who posted high on base and slugging percentages during his time with the Phillies. He was essentially replaced by four months of Ben Francisco and Domonic Brown and two months of Hunter Pence. Chase Utley was replaced for two months by Michael Martinez, Wilson Valdez and Pete Orr. Placido Polanco battled injuries and was replaced by those same players.
In 2008, Burrell and Werth provided two different skill sets for opposing managers and pitchers to deal with. In the 2008 and 2009 postseasons, the Phillies were aided greatly by the production they got out of Carlos Ruiz's deft bat-handling ability.
This year, Ruiz struggled in the postseason, as did Polanco. Along with Pence, those three players represented the diversity in the lineup. The Phillies lost.
Still, Ruben Amaro Jr. said he thinks the Phillies can re-invent themselves. He downplayed the notion that the team was hurt by a lack of offensive depth. He said this is still a championship-caliber line-up if it plays the right way.
His private opinion is probably a bit different, but putting the onus on the players who are already earning big money from the club makes a lot of sense.
How might they respond? Victorino has steadily improved over the last three seasons. His left-handed stroke carried them for a good chunk of the regular season. But to break into the realm of elite hitters, he must improve his consistency against righthanders. Despite his impressive power numbers from the left side this season, the Phillies still envision him as a guy whose best production will come if he focuses on the whole field and hitting to reach base instead of driving the ball to the right third.
For Rollins to improve, he will have to swing as he rarely has. His on base percentage and batting average were both right around his career averages, so he was not responsible for the drop off. But if he focuses more on hitting to reach base instead of hitting for extra bases, maybe he can bolster both of those numbers.
Still, the Phillies can live with their current levels of production out of two premium defensive positions. What they can't live with -- at least not without a healthy influx of new talent -- is the levels of production they received from their two highest-paid hitters this season. Those hitters, Chase Utley and Ryan Howard, also happen to be the players who Charlie Manuel has always seemed to regard with a What You See is What You Get attitude. Utley hits three. Howard hits fourth. Utley gets on base. Howard drives in runs and hits home runs.
Maybe Manuel can work with Howard and get the big guy to improve his plate discipline, to settle for a pitch he can serve into left-center instead of a pitch he can drive to right. But Utley already has the mindset of reaching base at any cost. And it isn't a stretch to think that he can turn himself from a player who looks to either walk or drive a ball to a player who looks at a hit as a way to reach base.
Compare Utley's spray chart to the one produced by Andre Ethier, another sweet-swinging left-handed hitter whose power dropped this season.
While most of Ethier's power still went to his pull side, note the number of hits that dropped into left field and center field as well as right. Also, note the disparity between fly ball outs to deep right field. According to these charts, which were produced by TexasLeaguers.com using MLB's PITCHf/x hit location data, Utley had a lot more deep outs to his pull side than Ethier. Although Ethier finished with a career-low 11 home runs and .421 slugging percentage, he still matched his career numbers with a .292 batting average and .368 on base percentage.
Of course, if it was that easy, the Phillies already would have transformed their lineup. Amaro's past actions suggest he will look for new personnel who fit the mold he is looking for. He started by signing Polanco and continued by trading for Pence. Both are guys who hit for average and use the entire field. While the Phillies say they are going to give the right-handed pull-hitting John Mayberry Jr. every opportunity to earn a regular job, you can bet they will be scouring the left field market for a professional hitter. They could also look to upgrade at third base, where Aramis Ramirez fits the mold they are looking for. It would also help to convince veteran utility men like Jamey Carroll and Jerry Hairston Jr. to sign on as a part-time player. It could be difficult to guarantee the requisite number of at-bats, but the Phillies clearly could have used an infielder with a better offensive repetoire than either Wilson Valdez or Michael Martinez offered.
Ramirez is entering his mid-30's. Carroll and Hairston are both in their late 30's. Maybe the Phillies think a guy like Wilson Betemit's hitting capabilities outweight his subpar defense. But one thing is clear: production is production at any age. The Phillies definitely need more young talent for the long run. But they are being judged by their fans on the here and now.
---