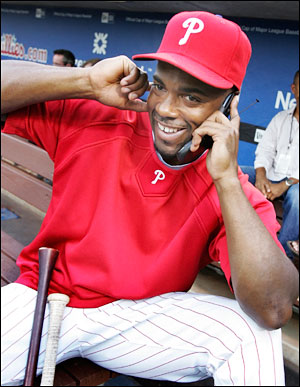 I'm probably in the minority, but I'm not a huge fan of stuff like this Jimmy Rollins issue, where the reaction to the story ends up becoming a bigger deal than what was actually said in the first place. In the clubhouse at Petco Park the other day a cameraman walked around asking every Phillies player he could find what he thought the reaction to Rollins would be at Citizens Bank Park today. I know Cole Hamels had a lot of things on his mind, but I can guarantee you Rollins' impending homecoming was not one of them.
That said:
The Rollins Issue -- I will henceforth refer to it as "TRI" -- is unavoidable. Like it or not, the fans and the media decide what is and what isn't a big deal, and the overwhelming response has held TRI to be right up there with the Georgian-Russian Conflict.
A couple of guys over at a blog called "We Should Be GMs" have decided the best way to handle TRI is a little bit of reverse psychology. They've started a little endeavor called The Campaign Cheer. Essentially, they want everyone out there to cheer every single thing that happens today in the Phillies' series-opener against the Nationals. I think this might be a little tongue in cheek, but here's the link.
To be honest, I'm interested to see how the crowd receives Rollins. If he is booed, his overriding point will ultimately be proven. Last year, he was a hero in this town. I'll say this though: if people do boo him when he is introduced, then they should also boo him when he hits a home run, or steals a base, or scores a run. Otherwise, you'll be exhibiting the exact "frontrunning" that Rollins was railing against.