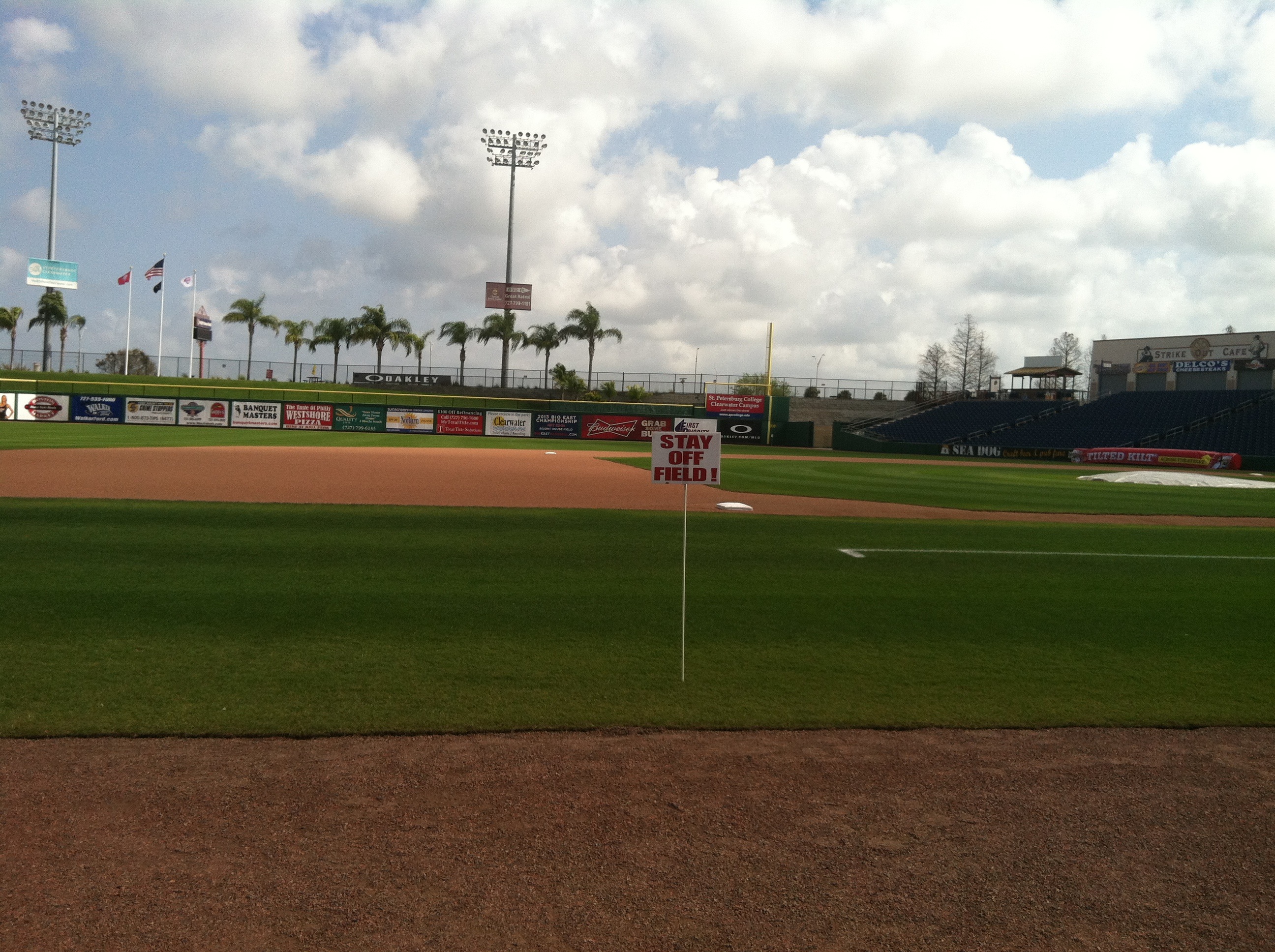 The first rule of Clearwater is you do not talk about Clearwater. Actually, that's not true. In fact, it doesn't make sense. Because I'm about to talk about Clearwater to you. Every year around this time I get a slew of emails asking for some recon on the spring training home of your Fightin' Phils. So, I figure, why not write up a little cheat sheet and post it here on the Internet for everybody to access. This cheat sheet will be tailored to those who usually drink a beer or two when engaging in any sort of vacation activity. To the teetotalers, I apologize. Write what you know, they tell us.
SECTION 1: BRIGHT HOUSE FIELD
Bright House Field is the best spring training stadium in Florida, mostly because it is not built out of splintered two-by-fours and it is located in a metropolitan area that you have heard of. I would not recommend venturing too far out of the Tampa Bay area, lest you run into the Florida that the tourism board would rather you not see, the Florida that you hear about on the Daily Show, the Florida that makes the rest of the country feel better about itself.
The coolest feature at Bright House Field is the Tiki Bar in left field. It is just above the Phillies bullpen, which is adjacent to the grass berm that occupies most of the outfield. Berm seats seem like the best option to me because they are the closest to the bar, but the seats are your best bet if you want an up close look at the action.
SECTION 2: THE ACTION
Gates open around 10:30 a.m. When they open, a recording of Harry Kalas' voice set against the theme from The Natural welcomes you to Bright House Field. It's pretty cool for the first two or 10 times that you hear it, but toward the end of March it begins to occupy important parts of your brain. But you onlly have to worry about that if you are planning on staying for all of spring training. And I would not recommend that.
The best place to get autogrpahs seems to be the fence that separates the players parking lot from the real world. Thing is, the players usually arrive before 8 a.m. Some of them arrive well before. And most of the stars end up parking their cars closer to the stadium, beyond the gauntlet of autograph seekers. So the second-best place to get autographs is along the foul line after batting practice. Unless you are trying to get Ryan Lawrence's autograph. He only signs on Thursdays.
SECTION 3: BREAKFAST
Down the street from the stadium, next to the Hampton Inn, there is a diner called Lenny's that is something of a landmark spot. The food is decent by Florida standards. Personally I think their lunch is better than their breakfast, but that's just me. While you wait for your breakfast they bring your table a bowl of danishes, so that is kind of cool. Head down Gulf-to-Bay a little further and there is a Village Inn, which is a chain of Perkins-type restaurants with food that is better than Perkins. Aside from that, you have all of the chain restaurants you can imagine within a five minute drive. Because, after all, this is Florida.
SECTION 4: DINNER
The best restaurant in Clearwater is called the Island Way Grill, which is on the right after you go over the bridge to the beach, just before the traffic circle. At one point Mike Alstott had a role in owning it. I'm not sure if he still does. They have lots of fish and a full sushi bar.
There is a place called Los Mariachis that serves Mexican food that is supposedly pretty good.
The Tampa Bay area is not a great place for foodies, but there are some decent places. You'll have to leave Clearwater, though. Bern's is a steakhouse that is a Tampa landmark. Inquirer Eagles writer Zach Berman's favorite restaurant on Planet Earth is in Ybor City, Tampa. It's called the Columbia, and it really is an excellent place for Cuban-inspired cuisine. There is a place called Daily Eats on Howard Ave. in Hyde Park, Tampa that is good, especially for lunch. Good sandwiches and "shredder bowls."
My favorite Tampa-area chain is called Lee Roy Selmon's. Awesome southern cuisine. Great burgers and meatloaf. Make sure you get the Fried Green Tomatoes. And they have one of the Top 5 Blood Marys I've ever had.
SECTION 5: BARS
If Clearwater Beach feels too much like spring break, I'd recommend heading south to Treasure Island and a cool beach bar called Caddy's. The sports writers like to hang out at a place called Frenchy's Cafe that is across the street from the Palm Pavilion. Tampa has a much better scene than Clearwater. The two main neighborhoods are Hyde Park and Ybor City. Nothing great, but several places within walking distance.
---