EDIT, 5:39 P.M. -- I mistakenly used Victorino's spray chart for Rollins. The correct one is now below.
***The charts below were compiled thanks to the fine folks over at TexasLeaguers.com. Their PitchF/X database is among the best.***
Earlier, we looked at each of the Phillies regulars and examined how they might change their approaches to achieve the improvement that Ruben Amaro Jr. envisions from his existing players. This followed an overview of the Phillies philosophy moving forward, one that needs to combine a change in approach and a change in personnel.
Again, we'll delve into each of the aforementioned players and situations in greater detail in subsequent blog posts. For now, though, this is the overview of the "new" Phillies approach:
-Turn Utley's emphasis from driving the ball to right-center to spraying the ball to all fields.
-Get Rollins to think groundball/line drive instead of line drive/flyball
-Don't let Victorino get to a point where he views himself as a power hitter. Try to train his focus on line drives and groundballs.
-Tell Ruiz to keep doing what he has been doing
-Keep Howard's focus on driving the ball, but try to get him to understand what pitches he can hit to reach base. A 3-1 fastball doesn't mean swing for the fences, nor does a 3-1 fastball on the outside corner mean you should wait for a better pitch, as long as you can put that ball into play in left field.
Manuel does not have complete control over his players' approach. He can preach until his mouth runs dry, but it is still up to the players to accept his philosophy, recognize the pitches that they can hit to reach base, and make good contact with those pitches. He also does not have complete control over the personnel at his disposal. What he does have complete control over is how he uses the personnel he does have.
One of the criticisms often leveled at Manuel is that he relies to heavily on his regulars. In 2011, though, he did not have many other options. His top two infield options were light-hitting utility men. He had success mixing in John Mayberry Jr., but Ross Gload was hampered by a hip injury all season.
Manuel has to hope that the front office recognizes that offensive depth can be as important as defensive depth. You saw it in the rotation that the Cardinals have been able to use. While the Phillies pooled their resources into one high-profile acquisition (Hunter Pence in right field), the Cardinals took a chance on Lance Berkman, then added complimentary pieces like Nick Punto, Rafael Furcal and Ryan Theriot. None of those three are marquee hitters. But they pack more of an offensive punch than Wilson Valdez and Michael Martinez. The Cardinals had one of the worst defenses in the National League, and it almost cost them a place in the postseason. But now the Cardinals are in the World Series.
Manuel has shown a willingness to rotate his players when he has the personnel to do so. In 2007, he had 15 different players finish the season with at least 130 plate appearances. He rotated the offensive-minded Greg Dobbs with Wes Helms and the defensive-minded Abraham Nunez at third base. He rotated Jayson Werth and Shane Victorino in right field.
Do the Phillies need two utility infielders who are on the bench primarily because of their defense? Or can they sacrifice one of those two for a player who brings more offense? Do they need a bench player like Ross Gload who plays first base? Or would they be better off with a hitter who can play multiple positions, like Jamey Carroll or Jerry Hairston Jr. or any of a number of veterans who could be available?
Manuel can't control those decisions. But he can control his line-up.
Manuel is a far more learned manager than people give him credit for. But he does have some stubborn beliefs, particularly with regard to Utley, Rollins and Howard. He thinks the fast contact hitter should be his leadoff hitter. He thinks the big power hitter should be his No. 4 hitter. And he thinks the best all-around hitter should be his No. 3 hitter. It is hard to quibble with the last two beliefs. But because Utley has not shown the power that he used to have, he is no longer a prototypical No. 3 hitter.
Maybe he gets that power back. But Manuel acknowledged he needed to find a new role for the second baseman by sliding him to the No. 2 hole. And he might want to consider sliding him up another slot.
1. Chase Utley, 2B:As we said before, Utley probably has the best ability to change, given his ability to work a count and his baseball IQ. He has already shown signs of re-inventing himself. He had an excellent NLDS, and he stole bases with great efficiency this season. If he can get his on base percentage back to where it used to be by looking hit his way on base, he could be a very effective leadoff hitter. As we noted in our post earlier today, Utley seemed to be caught in the middle of an identity crisis last season. He was still driving the ball predominantly to right field, but those balls were not resulting in extra base hits nearly as often as they used to. In the spray chart below you can see a representation of what the numbers say. Each black square outlined in red represents an out, while each green square represents a hit. Note the number of fly outs to the warning track or wall. We'll dig deeper into Utley's situation in a subsequent blog post, comparing this spray chart and this year's numbers to those of years past. For now, though, we can at least say that the evidence we have reviewed thus far reveals a power hitter who is seeing a lot of flyouts that a few years ago likely would have gone for extra base hits. Note that the majority of the balls Utley hit to the outfield ended up in the deepest third of the field of play. The action in the middle of the field is relatively scarce. If Utley shakes the knee condition that has plagued him and regains the strength he had as recently as 2009, then the problem will solve itself. Absent that, Utely may have to transition into a hitter who does most of his damage hitting balls in front of or in between outfielders instead of over them.
2. Jimmy Rollins, SS:Obviously, this is contingent on Rollins returning. If he does return, he will do so with a nice-sized contract. Which means the Phillies should not feel obligated to hit him lead-off, even though that is how he envisions himself. If the players are as serious about winning as they say they are, a simple flip-flopping of the batting order should not anger them to the point where it affects their play. Thanks to Amaro's stated expectations, Manuel now has the "Look, my ass is on the line" card to play. I don't know if that is what Amaro was trying to do, but by spelling out his expectations for Manuel and Gross, he essentially gave them some captial when dealing with their players. Blame it on the boss, in other words. Hitting Rollins behind Utley makes sense. It puts a fast runner behind Utley, which will hopefully minimize double plays. It also allows Manuel to use Rollins as a bunter in late-and-close situations. As you can see by Rollins' spray chart, he actually did an OK job of working the middle of the field this year, although the majority of his balls still went to the pull side and there were still a lot of long fly outs. His power his still exclusively to right field. But he did not have nearly as many deep fly outs as Utley. Instead, he did a good job of knocking balls through the infield ore dropping them in front of the outfielders. People have been waiting for Rollins to produce Ichiro-like numbers for his entire career. But if he keeps the approach he had during the regular season and the playoffs, he can be a very solid offensive shorstop and top-of-the-order hitter. Manuel has always resisted calls to move Rollins out of the leadoff spot, partly because he knows Jimmy likes hitting there, and mostly because he really believes that a major league leadoff hitter needs to be a speedy runner. But when you look at the skill sets of Utley and Rollins, it really makes more sense to hit Rollins behind Utley. It also puts even more distance between Utley and Howard for late game situations when opposing managers will contemplate how to dispatch their lefty relievers.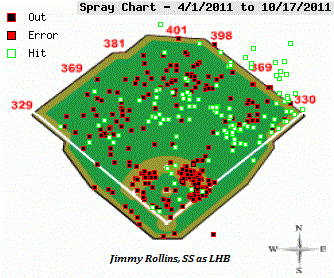 3. Hunter Pence, RF:The numbers say Pence is not the most patient of hitters. But he was the Phillies best all-around hitter for the last two months of the season. In many ways, Amaro's acquisition of Pence provides a clear example of what he wants out of the rest of his line-up. Pence is a guy who has a line drive/ground ball swing. He hits the ball to all fields. He hits well with two strikes. And he gives the Phillies a right-handed bat in front of Howard. I've heard a lot of chatter that Pence should have been hitting behind Ryan Howard in the playoffs in order to provide "protection" for the big guy. I've never understood this line of thinking. First of all, the Phillies still had Shane Victorino hitting fifth. Victorino spent most of the season as the team's best hitter. Second, I notice no difference in the way pitchers pitch Howard when Pence is behind him and when anybody else is behind him. They didn't suddenly start throwing balls in the strike zone when Pence arrived. Howard just happened to start seeing them and hitting them better. Maybe it helps his confidence to have Pence behind him. But Pence was the Phillies' hottest hitter over the last two months of the season, and the goal is to get your hottest hitter as many plate appearances as possible, which means you hit him third. The Phillies like Pence's approach. One concern for a new player heading into Citizens Bank Park is that he could get pull happy given the cozy dimensions of the park, but Pence is coming from another small park, so that might not be a valid concern in this case.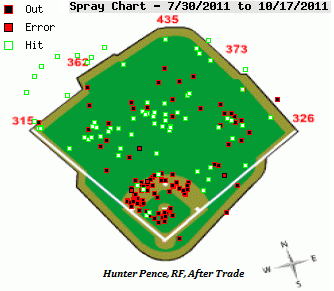 4. Ryan Howard, 1B:You can argue that the Phillies should hit him fifth against lefties, but you have to understand Manuel wanting to keep him at No. 4. As you can see, Howard's home runs were pretty evenly dispersed to all fields, but that does not necessarily mean that he was doing a better job of using the opposite field. A lot of times, he was simply late on a fastball but had enough power to muscle it out of the yard. That's a lot different from purposefully trying to knock a fastball on the outer third into left-center for a base-hit. Frankly, I don't know how much changing Howard can do, or how wise it would be to try to make him change. As you can see from the start, he is still having a lot of success driving the ball to his power zone, which is right-center to right field. In a perfect world, you could get him to put more two-strike pitches into play, serving them to left field for base hits. But some of the pitches Howard stirkes out at are so far out of the zone that even Ted Williams couldn't do anything with them. For Howard, it still comes down to pitch recognition, which can't really be taught.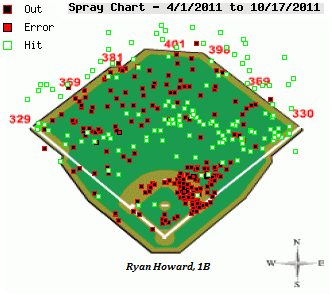 5. Shane Victorino, CF:Hitting Victorino fifth forces opposing manager to burn a lefty just to face Howard, since Victorino has always mashed from from the right side of the plate. He obviously is not a prototypical No. 5 hitter, but his skill set fits. His ability to drive the ball plays well here because of the runners he should see on base in front of him. And his speed plays because we are now getting down to the bottom of the order, and the ability to score from first on a double or second on a single becomes more important with the pitcher's spot drawing nearer. Below is Victorino's spray chart agianst right-handers. Really, it's a pretty picture. He appears to be doing a better job of using the middle of the field than he did in his early years. His power is still from right-center-to-right field, but the middle third of the outfield looks exactly as you'd want it out of a guy like Victorino. If he could ever eliminate the lapses in judgment and cut down on the foul pops, infield flies, and weak groundballs that he rolls over to the right side of the infield, he could take that last step into the realm of elite hitters.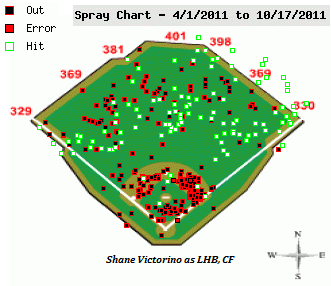 6. Carlos Ruiz, C:The Phillies look at Ruiz as a defensive player. Manuel has always been hesitant to take him out of his comfort zone at No. 8. But Ruiz hit sixth in 29 starts this season and hit .315 with a .417 on base percentage and .454 slugging percentage in 127 plate appearances. I used to think that Ruiz's high walk rate had a lot to do with the pitcher hitting behind him. And it probably did. But while his walk rate in 2011 dropped from 12.75 percent at No. 8 (1,384 plate appearances) to 11.1 percent at No. 7 (537 PAs) to 9.1 at No. 6, a corresponding rise in batting average more than made up for it. He hit .247 at No. 8, .302 at No. 7 and .315 at No. 6. Those numbers make a lot of sense. While Ruiz doesn't walk as much at No. 6, he also sees better balls to hit because of the strength of the hitter behind him. He also has less pressure on him in two-out situations. Yes, Ruiz struggled during the NLDS. But he was also the last line of defense before the pitcher's spot in games where the Phillies often needed him to come up with a big hit. Moving Ruiz's base-reaching ability out of the eight hole would make sense if the Phillies can find a couple of hitters who can drive in runs at No. 7 and No. 8. The fact is, Ruiz has turned himself into a nice little hitter. And while Manuel's desire to avoid asking too much out of him is understandable given his importance in the pitching game, Ruiz is a hitter who has a lot of skills that the organization wants the rest of the lineup to adapt. He has a good eye, he uses the middle of the field, he plays smart. The problem is, when he reaches base, he has the pitcher hitting behind him. Hitting him sixth would put a higher OBP guy in the middle of the order, and it just might result in the emergence of some power as he sees more pitches to hit.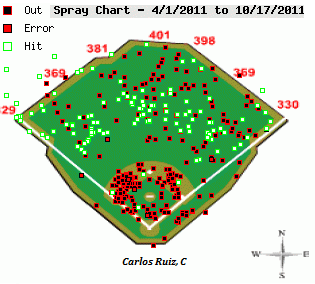 7. John Mayberry Jr. or Veteran TBA, LF:Manuel's philosophy might prompt him to hit the powerful Mayberry toward the middle of the order. But No. 7 makes sense for a variety of reasons. With two solid OBP hitters in front of him, Mayberry's power would have plenty of opportunity to play, both from the perspective of driving runs in and reaching scoring position for the bottom of the lineup. His speed and base-stealing come into play here too. Left field is the Phillies' most precarious position heading into the offseason. Yes, John Mayberry Jr. had a tremendous showing in part-time action this season. But as you can see from his spray chart, he is also an extreme pull hitter. Opposing pitchers are now aware of him, aware of his tendencies. Keep in mind that Manuel was also able to pick and choose playing time for Mayberry, matching him against the pitchers who provided the best opportunity for success. That's a lot different from playing every day. Can Mayberry do it? Sure, he has the potential. He showed an ability to adapt early in the summer when he changed his stance at the plate after being sent down to the minors. But keep in mind that the Phillies entered 2011 thinking that Ben Francisco and Domonic Brown would give them enough offense in right field. This year, they'll be hard-pressed to swing a trade for a left fielder like Pence if Mayberry does not pan out. There are enough veteran left fielders on the market that the Phillies should be able to attract a high OBP guy with some pop and offer him enough playing time, particularly since Ryan Howard could start the year on the DL, enabling Manuel to use Mayberry at first base. We'll look at some of those options at a later date.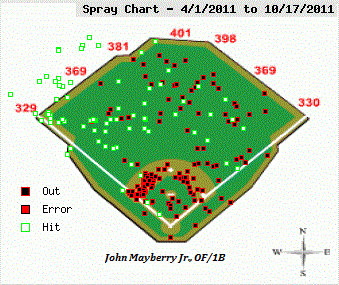 8. Veteran TBA or Placido Polanco 3B:Polanco is expected to be healthy by spring training. At $6.25 million, he is guaranteed to be here next season. But it would make sense to bring in a player with some power who can rotate with Polanco. In an ideal world, this would keep Polanco fresh for the entire season, and it would also give the Phillies some badly-needed power out of the position. Barring a trade or the signing of Aramis Ramirez, they will likely have to sacrifice defense whenever Polanco is not on the field. In the right situation, it would make sense.
Although a player like Edwin Encarnacion, who could become a free agent, is a below-average defender, he did hit .272/.334/.453 with 17 home runs last season. Same goes for Wilson Betemit. Casey Blake is a more veteran free agent. All three could fill in at first base if Howard is not ready. Lesser names who are scheduled to be free agents include Andy LaRoche and Kevin Kouzmanoff. Nobody will argue that third base is an important defensive position. The play of Wilson Valdez and Michael Martinez in place of Polanco helped the Phillies to their 102-win season. But the lack of offensive depth in the infield reared its head in the NLDS. In the latter stages of Game 5 with the Phillies need to score a run outweighing the need to prevent one, Manuel did not have a viable bat on the bench who could pinch-hit for the struggling Polanco. Same goes for down the stretch, when the Phillies could have worked such a player onto the field as they cruised toward the division title and homefield advantage. Three different utility men saw more than 100 plate appearances for the Phillies. Two of them, Martinez and Valdez, eclipsed 200 PAs and were on the postseason roster. Polanco was viewed as a No. 2 hitter when the Phillies signed him because of his ability to move runners. And while he had 33 hits with a man on first base this season, he also grounded into 15 double plays.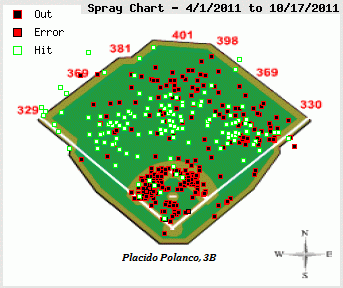 Bench
1 - Backup Catcher: This is not a glaring need, and the Phillies will probably stick to their philosophy of thinking defense first here.
2 - Utility Man:Valdez is eligible for arbitration, so it might not make sense to keep him around, especially with Martinez as an option and Freddy Galvis in the minors. Every dollar saved on the utility man is a dollar that can be invested in an offensive or bullpen slot.
3 - Mayberry or Veteran OF:Finding a veteran left fielder who can work the count and reach base should be the primary concern. Either Mayberry works in with the veteran, the veteran works in with Mayberry, or one of the two distinguish themselves in spring training or in the early-going.
4 - Veteran hitter who can play 3B:We listed some examples when evaluating Polanco's spot in the order, but a complete breakdown will come at some point in the future.
5 - Veteran hitter who can play 2B/SS:Keeping Utley healthy will be easier if Manuel has an offensive option he feels comfortable using. Ideally, this player or the other veteran infielder will be able for spot duty in the outfield or first base.
---
Download our NEW iPhone/Android app for easy access to all of our Phillies coverage, plus app-exclusive videos and analysis. Get it here.