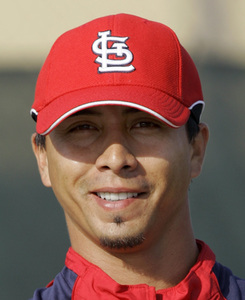 It's easy to forget that Kris Benson is still down in Clearwater working his way back from shoulder surgery. The veteran right-hander had been sidelined for a couple of weeks with biceps tendinitis, but he'll throw a bullpen session today and then another one in the middle of the week as he takes another step toward returning to game action.
Benson hasn't pitched in a game since March 13, when he threw 57 pitches against a Toronto Blue Jays club at the Carpenter Complex.
Benson, who had hoped to pitch in a Grapefruit League game, missed his next scheduled start with shoulder soreness. The Phillies remain hopeful that he can be healthy enough to help the team sometime before the start of June.
Here's a look at what else we're watching today:
1) THE STOPPER: It's your classic situation: Phils riding a two-game losing streak, needing a win to salvage a series split, heading into a big road series against the Mets, ace lefty Cole Hamels on the mound against Reds' No. 1 Bronson Arroyo. Should be a dandy today at the Great American Ballpark. After yesterday's 8-2 loss dropped the Phils to 2-4, they need this one badly.
2) TRYIN' HAWAIIAN: After Shane Victorino fell to 3-for-23 on the season with an 0-for-4, 2 strikeout performance yesterday, short stop and locker neighbor Jimmy Rollins interupted an interview with the center fielder and told a group of reporters, "Watch him tomorrow." We'll see if Rollins' words prove prophetic. The Phillies need more production out of the No. 2 spot than Victorino has given them, and Victorino realizes that. After yesterday's loss, he spent a good chunk of time working on his swing in the indoor batting cage in Cincinnati.
3) NEW YORK, NEW YORK: The Mets are coming off a two-game sweep at the hands of the Braves. Yesterday, John Smoltz pitched five scoreless to out-duel Johan Santana.
4) LOHSE: Just in case you care, Kyle Lohse pitched seven more quality innings last night for the Cardinals, allowing just four hits.