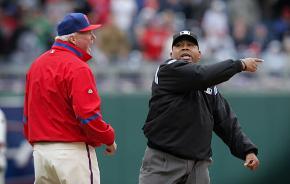 Real quickly. . .
1) As I'm sure you've already heard/seen, the Phils fell today to 6-7 and still can't get on the positive side of .500
2) Replays showed that a sixth-inning home run awarded to Mark DeRosa was foul. The Cubs don't score there, the game doesn't go to extra innings, the Phillies win.
3) The Phils had plenty of chances to nullify that apparent officiating gaffe.