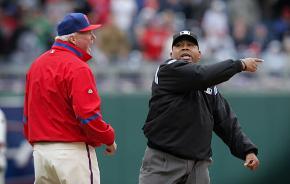 Real quickly. . .
1) As I'm sure you've already heard/seen, the Phils fell today to 6-7 and still can't get on the positive side of .500
2) Replays showed that a sixth-inning home run awarded to Mark DeRosa was foul. The Cubs don't score there, the game doesn't go to extra innings, the Phillies win.
3) The Phils had plenty of chances to nullify that apparent officiating gaffe.
4) Shane Victorino is confident he'll be ready to play when he gets off the 15 day disabled list. Trainer Scott Sheridan is a little more cautious. Victorino missed three weeks with a similar - but different - calf injury last season.
5) Charlie Manuel think Jimmy Rollins could be back Tuesday. A lot will depend on how he feels tomorrow after doing some agility work with Sheridan.
6) Adam Eaton will jump ahead of Kyle Kendrick in the rotation, thanks to this off day. The Phils want to get Eaton the ball on his normal day, given how well he's thrown. They also want to set him up to face the Mets. Kyle Kendrick will pitch Wednesday.
7) Read much more about the controversy and missed opportunities that cost the Phillies a win today.
8) Peace.