Archive: September, 2012
Ryan Lawrence, Daily News Staff Writer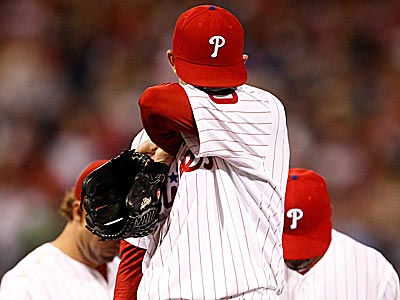 Prior to Friday's game in Miami, manager Charlie Manuel said the grind of a 162-game season and the spirited, September run his team went on had taken a toll. His players were tired.
In the weekend that followed, two of his players have been shut down for what remains in the 2012 season.
Ryan Howard suffered small fracture in his right, big toe on Thursday night. After a pinch-hitting appearance on Friday night, Howard's season came to an end.
Ryan Lawrence, Daily News Staff Writer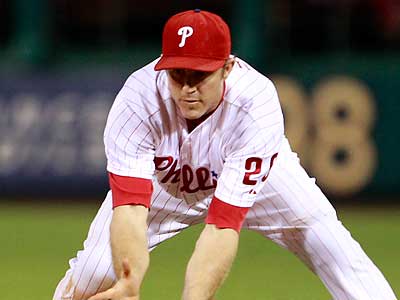 On, Wednesday, August 29, Chase Utley quietly went out to take ground balls at third base. When word spread like wildfire later that day, everyone downplayed it.
Utley, however, continued to practice at the position. But after a month and about a half dozen pregame sessions at third, the experiment has been put to rest.
On Friday, Phillies general manager Ruben Amaro Jr. said Utley wouldn't play third in any of the six games that remained on the 2012 schedule, and that he likely wouldn't take any more ground balls there, either.
David Murphy, Daily News Staff Writer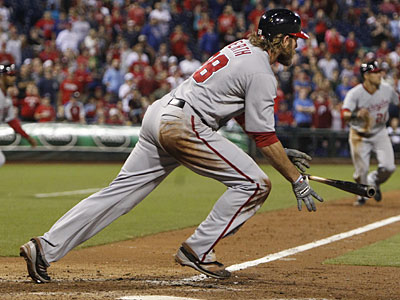 It certainly looks like Jayson Werth has embraced his role as Citizens Bank Park villain, although the former Phillies right fielder played it straight when he met with reporters in the wake of the Nationals' 8-4 win on Wednesday night. Werth, who was booed before each of his at-bats, incited the sparse crowd that remained in the ninth inning when he retrieved a foul ball while standing in the on-deck circle, deked a throwing motion to the crowd, then tossed the ball into the Nationals dugout.
Here is Werth's account of the interlude, which should be read in his usual dry, amused monotone:
"Well, earlier in the game, I flipped a ball into the seats in right field to a fan and it bounced off her hands and landed on somebody elses lap, and then a Phillies fan reached into her lap and grabbed the ball and threw it back onto the field. So in the ninth, when I got the ball, I was going to flip the ball to a group of kids. Behind the kids were all these unruly middle aged men, who, to me, appeared to be snarling. It was the ninth, who knows, I kinda got the sense that they were intoxicated, but maybe not. So I was going to flip it to the kids, but then I thought maybe I shouldn't, because of the people behind those innocent little children. So I just flipped it in the dugout, and evidently that rubbed some people the wrong way. But after the events in right field, I just felt that maybe it was better to not throw it in the stands."
Ryan Lawrence, Daily News Staff Writer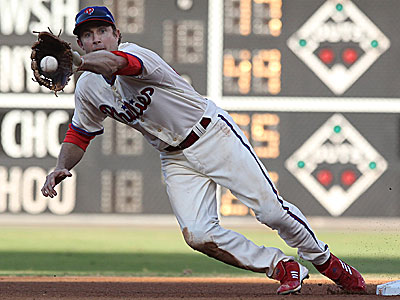 Kevin Frandsen will start at third base when the Phillies play the second to last regular season game at Citizens Bank Park on Wednesday night.
The Phillies have just one game left in South Philly before wrapping up the season with six straight on the road in Miami and Washington.
With the team all but mathematically eliminated from postseason hopes, one of the few story lines worth watching is the Chase Utley Third Base Experiment.
Daily News staff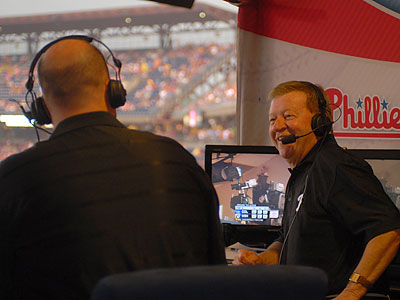 The Phillies' announcing team of Tom McCarthy and Chris Wheeler were tied for seventh in a Wall Street Journal survey of the most biased announcers.
The Journal monitored each of major league baseball's broadcast teams for one game. Its criteria was the number of comments that were perceived as biased, including the use of words like "we", "us", or "our"; referring to a player by a nickname; or blatantly rooting for the home team.
The White Sox' announcing team of Ken Harrelson and Steve Stone were considered the most biased, with 104 biased comments.
David Murphy, Daily News Staff Writer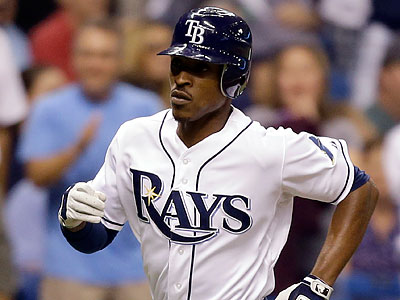 With eight games left in the regular season, Phillies fans do not have much to look forward to except the offseason, when Ruben Amaro Jr. and the rest of the front office will attempt to retool for 2013. One of the big needs they will address is center field, where Shane Victorino had started from 2008 until the trade that sent him to the Dodgers in July.
One guy we have highlighted as a potential replacement is B.J. Upton, but as Marc Topkin notes in today's St. Petersburg Times, Upton has some issues.
The important paragraph. . .
Ryan Lawrence, Daily News Staff Writer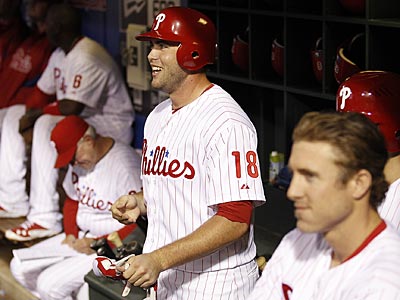 Darin Ruf's 40th home run of an unforgettable summer of 2012 landed in the waiting hands of Randy Johnson.
No, not the five-time Cy Young Award winner Randy Johnson. Just a guy who happened to share the same name who made the drive into Philly from Toms River, N.J.
After the Phillies 6-3 win on Tuesday, Ruf welcomed Johnson into the foyer of the home clubhouse. The rookie got a cherished piece of memorabilia; the fan got a chance to meet a big league ballplayer.
David Murphy, Daily News Staff Writer
Between the ages of 31 and 33, Pedro Martinez averaged 31 starts and 207 innings pitched per season, posting an ERA of 3.02 with a 9.3 K/9, 2.2 BB/9 and 0.8 HR/9 while twice finishing in the top five for the Cy Young Award. At age 34, Martinez started 23 games, logged 132 2/3 innings, and saw his ERA balloon to 4.48. His career would last just 34 more games, the final 9 of them as a 37-year-old Phillie in 2009.
None of that suggests that Roy Halladay is staring down the end of his career. Nolan Ryan logged at least 200 innings per season and posted two top 5 finishes in the Cy Young between the ages of 40 and 44. For the Phillies, though, the uncertainty is the thing. No longer can they spend the offseason counting on 220 innings and a sub-3.50 ERA out of Halladay's spot in the rotation. That's not to say that they won't get it. But all you need to do is look at the career trajectories of similar pitcher from year's past to realize that the 35-year-old righthander is now at the mercy of his physiology.
Earlier today, I used Baseball-Reference.com's indispensable play index tool to find some pitchers to compare to Halladay. I wanted to find righthanded power pitchers who had logged a similar workload, so I searched for righthanders who finished their 35-year-old season with at least 2,500 innings pitched and a K/9 average of at least 6.0. I then used the pitchers in that group who had the best ERAs (Halladay's 3.30 mark ranked 13th), excluding present day guys like Tim Hudson and guys who spent time relieving like John Smoltz.