Archive: September, 2011
David Murphy, Daily News Staff Writer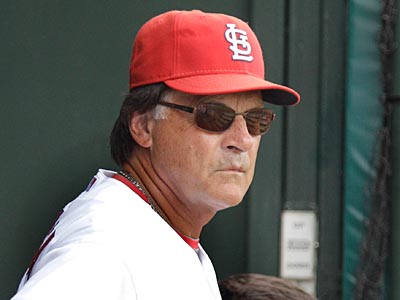 I am sure Tony La Russa knows more than me about many subjects -- life, baseball, cats -- so I'm not going to tell him how to run his baseball team while sitting here atop my Ivory Row House (PSA - it's actually made out of brick. Save the Elephants). The most important attribute when it comes to managing a baseball team -- heck, when it comes to managing any group of subordinates -- is a thorough understanding of the personnel at your disposal. You need to know their strengths, their weaknesses, their thought processes, their anxieties. Guiding a team through a 162-game season requires a keen understanding of human behavior. It is the biggest reason Charlie Manuel has been so successful throughout his career, the biggest reason why he was able to win a World Series with a rotation that included a guy like Jamie Moyer and a guy like Brett Myers, the biggest reason why his teams have continued to win at a rate that is roughly proportional to the increasing level of talent on his roster. The biggest key to managing a baseball team is an ability to manage personalities and skill sets. Everything else that happens over the course of nine innings is a matter of probability: play the right odds, and accept the fact that the opposition is occasionally going to catch the right card.
Tony La Russa has not achieved his considerable success through dumb luck. But he is also a guy who sometimes err on the side of thinking too much. And I think his decision to hold Jaime Garcia until Game 4 is a potentially fatal example.
All Garcia has done this season was hold them to one earned run in 15 innings of two Cardinals victories. All he did last season was hold them to two earned runs in 13 innings of two Cardinals victories. In those four starts, he allowed five extra base hits and nine walks while striking out 21 and walking nine over 28 innings.
David Murphy, Daily News Staff Writer
Major League Baseball has unveiled game times for the first two NLDS games between the Phillies and the cardinals.
Saturday's game will be at 5:07 p.m. at Citizens Bank Park.
Sunday's game will be at 8:07 p.m. at Citizens Bank Park.
Daily News Staff
Game 1 of the Phillies-Cardinals series will begin at 5:07 on Saturday.
Game 2 will be at 8:07 on Sunday.
Times were not released for the other three games.
---
David Murphy, Daily News Staff Writer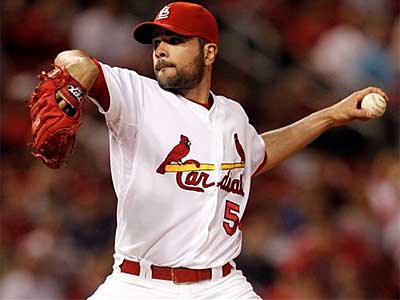 Please don't mis-interpret or mis-remember what you are about to read. The Phillies are a better baseball team than the Cardinals. They should win this series, just like they've won their previous three National League Division Series. When they do advance to their fourth straight National League Championship Series, I'm sure I will be on the receiving end of many publicly-hurled insults and projectiles.
Hey crap-for-brains! How do you like the Cardinals now?!
And that's great. Better to cover baseball in a town that cares enough about it's sports that the local beat scribe is an object of derision instead of another anonymous byline lost in the swirl of foreboding economic news.
David Murphy, Daily News Staff Writer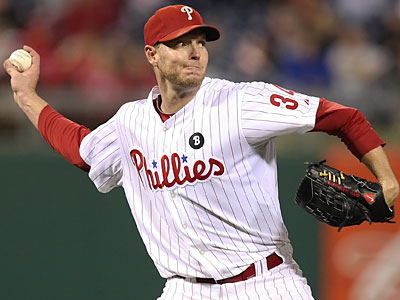 Now that the Phillies have made it safely to the final day of the regular season, the hand-wringing over Antonio Bastardo and Chase Utley and an eight-game losing streak has been replaced by hand-wringing over the time of this weekend's games. Already today I have fielded inquiries from people facing every potential conflict from a Saturday wedding to a Saturday Temple football game. While I am sure the network execs at TBS will make every effort to work its schedule around the resurgent Owls, they really can't make any final plans until they find out who, exactly, will be participating in the playoffs.
Flip on your digital cable box and you'll see that TBS has blocked off 12:00, 3:30, 7:00 and 10:30 for the Saturday games and 6:00 p.m. and 9:30 p.m. for the two Sunday games.
In TBS' perfect world, you have to figure that the Yankees will get the 7 p.m. game on Saturday, followed by Game 1 of the series that begins in either Milwaukee or Arizona (depending on what happens with those two teams today). That would leave either the 12 p.m. or 3:30 p.m. game for the Phillies. If Tampa wins the Wild Card, I assume TBS would want the Phillies to lead into the Rays series, and vice versa if the Red Sox win. That seems to be what the Phillies are planning on, since they announced today that they will be holding a 1 p.m. workout at Citizens Bank Park on Friday. If they expected a night game, they likely would have scheduled the workout for later.
David Murphy, Daily News Staff Writer
Two lefties had impressive showings in Tuesday night's victory over the Braves, which helped plunge the playoff picture into further turmoil. One of those lefties is expected to be an integral part of the postseason roster. The other is headed to Clearwater to continue his transformation from washed-up starting pitching prospect to potential lefty relief specialist. We'll spend more time on Joe Savery, since everybody is pretty up to date on where things stand with Antonio Bastardo (Cliffs Notes: last night, he looked exactly like the pitcher who spent most of the regular season dominating the National League).
Savery is an intriguing case simply because the Phillies do not have a second lefty, and the one they do have is Bastardo, who until last night had allowed runs in five of seven outings. That's not to suggest that the Phillies would ever have thought about favoring Savery over Bastardo. But on a roster that is expected to include seven relievers, some of whom may never throw a pitch, you might think that the Phillies would err on the side of keeping a lefty like Savery over one of the plethroa of right-handed converted starters they currently have in the 'Pen.
But while Savery has had some success in his limited action, retiring eight of the nine batters he has faced, including southpaw sluggers Brian McCann and Freddie Freeman last night, pitching coach Rich Dubee made it clear that Savery does not have enough time to prove himself for the postseason.
David Murphy, Daily News Staff Writer
A number of things have come into clearer focus since we took our first whack at projecting the Phillies' roster for this year's National League Division Series. First and foremost, the team is now likely to keep 11 pitchers. Secondly, they have eliminated several players from contention. You can read about that here.
Right now, we're projecting that the Phillies have 23 locks for the roster. They are:
Regulars (8): Jimmy Rollins, Placido Polanco, Chase Utley, Ryan Howard, Hunter Pence, Raul Ibanez, Shane Victorino, Carlos Ruiz
David Murphy, Daily News Staff Writer
Although the absence of mediocre Phillies game stories and notebooks in the Daily News probably gave it away, I have been off the beat for the last week. Given the opportunity to watch meaningless baseball games or work on a story for the debut edition of SportsWeek, I chose the latter.
Anyway, I arrived at Gate C18 this morning and realized I had no idea what was going on with the team. When I left, the only definites were Antonio Bastardo in the eighth inning and a team-record victory total, and I'm assuming that the prospects of both of those remain unchanged.
So I turned my attention to the Phillies' opponent for the National League Division Series, which begins on Saturday at Citizens Bank Park. Because that is where the real intrigue lies. Think about it: last year, we were in Atlanta for the last series of the regular season, and the Giants were fighting for their postseason life. The Giants beat the Padres on the last day of the regular season to clinch a berth. Does anybody think the Phillies would not have advanced to the World Series if they had faced either the Braves or the Padres in the NLCS? Then we would have had the opportunity to watch Cliff Lee face this line-up, and if you think the city is about to explode after the Eagles' loss to the Giants yesterady, what do you think would have happened had Lee tossed a couple of shutouts against the Phils and led the Rangers to a World Series victory? Hell, maybe Lee would have re-signed with the Rangers, which means maybe the best thing that could have happened to the Phillies was the Giants (San Francisco) beating the Padres and then beating them in the NLCS.
Paul Hagen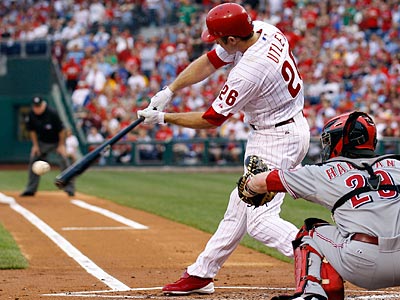 Charlie Manuel unveiled a shuffled lineup for today's game against the Mets that he said could well be the same one he uses in the postseason against righthanded starters.
The new look: Jimmy Rollins, Chase Utley, Hunter Pence, Ryan Howard, Shane Victorino, Raul Ibanez, PLacido Polanco and Carlos Ruiz.
It was the first time the Phillies have had all their regulars in the lineup since clinching their fifth straight division title. They have since lost eight straight games.
Paul Hagen
NEW YORK -- Lefthander Antonio Bastardo was dominant for much of the season but has struggled in his last several outings. At first, it was thought that he was just tired. Even after being given plenty of rest, though, he still had trouble getting hitters out.
After last Wednesday night's outing, when Bastardo gave up a run on 2 hits against Washington, manager Charlie Manuel observed that it almost looked like the Nationals knew what was coming.
Maybe they did.