Archive: September, 2010
David Murphy, Daily News Staff Writer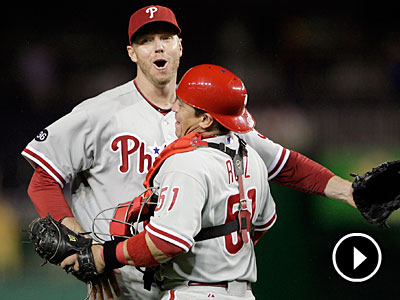 Video: David Murphy of the Daily News and CineSport's Noah Coslov discuss the pros and cons of sitting starters at the end of the regular season, which the Phillies could do to prepare for the postseason.
David Murphy, Daily News Staff Writer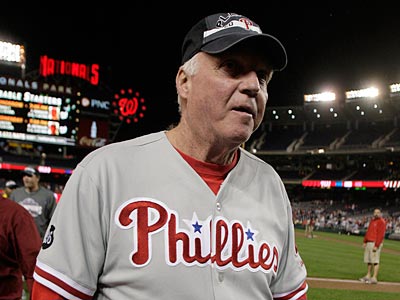 UPDATE: By virtue of having the best record, the Phillies can select whether to begin the Division Series on Wednesday or Thursday next week.
The Phillies, as expected, have selected Wednesday, manager Charlie Manuel said.
Wednesday was the better option for the Phillies because it means they don't need a fourth starter and can bring back expected Game 1 starter Roy Hallday for Game 4.
David Murphy, Daily News Staff Writer
Forget for a moment the possibility of any of the Phillies' Big Three pitching on short rest. If the Phils manage to hang on to the best record in the National League, they'll have the opportunity to send either Roy Halladay, Cole Hamels or Roy Oswalt to the mound for 17 of their 19 potential playoff games.
The National League team with the best overall record gets to pick what day they want to start the NLDS. The choice is either Wed., Oct. 6 with an off day on Thursday and Game 3 on Friday. Or Game 1 on Thursday and Game 2 on Friday.
We'll assume for the sake of the demonstration that Roy Halladay will be the Game 1 pitcher, followed by Hamels and Oswalt.
David Murphy, Daily News Staff Writer
As expected, Jimmy Rollins saw live pitching today for the first time since suffering a hamstring straing against the Marlins on Sept. 8. The short stop took swings off of several Phillies pitchers, including Antonio Bastardo and David Herndon. Rollins also did some running.
General manager Ruben Amaro Jr. said yesterday that a return by Rollins this weekend was still a possibility, although he did not give a clear indication on how likely such a return would be.
In 12 games without Rollins this month, the Phillies are 11-1 and hitting .295 with a .388 on base percentage while averaging 5.6 runs per game. During those 12 games, fill-in short stop Wilson Valdez has hit .333 with a .400 on base percentage, four doubles and five RBI.
David Murphy, Daily News Staff Writer
Have plans tonight? Don't feel like sticking around for the entire game? Try pitching against the Phillies. Last night, Mike Minor became the seventh straight starting pitcher to last fewer than five innings against the Phillies.
That ties the major-league for record consecutive early KOs of starters set by the New York Giants in July 1949 and matched by the Phillies in September 2006.
As you might remember, it hasn't exactly been a Dean's List of hurlers:
Minor: 2 1/3 innings, 3 earned runs, 73 pitches
Brandon Beachy: 4 1/3 innings, 1 earned run, 82 pitches
Yunesky Maya: 4 2/3 innings, 3 earned runs, 90 pitches
Jordan Zimmermann: 3 innings, 5 earned runs, 76 pitches
Jason Marquis: 1/3 inning, 6 earned runs, 38 pitches
Jorge Sosa: 2 1/3 innings, 4 earned runs, 68 pitches
Adalberto MEndez: 4 1/3 innings, 2 earned runs, 85 pitches
David Murphy, Daily News Staff Writer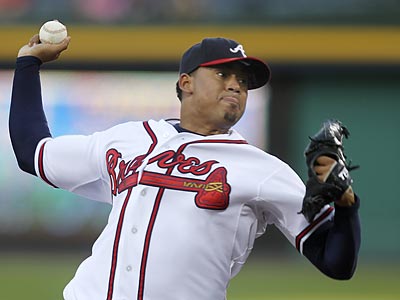 Interesting game for a 23-year-old to make his major league debut. The Braves have summoned righthander Brandon Beachy to start against the Phillies tonight in place of Jair Jurrjens, who was scratched from the start with a sore knee.
Beachy is 5-1 with a 1.73 ERA at Double-A and Triple-A this season and has posted stellar strikeout and walk rates of 11.2 K/9 and 2.1 BB/9.
Jurrjens has dominated the Phillies in his career, allowing just 17 earned runs in 59.2 innings over nine starts. He held them to three runs on two hits in six innings back on July 6 when he was just returning from a two-month stay on the DL. Last season, he held them to four earned runs in 26.2 innings.
Daily News staff
With the Braves coming to town for a crucial three-game series beginning tonight, we thought it made sense to look back at what has happened in the 12 games between the teams thus far:
Overall: Braves lead, 7-5
In Atlanta: Braves lead, 4-2
In Philadelphia: Series tied, 3-3
AT ATLANTA
April 20: Braves 4, Phillies 3, 10 innings
Kyle Kendrick pitched eight scoreless innings, but Ryan Madson gave up three runs in the bottom of the ninth, including home runs to Troy Glaus and Jason Heyward. Nate McLouth homered off Jose Contreras in the 10th.
David Murphy, Daily News Staff Writer
The Braves won't make any changes to their rotation this weekend, according to the Atlanta Journal-Constitution. That means that, barring injuries, the pitching match-ups for next week's three-game series between the Braves and the Phillies are set.
Mon., Sept. 20 - LHP Cole Hamels vs. RHP Jair Jurrjens
Hamels: Has faced the Braves three times this season with one solid start in a 6-3 loss at Turner Field on July 6 (7 IP, 8 H, 3 R/ER, 2 BB, 8 SO, 117 pitches), one mediocre start in a 5-3 win at Citizens Bank Park on May 9 (5 IP, 8 H, 3 R/ER, 4 BB, 5 SO, 97 pitches), and one rain-shortened outing in which he allowed three runs and recorded two outs in the first inning before the delay at Turner Field on June 1. . .Since his last start against the Braves, Hamels has a 2.42 ERA in 19 starts with 137 strikeouts in 130 1/3 innings.