Archive: August, 2009
Daily News staff
The Phillies had a scout in Anaheim this weekend to take a look at Oakland's Nomar Garciappara, according to report in the San Francisco Chronicle.
The team had discussions with Garciaparra in the offseason. Garciappara, who did not play in the weekend series against the Angels, has cleared waivers, according to the report.
A team source told the Daily News today that the Phillies considered pusuing Garciappara but it is not likely to happen. Today is the last day that players can be added to rosters and still be eligible for the postseason.
Paul Hagen
Double-A Reading righthander Kyle Drabek, generally regarded as the Phillies' best pitching prospect, will not be called up after roster limits are expanded Tuesday.
In fact, the team announced Sunday that he has been shut down for the remainder of the season.
The announcement stressed that Drabek is not injured but that this was instead a "proactive" move to protect a 21-year-old who has already thrown 158 innings between Class A Clearwater and Reading this season (61.2 at Clearwater and 96.1 at Reading).
Daily News staff
CLEARWATER, Fla. -- Righthander Clay Condrey could make a rehab start as early as Sunday and Greg Dobbs is looking to resume baseball activities as soon as this week.
Condrey (strained oblique muscle) threw long toss Saturday morning in preparation for a rehab appearence.
"I'm possibly pitching one inning tomorrow (Sunday) if the Gulf Coast League team plays its suspenned game," said Condrey, "If not I will pitch one inning on Monday in the GCL."
The GCL Phillies need to win Saturday's game to stay in the hunt for the league's Northern Division Crown.
David Murphy, Daily News Staff Writer
Our Paul Hagen is covering Brett Myers today in Reading.
Here is a transcript of Myers' session with the media:
Myers: "I'm not coming back to take anybody's job. I'm just coming back to help. Whatever the situation is. If somebody needs a day off or whatever. Just make it to where they have confidence in the guys in the back of the bullpen, to where we can win games. It's all about winning. It doesn't matter how we do it. I just want to win."

(But if they needed you to close. . .)

"Yeah. If Lidge threw four days in a row and he felt like he needed a blow then, yeah, I could do it. (Ryan) Madson could do it. Hopefully (lefthander) J.C. (Romero) comes back and the match-up works out and he can do it. There are a lot of guys in there can do it. Just because they haven't doesn't mean they can't.

"They put a lot of emphasis on that ninth inning. And they should, because it's probably the three biggest outs in the game. But guys just have to think of it like another inning. I think they should be just fine about that."
(But you do have to understand the concern. . .)

"I know that the fans and everybody else – I'm not sure the organization is too concerned about it with the lead we have and everything – you never know. Who knows? Maybe we make it to the playoffs and (Lidge) comes out and he goes 6-for-6 or whatever. You just never know what's going to happen and that's the beauty of the game.

"I'll just come back. And if they need me to close the game or if Brad needs a blow or whatever just to take a day then, yeah, we can do that. They can pick who they want to put in that situation. But am I prepared to do anything they ask? Yeah, I'll be ready. I've closed before. It's nothing new for me to go out and do it.

"But, like I said, I'm not coming back to take anybody's job. I just want to come back and help. The main thing for me right now is just to get back and be part of the team. Because they're doing all this without me and it (stinks) for me. Because I'm wanting them to win every night and not being there to be a part of what's going on is tough."

(How do you keep up?)

"The greatest thing ever. It's called the Sling Box. . .I can watch it on my computer."
David Murphy, Daily News Staff Writer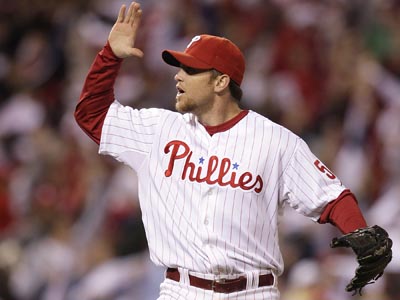 Let me start by saying that I like cherries. I value them. They are one of my favorite fruit. But while an ice cream sundae may not taste its best without one, it is still an ice cream sundae.
I say all this because I am about to talk about closers, which to me are baseball's equivalent of a cherry. This topic of discussion arises from last night's melt-down in Pittsburgh, where Brad Lidge blew his ninth save of the season and gave fresh fodder to the we're-doomed-if-this-continues crowd.
Again, let me re-iterate. I value cherries, and I value closers. There is no question Lidge was one of the key factors for the Phillies' World Series title last season. Without him on the mound pitching at his best, do they win Game 5? Maybe. Maybe not.
Poll: Who should be the Phillies' closer?

(7552 votes)
David Murphy, Daily News Staff Writer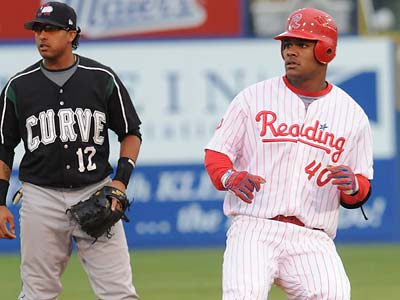 A beautiful day here in Pittsburgh. Cloudless sky, low humidity, low 80's. Several Phillies fans on my flight this morning to Pittsburgh, which could be why a fellow beat writer was unable to find a direct flight. The only thing more depressing than going to Pittsburgh is having to connect through another city while doing so. Actually, I kid -- this is an underrated town, or, as one member of the Phils put it this afternoon, a "sleeper" city. The ballpark is beautiful, located right along the river (I'm too lazy to look up which one of the three), and in the midst of some restaurants and bars. The hotel is within walking distance. The weather is nice. All that is missing is the people. But hey, you don't have to wait long at the concession stands.
Lots to get to today:
1) Hot outfield prospect Michael Taylor might have seen his season come to a premature end when he was placed on the disabled list yesterday. Taylor's injury is a strained oblique, which is a pretty finnicky ailment, so it is unclear if he will return this year. Lehigh Valley finishes its season on Sept. 7. The Phillies are hopeful that he'll be back in time to squeeze in some more at-bats, but right now there is no reliable prognosis on his recovery. The injury comes at a bad time -- Taylor was really heating up after getting off to a slow start at Triple-A. He was hitting .350 with two home runs and eight RBI in his last 10 games and is hitting .282 with five home runs and 19 RBI in 30 games since his promotion.
Daily News staff
Brett Myers faced four batters, striking out one and walking one, in his one inning rehab start for the Class A Lakewood BlueClaws on Monday night.
Myers' first pitch of the night was 93 mph, a dramatic improvement from the 88-90 that he threw when was with the Phillies before the surgery.
"[The hip injury ] definitely was a factor in the back of my mind. I knew if I let one go, I might have had one of those symptoms where it would lock up or be painful," Myers said. "I haven't felt anything [since the surgery], luckily enough. The doctor did a very good job, my velocity is definitely a lot better than it was when I was hurt. That's not in the back of my mind anymore."
David Murphy, Daily News Staff Writer
Relievers J.C. Romero and Clay Condrey both threw successful 35-pitch bullpen sessions at the Phillies' Brighthouse Networks Field on Monday morning.
Romero, sidelined with a strained left forearm, said he is looking to rejoin the Phillies before the end of the season.
Of his session, Romero said: "I'm OK with it. I am a work in progress."