Archive: July, 2012
David Murphy, Daily News Staff Writer
One of the important revelations today: the Phillies should finish the season under the $178 million luxury tax threshold, meaning they won't incur a 30 percent penalty if they exceed it next year. Instead, that figure will be 17.5 percent. That's important, because the Phillies could very well go over.
Right now, they have $138.35 million guaranteed to 10 players. I'm projecting a $2.75 million arbitration salary for Nate Schierholtz, with Scott Hairston as my comparable, and I'm projecting $1.5 million for Antonio Bastardo. The Phillies usually sign a utility player for about $600,000 and a backup catcher for $800,000. Along with Domonic Brown, John Mayberry Jr., Vance Worley, Josh Lindblom and Jake Diekman, all of whom should make right around the minimum, the Phillies would have about $146.12 million going to 19 players.
Ruben Amaro Jr. indicated that he expects to have enough money to sign multiple high-profile free agents. He specifically mentioned the bullpen, where players like Carlos Villanueva, Mark Lowe, Peter Moylan, Jason Frasor, Joel Peralta, J.P. Howell and Randy Choate are all scheduled to be free agents.
David Murphy, Daily News Staff Writer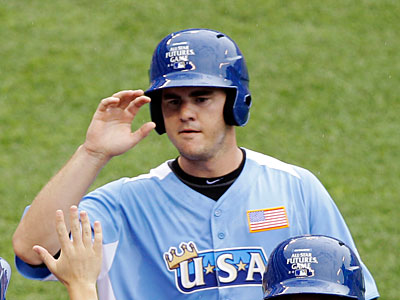 By all accounts, Tommy Joseph is a solid major league prospect. Whether he was solid enough to warrant the trade of Hunter Pence is debatable. What isn't debatable is that the Phillies are not better off for the 2013 season, at least not in terms of talent in right field.
Joseph, the centerpiece of the trade that sent Hunter Pence and cash to the Giants this afternoon, would not appear to factor into the big league picture for next season. Carlos Ruiz will be back, leaving no room at catcher. Besides, Joseph just turned 21 years old. He has power potential, but in his first year at Double-A he has eight home runs with a .260/.313/.391 line in 335 plate appearances. Seth Rosin, a 23-year-old who is currently at Class A, does not project onto the major league roster in 2013, either. Which reduces this deal, from the vantage point of 2013, to Hunter Pence for Nate Schierholtz and some payroll flexibility. Schierholtz is a better defender with an excellent arm, but the Phillies lose about 30 points in on base percentage and plenty of home run power, not to mention the only right-handed power bat in their lineup.
Over the last two seasons, Schierholtz has posted a .271/.326/.429 line with 14 home runs in 558 plate appearances. By comparison, Jimmy Rollins hit .268/.338/.399 with 16 home runs in 631 plate appearances last season.
David Murphy, Daily News Staff Writer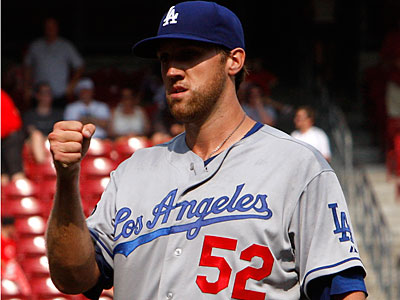 The Phillies have traded long-time centerfielder Shane Victorino to the Dodgers for 25-year-old reliever Josh Lindblom, Double-A starter Ethan Martin and a player to be named later or cash, the team announced. First impression is that Ruben Amaro Jr. got about as much as could be expected in return for Victorino, who had a rough first three months of the season but has started to hit better as of late.
Lindblom entered the season as the eighth-rated prospect in the Dodgers organization, according to Baseball America. He is a 25-year-old right-hander with solid strikeout and walk rates -- 8.1 K/9 and 3.4 BB/9 -- but a propensity for giving up home runs (nine in 47 2/3 innings this season). In 48 appearances he has a 3.02 ERA. He has converted all 15 of his hold opportunities, but has blown both of his save opportunities. He has stranded 10 of 16 inherited runners. He is an extreme fly ball pitcher, averaging just 0.55 ground balls per fly ball in his two years in the majors. But he clearly upgrades the Phillies' bullpen.
---
Daily News staff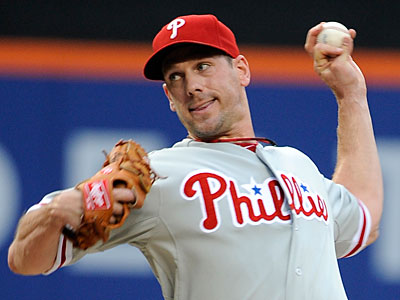 Phillies trade rumors continued overnight. In the latest, Fox Sports' Ken Rosenthal reports that the Arizona Diamondbacks could be targeting the Phillies' Cliff Lee in their quest to acquire a top-flight starting pitcher.
Rosenthal notes that the Diamondbacks have the assets, most notably star rightfielder Justin Upton, that it would likely take to convince the Phillies to part with Lee.
The Phillies need outfield help, especially with other trade rumors swirling around Hunter Pence and Shane Victorino.
Daily News staff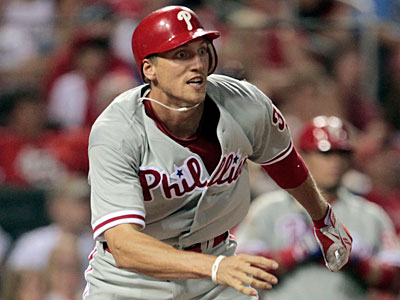 KPIX, a television station in San Francisco, is reporting that the Giants "have a deal in place" for Phillies outfielder Hunter Pence. Giants vice president Bobby Evans reportedly denied the report in a text message, saying that there's "no truth to the rumor."
But sources tell Jon Heyman of CBSSports.com that, although no agreeement has been reached, the Giants and the Phillies are indeed discussing a deal.
Pence, 30, is hitting .268 with 17 home runs and 59 RBI. Should there be a trade, the Phillies could bring up Domonic Brown from the minor leagues.
Poll: Which players should the Phillies trade?

(6636 votes)
David Murphy, Daily News Staff Writer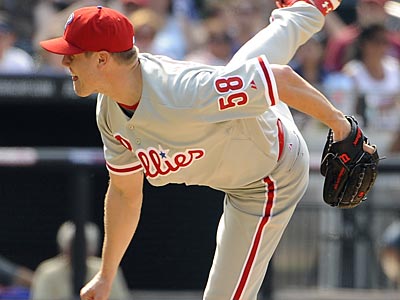 Huston Street signed a two-year, $14 million contract extension today, the latest closer deal that will be dwarfed by the four-year, $50 million contract that the Phillies signed Jonathan Papelbon to this season. We'll never know how the market would have ended up valuing Papelbon had the Phillies been less aggressive in their pursuit of him, but it is interesting to note that the two teams who committed more than two years to a closer this offseason are two of the more disappointing teams in the majors.
The Marlins have already given up on 2012, and they are in that position thanks in part to the struggles of Heath Bell, who has a 5.75 ERA and six blown saves in 25 opportunities after signing a three-year, $27 million deal over the offseason. Papelbon, conversely, has been the pitcher the Phillies expected, converting 22-of-25 save opportunities with a 3.29 ERA in 41 innings. Yet even with the production they expected out of their closer, the Phillies are 11 games under .500 and, for all intents and purposes, out of the National League playoff picture. Which suggests that there might have been a wiser way to spend the money they dedicated to Papelbon. An elite closer is a luxury, not a necessity. If you already have a nice house and have money left over, go ahead and add the swimming pool. But if you have water pouring into the attic, then you are probably better off spending the 10 grand on a new roof.
Just like there are other ways to cool off, there are other ways to handle the ninth inning then to pay a guy $12.5 million a year over four years to handle it. Street has had significant injury problems over the last few seasons, missing 28 games this season with a right latissimus dorsi strain and 29 in 2011 with groin and arm injuries, and the first three months of 2010 with right shoulder inflammation. When healthy, he has been very good: a 3.12 ERA, 88 percent save rate, and 139 strikeouts against 28 walks in 135 1/3 innings since the start of 2010. Papelbon's numbers during that same stretch: 3.39 ERA, 86.5 percent save rate, 214 strikeouts, 47 walks in 172 1/3 innings.
David Murphy, Daily News Staff Writer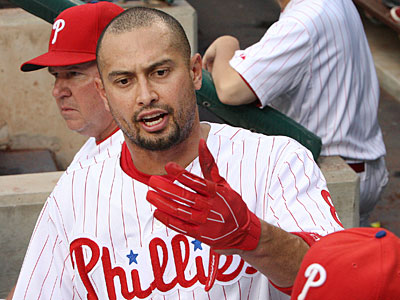 If the Cincinnati Enquirer is to be believed, the Phillies could struggle to gain anything of value in exchange for center fielder Shane Victorino.
Paul Daugherty, a columnist at the paper, included a tidbit on his blog that said the Reds nixed a deal that would have seen Victorino head to the Reds in return for Ondrusek, straight up.
Ondrusek is a 27-year-old righthander who is in the middle of his third full season in the major leagues. His 2.70 ERA looks good, but everything else about him says that he is at best a No. 4 or No. 5 reliever in a contender's bullpen (which is where he slots in the Reds bullpen). His strikeout rate is passable -- 6.1-per-nine this year, 6.0 for his career -- but he has walked at least 4.0 batters-per-nine in the last two seasons, which isn't something you want to see out of a guy who is pitching in high-leverage situations. If you do see it, you better be getting more than 6 strikeouts-per-nine.
David Murphy, Daily News Staff Writer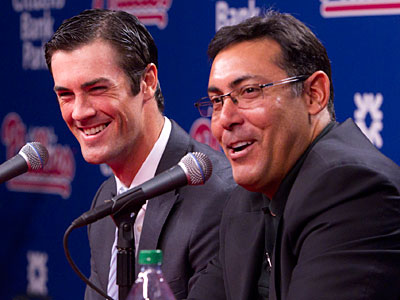 Lots of talk about how much money the Phillies have tied up in X amount of players now that Cole Hamels has signed a six-year, $144 million contract extension.
Here is how the roster sets up for next year:
*projected