Archive: June, 2012
David Murphy, Daily News Staff Writer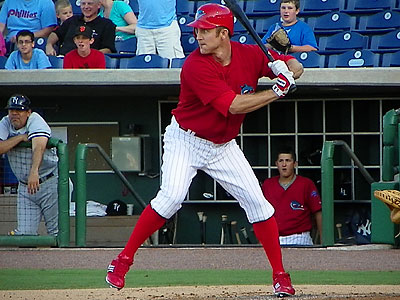 The Chase Utley situation is an interesting one because of how little we know about the health of his knees. He sounds optimistic, excited even, but he sounded the same way in February when he spoke to reporters at the start of spring training. All offseason, I had wondered how big an issue Utley's health was when it came to the team's planning. After listening to him speak in February, I was close to convinced that he really had passed the challenge, that his knee condition was manageable. This was less than a month before we found out that he would start the season on the disabled list.
So it is impossible to say what to expect out of Utley this time around. He looks strong, that's for sure. But he also missed more time this year than he did last year. Maybe that is because he was determined to come back better than he was when he came back last year. Or maybe it is because his physical problems are more complicated this time around.
One thing is for sure: Utley will improve this offense. Even though his numbers were not at the levels you have come to expect, he was still one of the top hitting second baseman in the majors. He finished Aug. 1 hitting .290/.380/.498 with eight home runs and as many walks as strikeouts in 256 plate appearances. At that point, he looked like Utley. But in his final 45 games he hit just .220/.298/.333 with three home runs in 198 plate appearances. He was one of the Phillies' best (only) hitters in the playoffs.
David Murphy, Daily News Staff Writer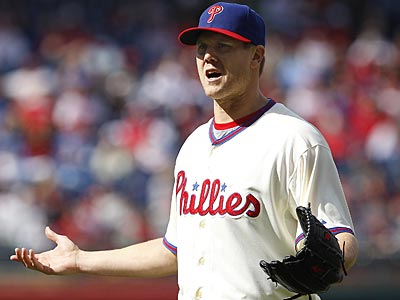 As we wrote in today's Daily News, the Phillies long ago reached a point where upgrading their bullpen became a necessity, not only for 2012, but for 2013 and beyond. Early in the offseason, we spent a decent amount of time looking at the potential strategies the club could pursue with regards to bolstering a bullpen that was thin on experience. We knew that they would prioritize a closer, with Ryan Madson the frontrunner. But we also assumed they would pursue some veteran depth for the seventh and eighth innings, given Jose Contreras' elbow surgery and the struggles that young set-up men Antonio Bastardo and Mike Stutes experienced in September. The Philies ultimately decided to make Jonathan Papelbon their lone significant upgrade, signing Chad Qualls to a $1.25 million deal late in the offseason.
In today's story, we noted that one of the ironies of the current administration's pursuit of a second World Series ring is that they have strayed away from the formula that won them their first title. In an attempt to quantify just how much their personnel strategy has changed, I crunched some numbers and calculated how much of their Opening Day payroll they spent on the bullpen compared to the rest of the team. I did this for 2008, 2009, 2010 and 2011 too. The table below breaks down what percentage of the Opening Day payroll was dedicated to the rotation, bullpen, lineup and bench in each of the last five years.
Position-by-Position Spending as % of Total Opening Day Payroll
| | | | | | |
| --- | --- | --- | --- | --- | --- |
| Pos. | 2008% | 2009% | 2010% | 2011% | 2012% |
| Rotation | 24.23 | 27.19 | 22.43 | 39.21 | 37.96 |
| Bullpen | 19.66 | 20.77 | 20.21 | 16.23 | 11.68 |
| Lineup | 52.16 | 48.03 | 53.84 | 41.94 | 46.61 |
| Bench | 3.94 | 4.01 | 3.52 | 2.63 | 3.4 |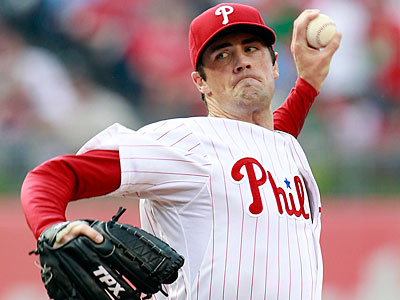 Join Daily News columnist Marcus Hayes for a live chat about all things Phillies starting at noon Monday.
If you're on a mobile device, click here to follow along and post questions.
Philly.com Sports
Video: Vance Worley and the Phillies were defeated by the Colorado Rockies 4-1 despite a lead-off homer in the first inning by Jimmy Rollins. The Daily News' Marcus Hayes reports.
David Murphy, Daily News Staff Writer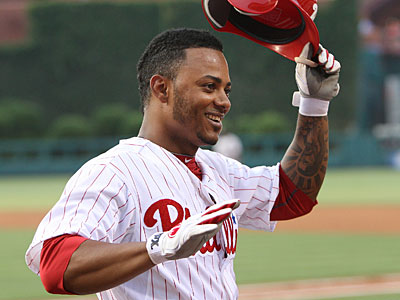 Gotta admit. For awhile it was interesting to watch this team on a nightly basis, because what I was watching was so unlike anything I had seen since I started to cover the beat in 2008. The offense looked like the offense that I expected. The bullpen was a bit worse. The defense? Unprecedented. In previous seasons, a team like the Astros or the Pirates or the Cubs or the Mets would arrive in town and only then would you realize just how good the Phillies were on that side of the ball. But for the bulk of this season, the Phillies have been That Team.
Anyway, last night was an exception, but it is going to have to become the norm if the Phillies hope to play their way back into postseason contention. As silly as it sounds, the playoffs are still quite possible.
We outline the complete scenario in today's column in the Daily News. The recipe starts with Cliff Lee, Cole Hamels and Vance Worley replicating the performances they provided in their last 56 combined starts of 2011, when they averaged 7 innings and under 2 runs allowed per outing. The Phillies went 39-17 in those 56 starts, and, well we break it down from there.
David Murphy, Daily News Staff Writer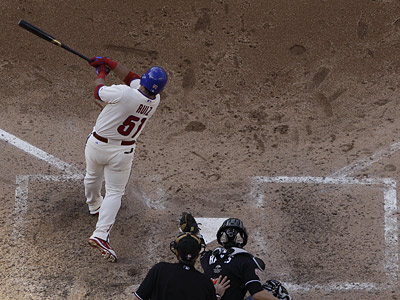 People say that reporters are supposed to be unbiased, but that is a bunch of bunk, and by bunk I don't mean a cigar-chomping, whiskey-swilling, wise-cracking homicide detective. Reporters are humans, and humans have biases. The real goal is to prevent those biases from appearing in print. One of my biases is that I, like most of the Delaware Valley, have a soft spot for Carlos Ruiz. I like the guy. I don't know him well enough to serve as a character witness, but in his role as a professional baseball player, I can certainly testify.
Quick anecdote: the Phillies' gameday ops crew runs a program that allows nine kids to join each member of the Phillies at his position during the playing of the national anthem. They stand side by side, stare at the flag, then scurry back to the stands. During one day game, I looked down at the field while the kids were out there. Most of the players were standing like soldiers, hats over their hearts, casting shadows over the kids next to him. Then I looked at home plate, where Ruiz was standing with his right arm draped around the little shoulders of the kid standing next to him. That, in a nutshell, is why people like Carlos Ruiz.
One of the joys of covering the Phillies for the last five years has been watching Ruiz's evolution, as a player, as a leader, and even as an adoptive American. When I first started covering the team, Ruiz would sometimes use a translator to talk to big groups of reporters. He did not like talking in front of cameras. But he has made amazing strides in his English. Last night, after he hit his ninth home run of the season and caught eight strong innings from Cole Hamels, Ruiz bounded through the clubhouse, joking with Roy Halladay's son about his fastball and fist-bumping Brian Schneider's son. When a team official told him that the media wanted to speak with him, he strode to the center of the clubhouse, leaned against the island counter that sits in the middle of the room, and spent a few minutes fielding questions with a veteran's ease.
David Murphy, Daily News Staff Writer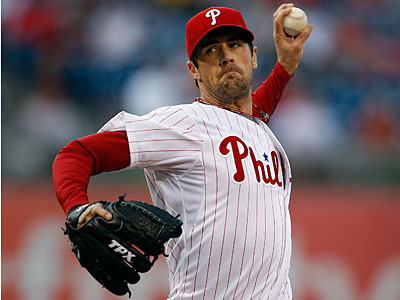 I've written several times that I can't see the Phillies trading away Cole Hamels, but that doesn't mean they won't trade him, which does mean we have to keep an eye on the potential market for him. Last week, we broke down what the Phillies should be in a position to demand in return from the star left-hander, who is scheduled to become a free agent at the end of the season. Of course, a lot depends on the market, specifically what other options there are for teams who are looking to upgrade their rotation for the stretch run. In that light, a few recent developments would seem to bolster Hamels' current market worth. Yesterday, the Brewers scratched starter Shaun Marcum from a start due to soreness in his right elbow, the latest health concern for the starter. Marcum, who is 5-3 with a 3.39 ERA, has the potential to be on the market given the Brewers' struggles this season.
--More significant is the Cubs' decision to place righty Ryan Dempster on the disabled list because of tightness in his lat. A free agent after the season, Dempster has had an outstanding campaign thus far. According to the Chicago Sun Times, there is no timetable for his return, but the injury definitely raises questions about his availability at the trade deadline.
--For most of the first two months of the season, I thought Johan Santana had a shot at becoming 2012's version of 2010 Roy Oswalt, a renowned pitcher with a year-and-a-half left on his contract who emerged as one of the top guns for hire on the trade market. This is a guy who pitched a four-hit complete game shutout with seven strikeouts on 96 pitches six days BEFORE he pitched a no-hitter.
David Murphy, Daily News Staff Writer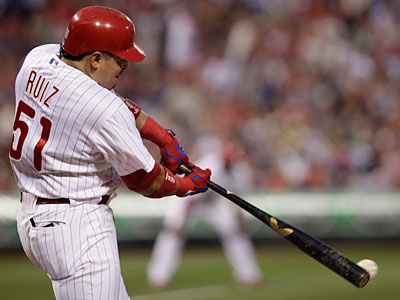 One of the tricky parts about my job is straddling the line between accuracy and accessibility when using statistics. A lot of people know what OPS means and what it represents. But a lot of people don't, and both groups of people want to read about the Phillies. Sometimes I get emails complaining about my use of RBIs and pitcher wins in a story. Other times, I get emails complaining about my use of OPS and WHIP. Sometimes, I get both types of emails in the same day.
The problem with "counting" stats like RBI and hits and strikeouts is the fact that they do not consider the big picture, like how many runners a hitter had on base in front of him, or how many plate appearances the hitter had. The problem with a lot of percentage stats is that they are not intuitive. The difference between a .260 batting average and .300 batting average is four hits for every 100 at-bats, which is maybe 24 hits over the course of a season. What, exactly, does that mean in the context of an individual plate appearance? Try explaining the same for on base percentage and slugging percentage. Fast forward all the way up to a less accessible stat like Wins Above Replacement and you can understand why a lot of people just don't want to be bothered with it.
But what if there was away to lessen the disconnect by finding a way to quantify the events that really impact the outcome of a game in an intuitive fashion? Linear weights, the backbone of WAR-related stats, just aren't intuitive enough for a lot of people.