Archive: May, 2012
David Murphy, Daily News Staff Writer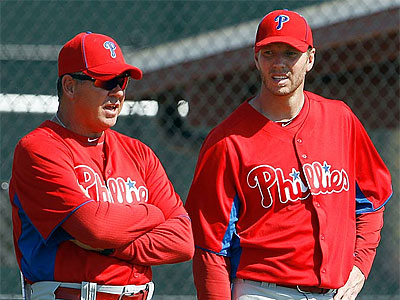 The two scouts who Ken Rosenthal quoted in his spring training story about Roy Halladay's decreased velocity are not the only people who had some suspicions about the veteran righthander's physical well-being.
"I've thought since spring training that there was an issue," pitching coach Rich Dubee said on Tuesday, after the Phillies put Halladay on the disabled list with a Grade 1/2 strain of his lat muscle. "The ball just hasn't been accelerating through the zone the way his stuff does. His cutter has been moving that way, but his stuff is different than most people's stuff. Does he have that 96 (MPH velocity)? No. But his stuff, from the grass through the hitting zone, is explosive. It just took off. It was just more gradual now. It didn't have the finish to it."
So why did Halladay continue to pitch? According to Dubee, it was only the last couple of outings when it became apparent that the veteran righthander was not going to be able to pitch through whatever was ailing him. Heck, according to Halladay, there wasn't even a problem until the past couple starts.
David Murphy, Daily News Staff Writer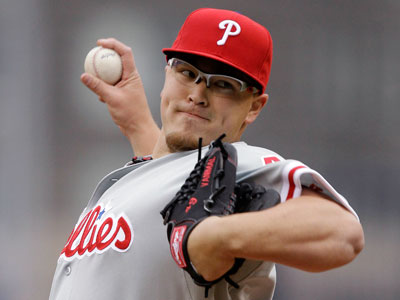 You can read all about the big news of the day elsewhere on this site. For now, let's focus on the issue of who will replace Roy Halladay in the rotation. For the time being, the Phillies have called up catching Erik Kratz to take Halladay's spot on the roster, but at some point they are going to need to add another pitcher to the mix, whether it is Dave Bush or Scott Elarton at Triple-A Lehigh Valley or Vance Worley from the disabled list. At this point, Roy Oswalt is not an option. It appears as if he is going to sign with Texas. Even if he wasn't, the Phillies have not had any recent conversations with him and would not appear to view him as an option.
Worley threw a bullpen session today and the reports were good, although the next one he throws will be a bigger test, because he will ramp up the intensity and go 100 percent. That session is scheduled for Friday, after which the Phillies will decide whether Worley can jump right back into the rotation. If he can, he would start against the Dodgers on June 4. Pitching coach Rich Dubee said today that Cole Hamels will start on his normal day despite Thursday's off day, which means Hamels will be going against the Marlins on Saturday.
If Worley can jump back into the rotation, this is how it would look:
David Murphy, Daily News Staff Writer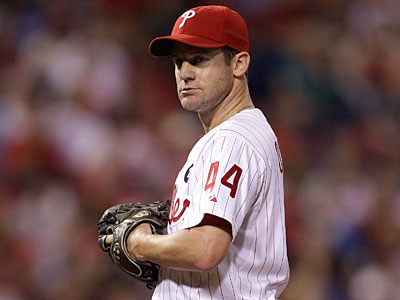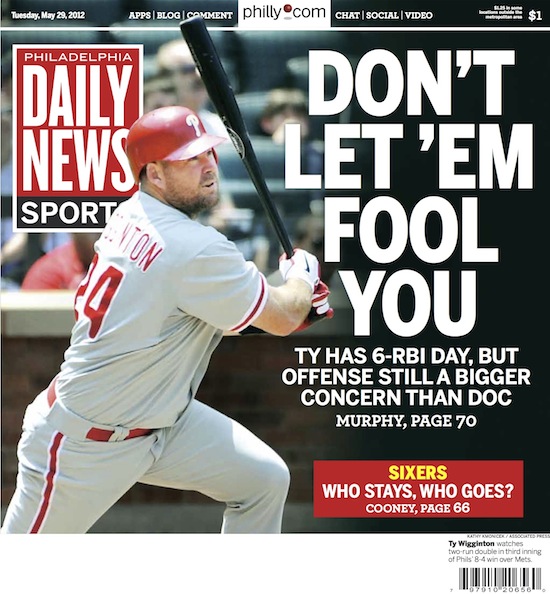 The question is hypothetical, because we do not yet have an indication that the Phillies are serious players for Roy Oswalt, who is still back home in Mississippi gearing up to play some ball. But we know that the team has seen the veteran righthander pitch, and we know that Roy Halladay is headed for a doctor's appointment today, and we know that Roy Halladay does not tend to make doctor's appointments and leave games early for minor ailments. So there is plenty of reason to believe that Ruben Amaro Jr. might have interest in bringing Oswalt back for another go-around.
The tricky variable is the offense, which has shown some signs of life over the last month but still has yet to prove that it is anything more than a middling unit that does most of its damage against middling pitchers. And the two biggest variables for the future of the offense are Chase Utley and Ryan Howard, neither of whom are likely to have returned by the time Oswalt picks a team. All of that could be related if the Phillies have a limited amount of payroll that they can take on between now and the trade deadline.
Maybe the offense does not need any help. Maybe Utley gives you what he gave you after his return last season, and maybe Howard can at least get himself back to the point where he is the batting order's top power threat and RBI producer. And maybe Ty Wigginton rotates in at first base against left-handed pitchers and Laynce Nix and Juan Pierre rotate with John Mayberry Jr. in left field and all of it works to produce a cohesive unit. And maybe Jimmy Rollins breaks out of a funk that has been going on two months and maybe Shane Victorino and Hunter Pence get back to the levels they were playing at for the bulk of last season.
David Murphy, Daily News Staff Writer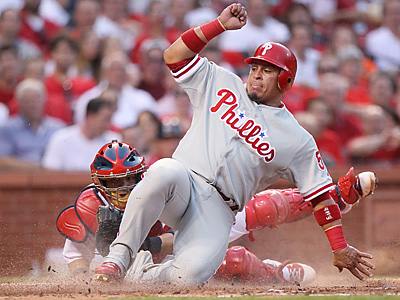 Shane Victorino is all heart, so you tend to know exactly how he is feeling, regardless of the actual words that are coming out of his mouth. When he is speaking in run-on sentences and barely pausing for a breath and taking multiple detours in a single answer, he is usually feeling really good, and that is how the Phillies center fielder was speaking last night. Yesterday at Busch Stadium III, the vibe emanating from this Phillies team was as upbeat as I can remember it being this season.
The trick, of course, is making it last, which is why they play the games, but you have to be encouraged by how the Phillies have responded since they dropped the first two games of their series against the Nationals earlier this week.
Offensively, it all starts with Carlos Ruiz, and the early results of his move to the clean-up spot are intriguing. Forget about his individual performance for a minute and consider that Victorino is 4-for-8 with a walk, two doubles, a home run, three runs, and five RBI over the last two nights since moving into the five-hole.
David Murphy, Daily News Staff Writer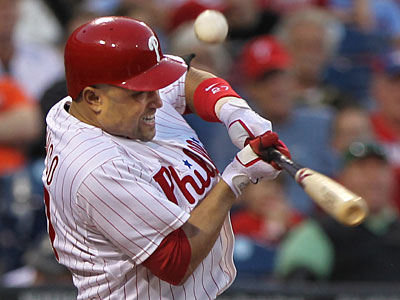 Just some random numbers while perusing my stats this morning. . .
1) The Phillies are just 5-for-38 with runners in scoring position in their current four-game losing streak.
2) Josh Beckett, Gio Gonzalez and Jordan Zimmermann have held the Phillies to two runs on 24 baserunners with 16 and seven walks over 19 1/3 innings over the last three games.
David Murphy, Daily News Staff Writer
A professional athlete's psychological exterior can sometimes appear impenetrable, particularly when that professional athlete is Harry Leroy Halladay. But every so often a crack appears, and you are reminded that even a once-in-a-generation player is not immune to the psychological stresses that afflict the members of the general population. One of those moments occurred on Tuesday night, as Halladay stood amidst a gaggle of microphones and notepads and cameras and admitted what should be obvious to us all. The Phillies are pressing. Halladay. Hunter Pence. Shane Victorino. All of them. A six-week slog through low-scoring losses and jarring headlines and crescendoing boos has taken its toll on this team, and I get the sense that we have reached a juncture that could prove to be one of the more dramatic turning points of this season.
Halladay spoke in his usual measured tone, but it was tinged with a sort of pleading honesty as he provided one of the more accurate and eloquent summations of the state of the team.
"The first two months have been tough for all of us," he said. "You do everything you can to fix it, and that's it. I think it gets back to going out and trying to play a little bit more loose and focus on your job. I think we've got, including myself, a lot of guys that are going out and trying to carry the weight of the team, and you can't play that way, and I think we've seen that. I think everybody is trying to pick up slack for what we may not be doing or guys we may be missing and all that, and that only seems to compound the problem. You put it behind you, but I think a lot of us just need to go out and play the game and have fun playing the game. You start pressing and you start trying to do things that you don't need to do and it makes things worse.
David Murphy, Daily News Staff Writer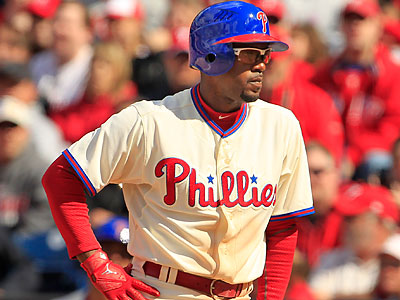 The Phillies are without Jimmy Rollins tonight and Charlie Manuel expects to be without his starting short stop on Wednesday too as he spends time with his wife, Johari, and newborn daughter.
Major League Baseball's collective bargaining agreement allows a player to take 72 hours paternity leave for the birth of a child.
Rookie Freddy Galvis is started at shortstop last night and is in the lineup at the position against tonight.
David Murphy, Daily News Staff Writer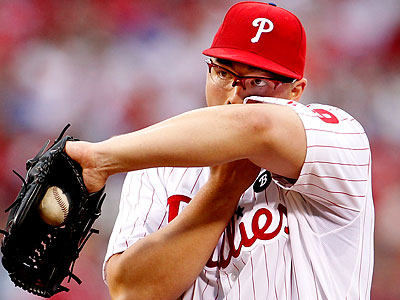 A visit to renowned orthopedic surgeon James Andrews confirmed the Phillies' diagnosis of a bone chip and inflammation in Vance Worley's right elbow. The good news is that Andrews immediately ruled out any serious problem with Worley's ulnar collateral ligament.
"Immediately after he grabbed my arm he knew it wasn't Tommy John," said Worley, who visited the specialist in Pensacola, Fla. "Now I just have to go out and get it going."
Worley was not immediately sure of the plan for his return to the field. The righthander said he is going to have to pitch with pain in his elbow for the rest of the season, something that lefty Cole Hamels did last year. Hamels had arthroscopic surgery after the season to remove bone chips from his elbow, although Worley said he does not know exactly how closely his condition mirrors the one that Hamels battled.