Archive: March, 2012
David Murphy, Daily News Staff Writer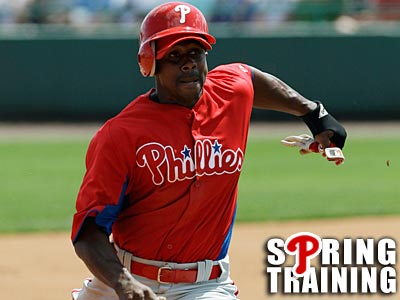 I hope Juan Pierre proves me wrong, because it is really hard not to like the guy. You know a player loves the game when he shrugs his shoulder at the $55 million he has already banked in his career and signs a minor league contract at the age of 34 just so he can keep on competing. Pierre takes baseball seriously, and you can see why Charlie Manuel has such an affinity for him. Plus, he wears his socks high.
At the same time, it is fair to wonder how many one-dimensional clubhouse leader types the Phillies need on their bench at any one time. If this was last year, I would understand the desire to carry Pierre on the roster. His skill set is one that has been missing from the bench ever since I started covering this beat: a guy who can lay down a bunt, a guy who can steal a base, a guy who does not strike out.
This year, though, the move feels like an extra layer of sun tan lotion while sitting on the deck of the Titanic. That is hyperbole, obviously. Regardless of the many holes that have devleoped over the last six months, the Phillies will still enter the season as the favorite to win the National League East. Still, you have to acknowledge that they are sitting in a precarious position. And while they may have had the luxury of augmenting their roster with specialists the last few seasons, right now they are in no position to be turning away a player who has the potential to make a meaningful impact on the top half of the batting order. You've been reading this blog enough this spring to know the player I'm referring to is Scott Podsednik.
David Murphy, Daily News Staff Writer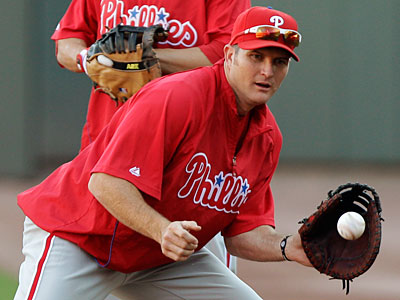 This popped into my email while I was driving back from Clearwater yesterday (18 hours, 3 stops, plus an hour-long delay for an accident south of DC). I figured people would be all over it, but unless my browser cache is acting up, I haven't seen it posted anywhere local.
Anyway, MLB Network PR department, take it away!
Five-time American League All-Star Mike Sweeney has joined MLB Network as a studio analyst. Sweeney will make his debut on MLB Tonight today, Wednesday, March 28 at 9:00 p.m. ET. Sweeney joins former MLBers Larry Bowa, Eric Byrnes, Sean Casey, Ron Gant, John Hart, Jim Kaat, Al Leiter, Mike Lowell, Joe Magrane, Kevin Millar, Jerry Manuel, Dan Plesac, Harold Reynolds, Billy Ripken, John Smoltz, Dave Valle and Mitch Williams as analysts at MLB Network.
David Murphy, Daily News Staff Writer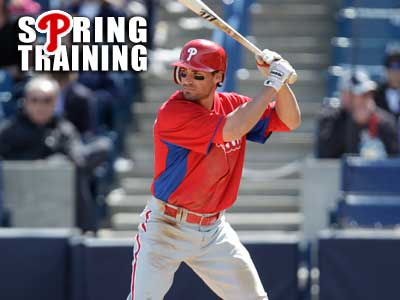 Scott Podsednik took two balls, swung through a pitch, then squared up a fastball he could drive, sending it sailing onto the right field berm and delivering a walk-off win to the Phillies. Afterward, Charlie Manuel couldn't help but admire the veteran left-handed hitter's at-bat against Pirates southpaw Daniel Moskos.
"Podsednik got a good ball to hit there at the end," Manuel said. "He got up in the count and he got a fastball that looked like it was down and right in the middle of the plate."
The home run illustrated the biggest difference between Podsednik and his chief competition for a bench spot on the Phillies' Opening Day roster. Manuel acknowledged that he has a tough decision to make if it comes down to Podsednik or Juan Pierre for one of the team's final bench spots. In some ways, the two veterans have similar skill sets. Both rely on their speed and ability to reach base. Both are left-handed hitters. Both play the corner outfield positions. And both are long-time veterans looking for a chance to contribute.
David Murphy, Daily News Staff Writer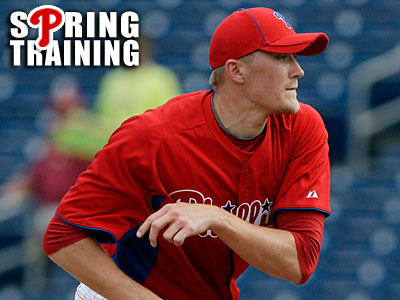 In case you have not heard, the Phillies have trimmed three more players from their spring training roster, assigning veteran righthanders Brian Sanches and Scott Elarton to the minors and optioning lefty Jake Diekman. All three pitchers are expected to open up the season at Triple-A Lehigh Valley.
The cuts bring the total number of players in major league camp down to 37. One of those players is righthander Justin De Fratus, who is certain to the start the season in the minor leagues, assuming he does not start it on the disabled list as he continues to work his way back from a bout with elbow soreness that sunk his spring.
None of the roster cuts come as a surprise. Sanches and Elarton will be depth guys at Lehigh Valley, while Diekman could end up being this year's Mike Stutes. He struck out nine and walked one while allowing just one unearned run in five innings, putting himself in position for a potential call-up should the Phillies suffer an injury in the back end of their bullpen, particularly if that injury afflicts Antonio Bastardo.
David Murphy, Daily News Staff Writer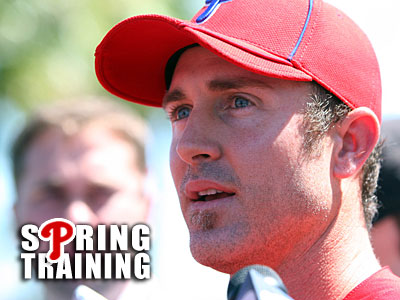 For a writer, one of the cool things about Twitter is the way it serves as a real-time focus group for thoughts and ideas. It is an unscientific barometer of sorts, a quick way to gauge public opinion on certain topics.
Shortly after Chase Utley met with reporters to answer questions about his ailing knee(s), I offered a quick opinion on Twitter, curious to gauge the reaction of the folks who subscribe to my feed (http://www.twitter.com/highcheese):
"The thing that Utley and the Phillies continually fail to grasp," I wrote, "is that when you make millions of dollars thanks to a publicly-funded stadium w/ no property tax in a city on the ropes, you should feel some civic duty to keep your customers/tax base informed."
TO CONTINUE READING "AN EXPANDED TAKE ON CHASE UTLEY," CLICK HERE... »
David Murphy, Daily News Staff Writer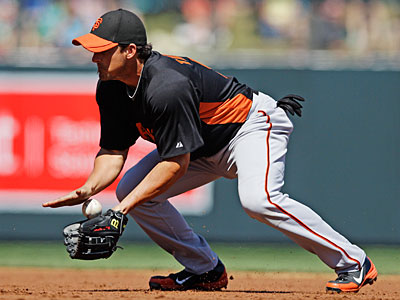 This is the time of year where general managers attempt to exploit the needs of their brethren, so expect to see plenty of names popping up in the rumor mill. Today's edition comes from San Francisco, where Brian Sabean is apparently attempting to part with either Ryan Theriot or Mike Fontenot so that he does not have to pay them a quarter of their non-guaranteed salaries by releasing them (Theriot will make $1.25 million, Theriot $1.05 million). This, according to Jayson Stark of ESPN.
The Phillies could conceivably have interest in either player. You would probably label Theriot the better defender, although he is a stronger second baseman than shortstop. Fontenot is primarily a second baseman, although he can play short.
From this vantage point, Theriot is the better fit. He's a career .282/.344/.353 hitter who stole at least 20 bases in the four seasons leading up to 2011. Fontenot carries a career line of .263/.304/.377 although he hit just .227/.304/.377 in 252 plate appearances for the Giants last season.
David Murphy, Daily News Staff Writer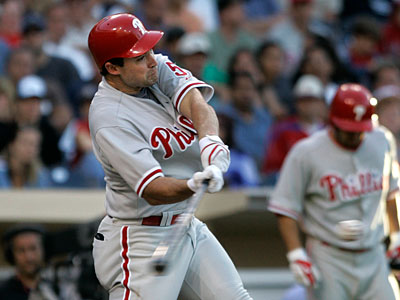 Can't say we ever projected this for Pat Burrell, but the former Phillies left fielder is apparently transitioning into a career as a scout. According to the San Francisco Chronicle, Burrell has agreed to spend 2012 as a scout for the Giants. Burrell has been at spring training scouting Giants minor league games from behind home plate. According to Chronicle beat writer Henry Schulman, Burrell does not know what his assignment will be.
Burrell also seems to have a future as a coach or field instructor in mind.
---
David Murphy, Daily News Staff Writer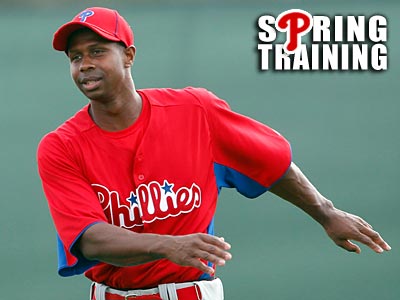 Let's get all of the disclaimers out of the way first. Jim Thome is a good story. In fact, he has the potential to be a great story. If you don't want to see the big guy win a World Series, then why do you even watch sports? He also brings a lot of off-the-field positives to this roster. The basketball folks talk about "glue guys," and Thome has all of the characteristics. It is impossible to quantify the benefit of having him in the clubhouse and behind the batting cage to talk hitting and impart leadership. Plus, he still provides a heck of a left-handed power bat.
All that being said, when you sit down and look at the Phillies bench, you start to see why it is difficult for a National League team to carry an American League designated hitter type on its roster.
Let's take a look at the Phillies' likely line-up for Opening Day, when they will face Pirates lefty Erik Bedard:
CLICK HERE TO CONTINUE READING OUR PROJECTION OF THE PHILLIES BENCH »