Archive: February, 2012
David Murphy, Daily News Staff Writer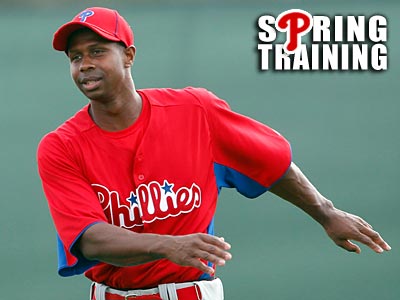 I'm going to try to get into the habit of posting a recap of each game on the blog. A landmark decision, I know. There really isn't much of anything to say from a big-picture perspective when it comes to today's 6-1 victory over Florida State, except that a team of non-roster invitees can beat an ACC team in their first competitive action in four-plus months. But let's give it a whirl. . .
-Juan Pierre struck out in his first at-bat, which is notable only because it is one of the few times you will see Juan Pierre strike out in any at-bat. The speedy outfielder is one of 13 players in the integration era who has posted at least eight seasons of 600 or more plate appearances and 50 or fewer strikeouts.
-Pierre is likely competing for a roster spot with fellow veteran leadoff man Scott Podsednik, who legged out an infield single to drive in the first run of the game. Podsednik wheels will be a focal point of the spring: he battled a foot injury last year that kept him in the minors all season.
David Murphy, Daily News Staff Writer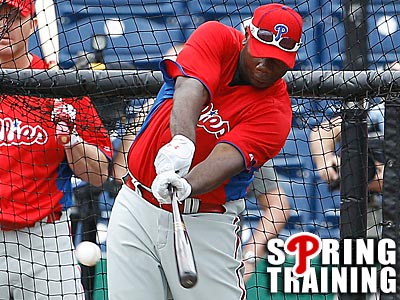 We are only getting a taste of baseball today as the Florida State Seminoles are in town. But it is better than watching sliding drills. For those who care about the opponent, FSU is led by center fielder James Ramsey, who hit .364 with 10 home runs and 67 RBI last season as a junior. He was selected in the 22nd round of the draft by the Twins but elected to return for his senior season. Baseball America has him ranked as the top senior in the country.
##
Florida State features a lefty pitcher named Brandon Leibrandt, who is the son of former Major League pitcher Charlie Leibrandt. Leibrandt played with Phillies special assignment scout Charlie Kerfeld on the 1990 Braves. Juan Samuel and Ryne Sandberg combined to go 13-for-35 with two home runs and two doubles against him during their major league careers. For what it's worth.
Poll: Are you worried about Ryan Howard?

(1288 votes)
David Murphy, Daily News Staff Writer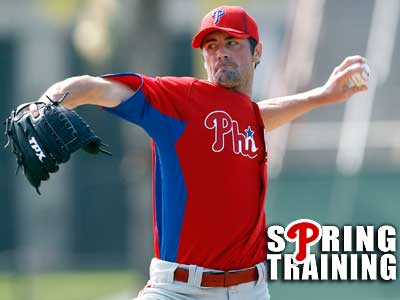 This morning, Rich Dubee unveiled the pitching schedule for the first seven Grapefruit League games, starting with Cole Hamels against the Yankees. Five of the first seven games will be televised in the Philadelphia market.
The Phillies play an exhibition game today against Florida State. Among the intriguing young pitchers scheduled to compete are Austin Hyatt, Jake Diekman and Phillippe Aumont.
The complete schedule for the first week:
David Murphy, Daily News Staff Writer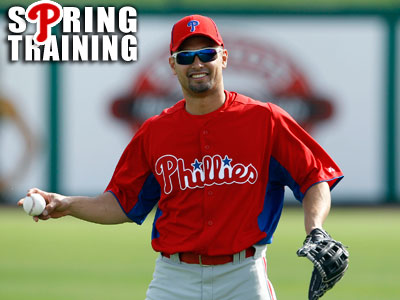 Let's face it - the Cole Hamels situation is relatively straight forward. You cannot look at his performance over the past five seasons and the free agent market over the past few offseasons and not conclude that he is worth at least $20 million per year of six years on the open market. He is an elite pitcher, and he has every reason to expect that he will be paid like one. The decision is a philosophical one -- how much money is a team willing to commit to a position that can see a career end with one shoulder injury?
Shane Victorino is another story. His career is like an ink blot -- you can see what you want. The only center fielders with a higher OPS over the last three seasons are Matt Kemp (.863), Curtis Granderson (.831), Jacoby Ellsbury (.830), Andrew McCutchen (.822) and Torii Hunter (.815). Victorino checks in with an .800.
As we noted in today's column, Victorino showed last year that he has the potential of producing a huge walk-year performance.
Philly.com Sports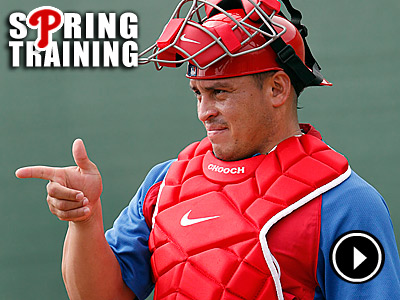 Video: Mike Schmidt makes his annual appearance at Phillies camp as a special instructor and will have a special focus on helping some of the more tenured hitters with their situation hitting.
David Murphy, Daily News Staff Writer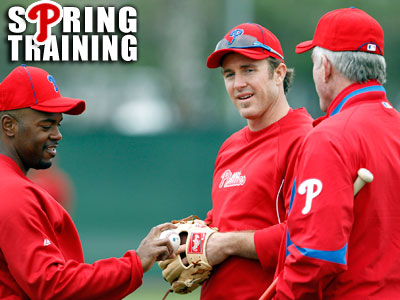 The revolution occurred yesterday afternoon in a hallway that leads to the main entrance of the Phillies clubhouse at Bright House Field. Bob Brookover asked me what I was writing for the next day's paper, and I responded by telling him. We nodded, talked briefly about the Nationals line-up, then went our separate ways.
As far as I know, the Earth has not yet stopped spinning.
During my first four years on the Phillies beat, the rivalry between the Daily News and the Inquirer existed more in our own minds than in the minds of anybody who actually matters (like, for instance, our readers). Make no mistake - they are two distinct publications with two distinct voices. But open up both papers this morning and I think you will find that those distinctions are still intact. Bob wrote a piece on Juan Pierre for the Inquirer. I wrote a piece for the Daily News on the Phillies' shrinking margin for error in the new-look National League East. Matt Gelb, meanwhile, wrote a piece on John Mayberry Jr. along with a Phillies notebook, both of which appeared in the Inquirer and the Daily News.
David Murphy, Daily News Staff Writer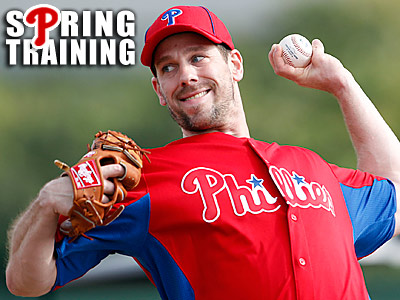 Cliff Lee was on the mound for the first time in a few days. The veteran lefty threw a bullpen session this morning as pitching coach Rich Dubee and head athletic trainer Scott Sheridan looked on. Lee has been battling what the team is describing as a minor case of mid-section soreness.
"Better safe than sorry, especially this early," Lee told reporters on Friday."It's really it. I didn't really think I was going to have to talk about it."
Lee skipped a bullpen session on Wednesday and eased off his spring training workload for a couple of days before getting back on the mound this morning.
David Murphy, Daily News Staff Writer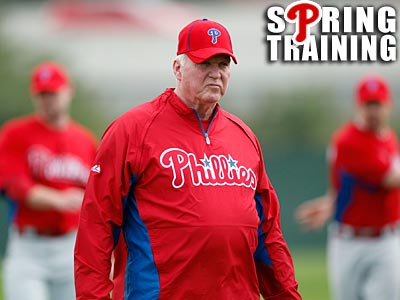 Download Philadelphia SportsWeek Podcast via iTunes
Download Philadelphia SportsWeek Podcast via RSS Feed (Droid and others)