Archive: February, 2010
David Murphy, Daily News Staff Writer
Finally, some daylight, both literally and figuratively. After a wet, windy and cool week here in Clearwater, the sun is out, the thermometer is creeping toward 60 degrees, and Rich Dubee has posted his pitching probables for the first week of exhibition play.
The games are almost here, which means we'll finally get a chance to see some of the Phillies' pitchers in action against opposing hitters. Dubee reiterated his philosophy earlier this week when he joined us on Daily News Live, saying that he looks at each pitcher's first appearance as a mulligan. Starters will be held to under 50 pitches as they continue to stretch their arms out and regain their feel for their repetoires.
Here is a look at the probables for Week 1:
David Murphy, Daily News Staff Writer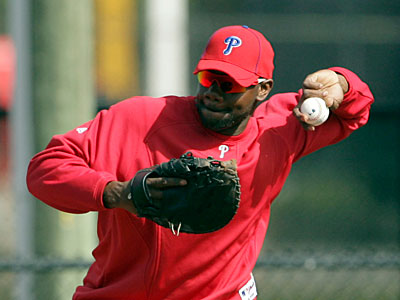 We've already spent plenty of time in this space outlining the Phillies' finances over the next few seasons, with particular attention paid toward 2011, when the team already has guaranteed $130.85 million to 15 players. To put that in perspective, the Phillies' total Opening Day payroll in 2008 was under $110 million. Thus far, the team's payroll has coincided with a dramatic increase in revenue sparked by a playoff appearance in 2007, a World Series title in 2008, and record regular season attendance marks in 2008 and 2009.
But at some point, their revenue will level off, and in the absence of any new major streams, the spending must level off as well. Attendance can only increase by so much, since there are only so many seats in the house. And in a sluggish economy, it is hard to imagine the team being able to dramatically increase the rates it charges its various sponsors. This is why the Phillies say they are not the Yankees, or, to a lesser extent, the Red Sox. They do not own their own cable network, as the Yankees do. And their market reach would seem to be far less than that of Boston, where the closest MLB city is more than 200 miles away (the Phillies, by comparison, have three MLB cities under 200 miles away).
So while we may never get to look at the Phillies' books and judge exactly how much cash flow they have, their contention that their resources are limited is a valid one.
David Murphy, Daily News Staff Writer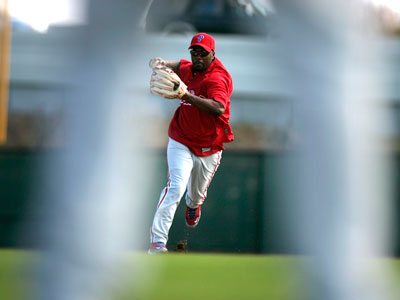 One of Jimmy Rollins chief goals this season? Steal 50 bases, the Phillies short stop said yesterday. He has come close twice, stealing 47 in 2008 and 46 in his rookie season of 2001.
He also weighed in on his opinion of the best pitcher in the National League East, less than a week after Mets lefthander Johan Santana picked himself.
"Overall? Roy is (the best), as far as pitching is concerned," Rollins said. "You bring in the hitting side of things, and Santana gets the nod. There is no doubt about that. I mean, Roy can't hit. There's no secret there. I texted Roy prior to him getting down here and told him that he has my vote for National League Rookie of the Year already."
Daily News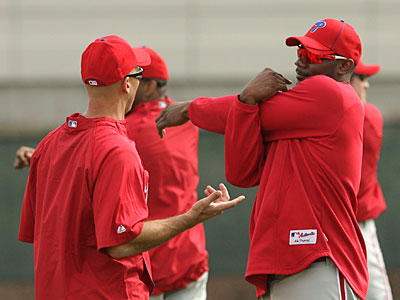 David Murphy, Daily News Staff Writer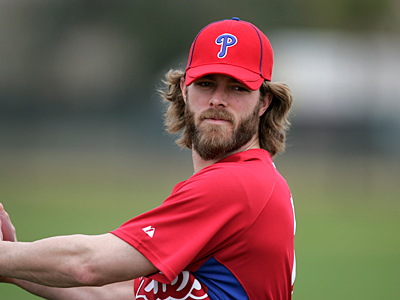 Jayson Werth did not want to talk about his new look, a bushy beard and long hair that made you half expect to see him carrying around a Wilson volleyball with a bloody hand print.
He did, however, talk about his personal contract situation, which sees him entering 2010 in the final year of a two-year, $10 million deal. The Phillies already have more than $130 million guaranteed to 15 players next season, and they have said they do not expect their payroll to climb much higher than it's current state, which is right around $140 million.
"I think everybody knows the situation," Werth said. "It's no secret. But really, I'm focused on playing baseball and being part of another championship season."
David Murphy, Daily News Staff Writer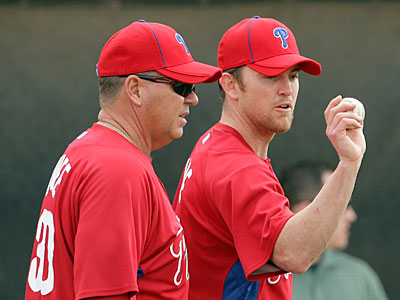 Closer Brad Lidge just got done throwing his first bullpen session since his knee and elbow surgeries. There did not appear to be any physical set-backs. With general manager Ruben Amaro Jr. watching from the side, Lidge threw about 20 pitches to catcher Paul Hoover. Afterward, he met briefly with pitching coach Rich Dubee.
Lidge, who is coming off a season in which he blew 11 saves and posted a 7.21 ERA, underwent elbow surgery on Nov. 13 to repair flexor pronator tendon and remove a loose body. He was supposed to be throwing eight weeks later, but he then had arthroscopic knee surgery to remove a portion of his mensicus and a loose body on Jan. 13.
David Murphy, Daily News Staff Writer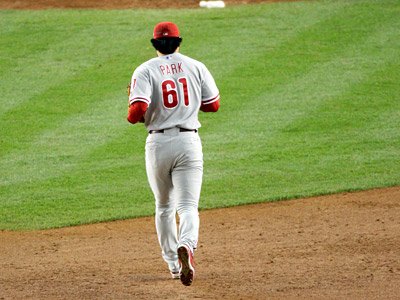 Former Phillies righthander Chan Ho Park has signed with the team who beat them in the World Series. Park announced at a press conference in South Korea early this morning that he has signed a one-year deal with the Yankees worth $1.2 million, plus $300,000 worth of incentives. Park, according to a report by the Yonhap News Agency, said he had considered signing with the Cubs, who had offered him a chance to be a starter, "But I have chosen the Yankees, a prestigious team that can advance to the World Series again."
Of course, Park could have signed with another team that has a chance to advance to the World Series again, and for nearly twice the money he says he landed with the Yankees. The Phillies made no secret of their desire to re-sign Park, who posted a 2.52 ERA and struck out 9.4 batters per nine innings in 50 innings as a reliever last season. They made him an offer in the neighborhood of $3 million per year, but eventually moved on and signed righthanders Danys Baez and Jose Contreras.
Contreras, a former starter with the Yankees and White Sox, is expected to fill the void Park left.
David Murphy, Daily News Staff Writer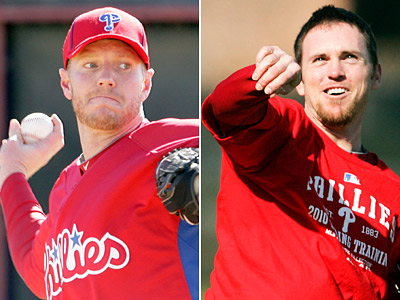 We'll have much more on Roy Halladay in the paper tomorrow.
He met with the media today, and talked extensively about his desire to pitch in the postseason. Here's something I find interesting: Halladay's last championship game appearance came in his senior year at Arvada West High School, when he was beaten by a team from Cherry Creek High for the state title.
A member of that Cherry Creek team?