Archive: February, 2008
David Murphy, Daily News Staff Writer
Its a little after 5:30 p.m. here in Bradenton, and I'm guessing we're going to get kicked out of the press box here any time soon (note to aspiring baseball writers - don't mess with the snowbirds who serve as ushers at these spring training venues. They may look kind and grandfatherly, but they'll mess your world up in a second if you cross them).
But before that happens, here's a quick update of what happened today:
1) Shane Victorino hit a triple to right field that he probably could have stretched into an inside-the-park home run if he hadn't been held up at third. The Flyin' Hawaiian looked like he wanted to go home, but a meaningless spring training game is not the place to separate ones shoulder in pursuit of a roundtripper. Vic finished 2-for-3 on the day. . .
David Murphy, Daily News Staff Writer
So, I rolled into Bradenton about 10 a.m., fresh off a night in which I somehow managed to drop they keys to my hotel room down an elevator shaft.

Don't ask.
Anyway, Brett Myers pitched three innings this morning in a B-Game at the Pirates' spring training complex. He gave up one run on five hits and struck out three. Afterward, he didn't seem to put too much stock in the performance.
David Murphy, Daily News Staff Writer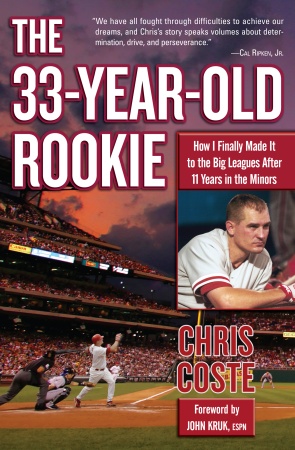 Chris Coste's book hits stores March 18. The Phillies catcher wrote the manuscript entirely by himself.
Here's an excerpt of the book jacket from the Random House Web Site:
For eleven seasons, Coste hustled, fought, and gritted his way to his breakthrough–and never lost faith in his abilities. Along the way, he gained the affection and admiration of baseball fans from Ottawa and Scranton to various Mexican and Venezuelan cities. Battered by years spent behind a catcher's mask, and faced with bracing realities–there were bills to pay, and his young daughter was entering first grade–Coste decided to give it one last shot in 2006. But that year, during the Phillies' major-league spring training, Coste was demoted to the minors at the last minute to make room for a utility outfielder, despite having hit a blistering .463 and earning the trust of the team's pitchers. Later that season, though, Coste finally got the call-up, and he hit .364 during the Phillies' furious battle to nail down the final postseason berth.
David Murphy, Daily News Staff Writer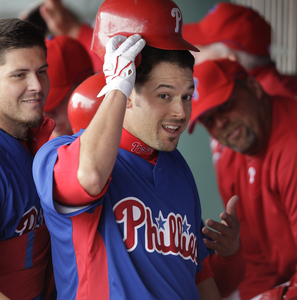 Lots of stuff to get to this morning.
1) It's still cold down here. About 41 degrees. Then again, I just checked the current conditions in Philly. 19 degrees. Yikes.
2) Some thoughts from yesterday's 8-1 win over the Reds. Yeah, it was only the first spring training game. And anybody in baseball will tell you that spring training is a horrible predictor of things to come. Still, there was tons to be impressed with.
Pitching: When Rich Dubee walked into the coaches' locker room, we heard him get a big round of applause from his fellow coaches. I can only assume this was because of the way his pitchers threw the ball yesterday. They allowed one run, five hits, struck out seven and, most amazingly, walked none. No walks. In the first spring training games. In chilly conditions. In high winds. That's pretty impressive. Manager Charlie Manuel said the organization's top prospect, Carlos Carrasco, impressed him. More on the Venezuelan 20-year-old later.
Jamie Moyer: In the second inning, Moyer struck out Juan Encarnacion on what was either a slow curve or a change-up. Either way, it looked like it was travelling in a School Zone it was moving so slow. The thing practically had its hazard lights on. Moyer said later the pitch was a mistakes. Nevertheless, the 45-year-old lefty was outstanding, allowing one hit and striking out three in three innings of work. He kept batters off balance the entire time, making very quick work of the first third of the game. For more on Moyer, read my colleague Paul Hagen's story in today's paper.
Travis Blackley: Blackley was very satisfied with his appearance. He threw one pitch that probably would have been taken for a home run had the wind not been blowing, but other than that he showed nice command of his off-speed stuff. "Sinker, sinker, sinker" Blackley told me after the game when I asked what he was throwing. He'll be interesting to monitor this spring. He had shoulder surgery two years ago, and the Phillies were convinced when they selected him in the rule 5 draft that he was still gaining velocity back. He's a lefty who was once one of the top prospects in the Mariners organization. He's a starter, always been a starter, but Manuel admitted yesterday that there is a chance he could wind up in the bull-pen. He has to make the active roster, or the Phillies have to offer him back to San Francisco, whom they selected him from this past offseason.
Newcomers: The Phils didn't make any huge free agent signings - at least not on the level of Mike Lowell or Johan Santana - but the ones they did make all had strong efforts yesterday. Geoff Jenkins, Pedro Feliz, So Taguchi and Eric Bruntlett all picked up hits. Feliz and Bruntlett both went 2-for-2, while Jenkins had a nice double that jump-started a seven-run fifth inning. Here's my view of guys like Jenkins and Feliz: In San Francisco and Milwaukee, their respective teams needed them to be major components of the run-scoring machine. The Phillies certainly need production out of them, but not nearly as badly as their former teams needed. For example: in Feliz's case, there is a heck of a lot of difference between protecting Barry Bonds in San Fran and hitting seventh for the Phillies, as he did yesterday. That can only help these guys.
David Murphy, Daily News Staff Writer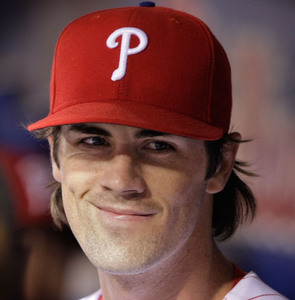 Count Cole Hamels among those who don't assess too much value to who gets the nod on opening day. The 24-year-old lefty might have been in a position to be a tad annoyed with the Phillies' decision to go with Brett Myers in the season opener against the Nationals, given the fact that he went 15-5 last season and was expected to be the team's ace this year. But Hamels said, in some ways, he's glad that Myers is the starter.
"It really doesn't (make a difference)," Hamels said. "For me, there's a lot of hype that goes into opening day. For myself, it's not really a big deal. I know being 24 years old I have plenty of years where I'm trying to chase after Jamie Moyer. I know eventually maybe I'll get one of those but for myself, after about three four starts, it doesn't matter anymore."

****
David Murphy, Daily News Staff Writer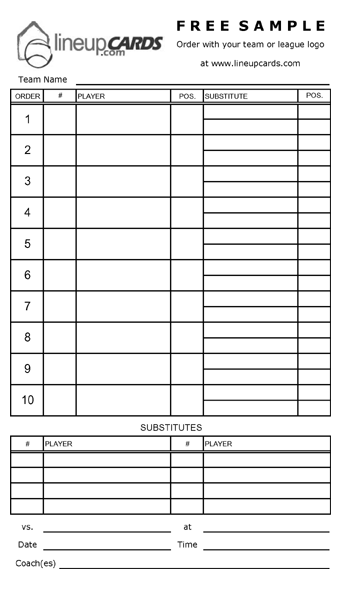 It's 9:31 a.m., and its chilly in Clearwater. The wind is blowing hard from left field to right field. Could be a low-scoring one today. The Phillies take on the Reds less than 24 hours after their scheduled exhibition against Florida State was rained out.
Jamie Moyer will start the game, followed by Travis Blackley, Carlos Carrasco, Clay Condrey and Ryan Madson. I'm real interested to see Blackley, Carrasco and Madson pitch. Blackley is a rule-5 guy the Phils picked up from San Francisco in the offseason. He's a lefty, and he's supposedly in the thick of the competition for the No. 5 spot in the rotation. Carrasco is one of the team's top pitching prospects, and Madson will be making his first appearance since July of last year
Below is the line-up the Phils will use for the game:
1. Jimmy Rollins, SS
2. Shane Victorino, CF
3. Chase Utley, 2B
4. Ryan Howard, 1B
5. Pat Burrell, LF
6. Geoff Jenkins, RF
7. Pedro Feliz, 3B
8. Wes Helms, DH
9. Carlos Ruiz, C
SP. Jamie Moyer, LHP
David Murphy, Daily News Staff Writer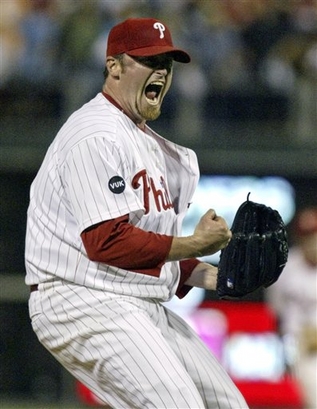 For about an hour and a half, I had no earthly idea why the Phillies chose now to announce the fact that Brett Myers would be their opening starter. Or, for that matter, why Myers was the opening day starter. Charlie Manuel hemmed and hawed when asked about it, failing to pin-point any specific reason why the decision has been made. Later, assistant GM Ruben Amaro didn't get into specifics either.
But pitching coach Rich Dubee later gave a group of reporters a rationale that made sense: the move was 1) A reward for Myers' unselfishness during the past year, and 2) A signal to him that he wouldn't be heading back to the bull-pen in the wake of Brad Lidge's knee surgery.
"I don't want Brett looking forward to being a closer," pitching coach Rich Dubee said. "I want Brett preparing for opening day."
David Murphy, Daily News Staff Writer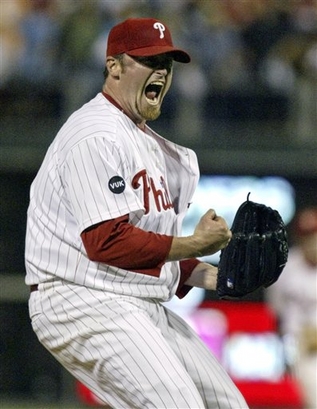 Charlie Manuel pulled a mild shocker today announcing that his opening day starter will not be left-hander Cole Hamels. Instead, he's putting the ball in the hands of righty Brett Myers for the second straight year.
More on this to come in a few minutes. . .