Archive: December, 2012
David Murphy, Daily News Staff Writer
By DAVID MURPHY
Most writers have a little bit of drama queen inside of them. It is part of our nature, part of the reason why we spend so much of our time living other people's lives instead of our own. We are the original reality television producers. So the annual melodrama about the steroid era and the Hall of Fame is understandable. In addition to our infatuation with narrative, many of us have an unrealistic sense of self-importance, and when you combine those two characteristics with our ever-present need to meet deadlines and fill space, then the decision to make us the official selectors for the Baseball Hall of Fame has resulted in exactly what you would expect: a Grishamesque volume of stories that tend to over-inflate the ramifications and cultural significance of both election to the HOF and the writers' role in facilitating that process.
But this is not a screed arguing against the inclusion of writers in the voting process. I have written plenty about that before. For disclosure purposes, the only thing that matters in this instance is that I am not eligible to vote for the Hall of Fame because I have not been a member of the Baseball Writers Association for 10 years (although I feel like I am getting frighteningly close to that threshold).
David Murphy, Daily News Staff Writer
Wrote a blog post on this topic yesterday. We ended up discussing it on Daily News Live as well.
Here is the video:
David Murphy, Daily News Staff Writer
By DAVID MURPHY
Maybe the Mayans were wrong. Or maybe they were Phillies fans. Because right now, it is looking like Dec. 21, 2012 will go down in history as the last day any realist could consider them a sure-fire World Series contender. That was the day that the last of the everyday outfielders vanished from the free agent market, as Nick Swisher went from the Yankees to the Indians on a four-year, $56 million contract.
Maybe something changes in between now and the start of spring training. Maybe Ruben Amaro Jr. finds a way to swing a trade that will address one of the glaring needs that still exists on his roster at the midway point of the offseason. But the odds of that are long. The Phillies have already parted with two of their top trade chips in Vance Worley and Trevor May, and they did not exactly have a large stack to begin with. The trades that were supposed to make them contenders were made long before this offseason. The prospects that other teams covet are already gone. Anthony Gose, Jonathan Singleton, Jarred Cosart, Domingo Santana -- those are the types of players who end up being dealt for the Justin Uptons of the world. But the Phillies dealt them for two full seasons and two half seasons of Roy Oswalt and Hunter Pence.
Ryan Lawrence, Daily News Staff Writer
On Saturday, Cody Ross found a new home. The well-traveled, useful, righthanded-hitting outfielder signed a 3-year, $26 million contract with the Arizona Diamondbacks.
Less than 24 hours later, fellow free agent Nick Swisher also came off the market.
The Cleveland Indians signed Swisher, a switch hitter with power and a strong plate discipline, to a 4-year, $56 million deal. The contract includes a vesting option that can push the contract to 5-years, $70 million.
Philly.com Sports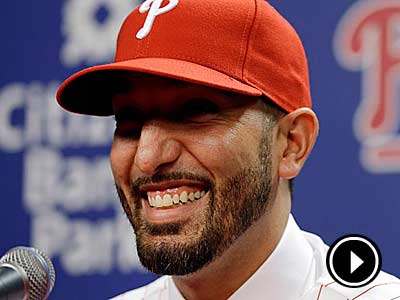 Video: Ryan Lawrence of the Daily News reports from Citizens Bank Park as the Phillies formally introduced new relief pitcher Mike Adams to the Philadelphia media.
Philly.com sports
Video: The Phillies introduce new acquisitions Michael Young and John Lannan at Citizens Bank Park. The Daily News' Ryan Lawrence reports.
Ryan Lawrence, Daily News Staff Writer
The Phillies introduced two new players on Tuesday - third baseman Michael Young and starting pitcher John Lannan.
Afterward, general manager Ruben Amaro Jr. answered several questions that would make the gathering kind of qualify as his "State of the Offseason" as Christmas nears.
Here is some of what Amaro had to say:
Poll: Do you have much hope for Jesse Biddle?

(2870 votes)
David Murphy, Daily News Staff Writer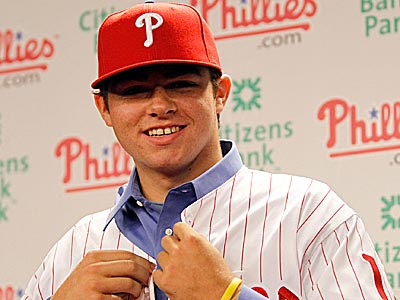 Baseball America unveiled it's annual Top 10 prospects for the Phillies organizations.
This year's list:
1. Jesse Biddle, lhp