Archive: December, 2010
Daily News staff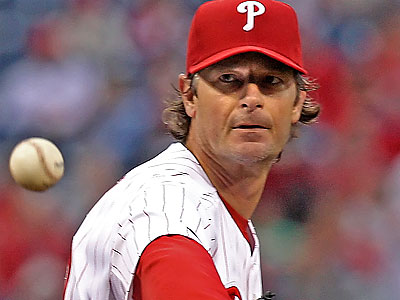 Less than four weeks removed from Tommy John surgery, lefthander Jamie Moyer remains optimistic that he will return to the big leagues in 2012, even at age 49.
"A lot of people have seen signs over the course of my career that I should quit or retire," Moyer told the Seattle Times. "In all honesty, I just don't feel like I'm ready to give it up. I feel I'm entitled to make my own decision.
"Everyone is entitled to their own opinions, which people don't seem to be shy about expressing. I respect and appreciate when it comes from the right people. The baseball people I've talked to before and since the surgery, all have been very positive and very supportive."
Daily News staff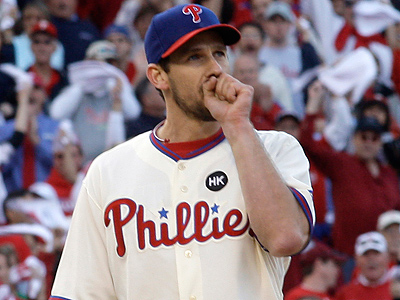 CC Sabathi and Cliff Lee are friends from their time as teammates with the Cleveland Indians.
They could have been teammates again with the New York Yankees, had Lee not made the stunning decision to return to the Phillies and take less money.
Sabathia, a father of four, says he fully gets looking at factors like your family's future when making a decision about free agency.
Daily News staff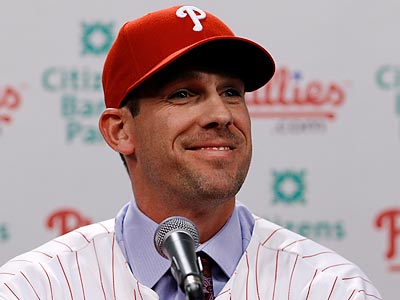 The Phillies had the third-highest payroll in baseball in 2010, according to information received by clubs from the commissioner's office and obtained by the Associated Press.
The figures are for 40-man rosters and include salaries and pro-rated shares of signing bonuses, earned incentive bonuses, non-cash compensation, buyouts of unexercised options and cash transactions, according to the AP.
The Phillies' total is $145,539,931. Only the Yankees at $215,053,064 and Boston at $170,650,856 had higher payrolls. Both teams had to pay the luxury tax.
Daily News staff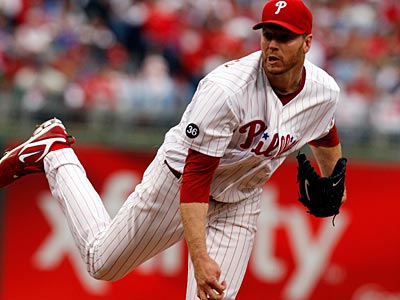 Roy Halladay picked up a few more accolades last night during the annual "This Year in Baseball" awards from the MLB Network.
Halladay, the NL Cy Young winner, was named Starting Pitcher of the Year (57 percent of the vote) and won for Postseason Moment of the Year (69 percent of the vote). He also was nominated for Most Dependable Player of the Year, Performance of the Year, Game of the Year and Postseason Most Valuable Player.
Carlos Ruiz and Roy Oswalt also won awards, known as the GIBBY's.
Daily News staff
Chase Utley was as surprised as you were about the Phillies' signing Cliff Leee.
"I found out probably the same time you found out," he told Fox Sports Radio. "It was pretty interesting. I read the same things you do. It was a big surprise, but I'm pretty excited about it."
And while everyone else was trying to come up with nickname for the Big Four, Utley went with a reference to the original Fab Four.
Daily News staff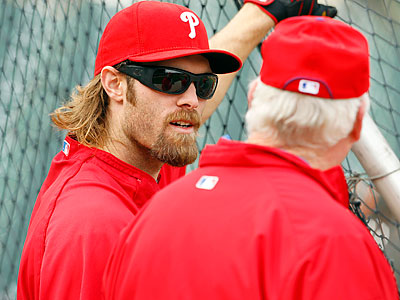 Phillies general manager Ruben Amaro Jr. appeared on Fox29's "Good Day" show this morning and said he was booed in a text message from former rightfielder Jayson Werth.
Amaro was taking questions from the station's Facebook friends. Amaro was asked: Why did you say signing [Cliff] Lee would be better for the club than signing Werth?
"I love the guy," Amaro said about Werth, who signed a free-agent deal with the Nationals. "I wish we had him back. Sometimes you have to make tough choices. For us, having a No. 1 starter as compared to a righthanded bat, the impact on our club was greater.
Daily News Staff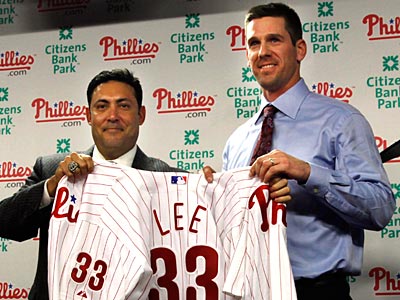 In his opening remarks, Cliff Lee acknowledged what everyone had seemingly known since he left almost a year ago to the day.

"Here I am. I never wanted to leave this place in the first place," Lee said during a jam-packed news conference at Citizens Bank Park. "To get an opportunity to be part of this team and this pitching rotation is going to be historic, I believe. I can't wait to get to spring training."

Lee signed a 5-year, $120 million deal with an option for a sixth year along with performance bonuses. He turned down more money from both the Rangers and the Yankees.

"It's plenty of money," Lee said. "When you get a certain point, enough is enough. It's just a matter of where you are comfortable, where your family is comfortable … This is about winning championships and this team gives me the best chance to do that at this point."
Lee said the Phillies "got better after I left," reciting the moves the team has made since he was dealt to Seattle last December.

"This is a special place," he said. "With what we've got on paper and the personalities that are around and the guys on this team, good things are going to happen."

Lee disputed reports that an incident with Yankees fans and his wife, Kristin, had an impact on his decision not to go to New York. Lee said there are overzealous fans in every city and he would have had no problem playing for the Yankees.

"Let me clarify that thing," he said. "That was way overblown. No one came up to my wife and spit on her. You go to any stadium, fans start cheering, especially in the postseason, fans are going to say something, they're going to do things like that. That story was way overblown, it was false, and had zero to do with anything. Hopefully we can put that behind us because it was a non‑issue."
Lee said he thought it was between the Rangers and the Yankees, but things changed over the last 4-5 days. "In the back of my mind, I was always hoping it was a possibility," he said.