Archive: November, 2012
Ryan Lawrence, Daily News Staff Writer
Nate Schierholtz's short stay in Philadelphia is likely over.
According to an ESPN.com report, the Phillies informed Schierholtz that he would not be offered a contract for 2013. All major league teams have until 11:59 p.m. on Friday to decide whether or not to tender a contract to arbitration-eligible players.
The only other Phillies player who is arbitration eligible is reliever Antonio Bastardo, who will be tendered a contract for 2013.
David Murphy, Daily News Staff Writer
As we write in today's Daily News, the Phillies face a fascinating conundrum with their situation in center field. They have money to spend, and they have an obvious place to spend it. But they do not have limitless money. And they have enough needs outside of center field that paying B.J. Upton $75 million over five years might not be the wisest move. Especially since there are plenty of potentially cheaper options. But when you look at those potentially cheaper options, you can't ignore the following batting line from the 2012 season:
.255 batting average, .321 on base percentage, .383 slugging percentage, 11 home runs, 39-of-45 stolen bases.
Those were Shane Victorino's numbers in 2012. It was by far his worst season since he moved into a full-time role for the Phillies five years ago. But it also wasn't much different from the seasons that are the norm for players whose names have been bandied about as potential fits for the Phillies.
David Murphy, Daily News Staff Writer
If you look at the peripherals, there aren't many relief pitchers more ideal for the Phillies than Astros righthander Wilton Lopez. He strikes batters out (7.3 per nine innings last season), does not walk any (1.1 BB/9) and has one of the better ground ball rates int he league (1.22 per flyball last year, nearly a half a ground ball better than the league average).
Lopez is also 29 years old and under club control for the next three seasons, so you can understand why, according to CBS Sports' Jon Heyman, the Phillies have finalized a deal to acquire the right-hander.
The Phillies lost 12 games in which they carried a lead into the eighth inning. They finished seven games behind St. Louis for the second Wild Card spot in the NL. In 2011, they lost 5 games in which they carried a lead into the eighth inning. You do the math.
Poll: Which outfielder should the Phillies pursue?

(6993 votes)
Ryan Lawrence, Daily News Staff Writer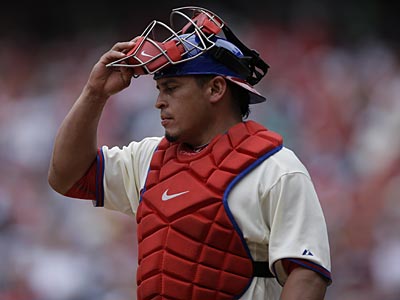 Phillies catcher Carlos Ruiz has been suspended 25 games by Major League Baseball for amphetemine use.
In a statement, the Phillies said: "The Phillies fully support Major League Baseball's Drug Program. We are disappointed by the news of this violation of the program. We will support Carlos in an appropriate manner and move forward to achieve our goal to play championship-caliber baseball in 2013."
David Murphy, Daily News Staff Writer
While there is not a lot to report on the free agent front, we can relay a report from FoxSports.com's Ken Rosenthal, who mentioned veteran righthander Koji Uehara as a reliever who interests the Phillies.
Here's why he would make sense:
Uehara is an extreme fly ball pitcher. And by extreme, I mean his flyball rate is nearly double the major league average. Even when you subtract his infield fly balls, which he induces at an above-average rate, his ground ball rate is still well below average. That being said, Uehara has pitched his entire career in home run parks (Camden Yards and the Ballpark at Arlington), and he has pitched pretty well. While his home run and extra base hit rates are above league average, they aren't brutal (3.3 percent home runs compared to 2.6 percent league average, 7.9 percent XBH compared to 7.6 percent league average). That's because the rest of his rate stats are ridonkulous (sp?). Last year, the right-hander averaged 10.8 K/9 and 0.8 BB/9 with a 1.75 ERA. In four major league seasons, he has a 9.8 K/9, 1.2 BB/9 and 2.89 ERA. And, keep in mind, he spent all four of those years in the American League.
David Murphy, Daily News Staff Writer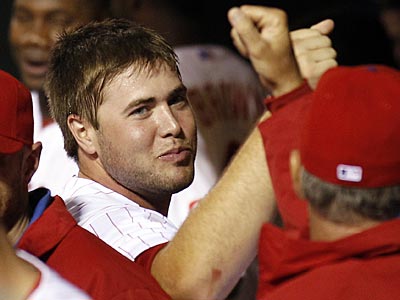 Darin Ruf's magical mystery tour is still going strong. The slugger is currently spreading his home run gospel in Venezuela, where he leads the winter league with 10 home runs in 120 at-bats and is fifth with a .942 OPS (.258/.368/.570 slash line).
In fact, the locals are starting to talk about the potential of Ruf breaking the single-season record of 20 home runs set by Baudilio Diaz in 1979-80. Problem is, Ruf isn't sticking around for the whole winter ball season. He's scheduled to return to the United States this week, at which point he will enjoy Thanksgiving with his family and grab some rest after a long season.
David Murphy, Daily News Staff Writer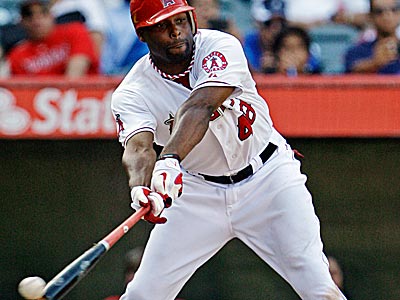 In today's paper, we wrote about the potential for price inflation thanks to an increase in the money supply generated by the new national television deals that Major League Baseball signed in October. One early case study could end up being Torii Hunter. In year's past, Hunter was the kind of guy that big market general managers might target as a potential cost-effective stop-gap option: experienced, coming off a good season, and perhaps willing to exchange some money for a chance to win a World Series. But CBSSports.com's Jon Heyman recently floated Carlos Beltran as a possible comparison for Torii Hunter, which suggests that Hunter's agent is floating Beltran as a comparison, since you know damn well that GMs like Ruben Amaro Jr. and Ben Cherington aren't.
In the same market conditions as the past couple of off seasons, the comparison would probably seem a tad ludicrous. First and foremost, Hunter is two years older than Beltran, who was heading into his 35-year-old season when he signed a two-year, $26 million contract with the Cardinals last year. Second, Beltran was coming off a markedly better season than Hunter, with a batting line of .300/.385/.525, a .910 OPS and 22 home runs in 598 plate appearances. Hunter's numbers: .313/.365/.451/, an .817 OPS, and 16 HRs in 584 PAs.
The more accurate comparison for Hunter would be somebody like Magglio Ordonez, who signed a one-year, $10 million contract with the White Sox after his 36-year-old season (same age as Hunter this year), when he hit .303/.378/.474 with 12 home runs, missing time due to injury. The season before, he logged 518 plate appearances and hit .310/.376/.428.
Ryan Lawrence, Daily News Staff Writer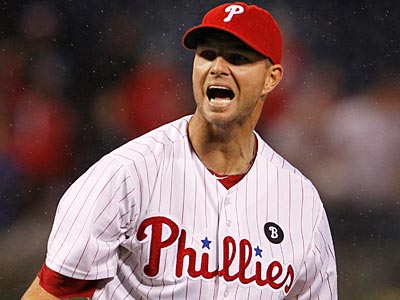 It's been four years and a day since one of the more memorable sports days in the life of many Philadelphians: the world championship parade down Broad Street, celebrating the city's first title in a quarter century.
The Phillies have gone backward in each season since and to use words like "stagnant" and "complacent" to describe the team and their core players isn't exactly uncharted territory.
And that's probably why any thoughts of reconstructing the Phillies roster for the 2013 season with players from the 2008 team who have since departed might sound counterproductive or a tad crazy.