Archive: October, 2008
David Murphy, Daily News Staff Writer
Just got back from the parade and am waiting for the Phillies to enter Citizens Bank Park. I'll give you my complete thoughts on the procession later, but for now, good look estimating how many fans were out there. I heard beforehand that they were expecting somewhere around a million. I was never good at the beans in the jelly jar game, but I swear there were more than a million out there.
We had a nice commemorative section in the paper today. All of us -- Paul Hagen, Bill Conlin, Sam Donnellon, Rich Hofmann, Marcus Hayes, myself and more -- had pieces in there. But there seemed to be a common theme: memories.
There were a lot of great ones this season, from Jimmy Rollins' double play in the NL East clincher to Matt Stairs home run.
David Murphy, Daily News Staff Writer
It's been a crazy 24 hours, so I apologize for not blogging. I think we had enough coverage in the paper today for you to absorb.
Make sure to check out our special section tomorrow detailing the Phillies season.
For those of you not up to date on the particulars of the parade, here you go:
Daily News staff
Well, at least one part of the strategy going into tonight's abbreviated Game 5 has been revealed.
Phillies manager Charlie Manuel announced that righthander Ryan Madson will pitch the top of the seventh. Madson has allowed only two earned runs in 12 postseason innings.
Rays catcher Dioner Navarro is scheduled to lead off the seventh.
David Murphy, Daily News Staff Writer
Walking into the press box this afternoon was like walking into Pompeii, minus the volcanic ash. The line-up from Game 5 was still on the dry-erase board. The flags in center field were still blowing left to right. My game story was still half-written.
I'm anxious to see what tonight is like. Some of the questions on my mind:
1) Will they sing the Star-Spangled Banner? If so, this game will surely set a record for shortest time between the National Anthem and God Bless America.
David Murphy, Daily News Staff Writer
Remember when you'd be all wrapped up into an episode of Perfect Strangers, and Larry and Balki would spend the entire half hour involved in their usual hijinks, and then you'd look at the clock and realize it was almost 8:30 and the episode was nowhere near a conclusion, and than around 8:25 the three most dreaded words in prime time television appeared?
To be continued. . .
Here we sit, waiting for the Next Episode.
David Murphy, Daily News Staff Writer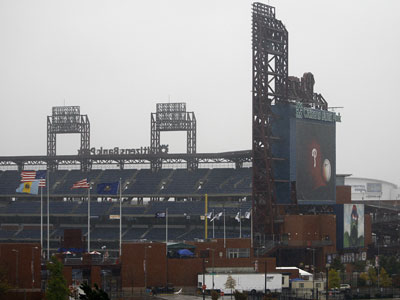 Just received the official word: Game 5 has been postponed again.
The tentative plan is to play the final three-and-a-half innings Wednesday night starting at 8:37 p.m. Acccording to Weather.com, there is a 30 percent chance of rain with rain and snow showers likely occuring in the morning. The high temperature is supposed to be 48 degrees. So it looks good that the Phillies and Rays will play a cold, abbreviated Game 5 tomorrow night.
Here is another interesting sub-plot:
David Murphy, Daily News Staff Writer
Alright folks, this is what we know:
1) The game will be played whenever the weather breaks, though nobody from Major League Baseball was willing to put a potential time on the thing.
David Murphy, Daily News Staff Writer
It seemed like nothing could go wrong.
Cole Hamels was on the mound and pitching well.
The line-up had an early lead.