Archive: January, 2013
David Murphy, Daily News Staff Writer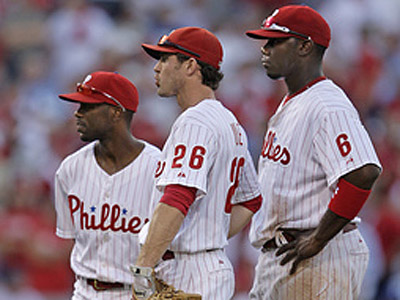 Hard to believe that I'll be flying down to Clearwater in a little over a week for this year's edition of spring training. I'm in the process of organizing my notes in an attempt to identify some of the plotlines that need to be explored early in camp.
Here's one:
Last year, nearly 1/5th of the money that the Phillies paid in player salaries went to somebody who was on the disabled list. Phillies players combined to log more than 1,400 days on the disabled list, at a combined cost of about $32.98 million. In other words, about 19.1 percent of the team's opening day payroll ended up as dead money. Ryan Howard spent 92 days on the disabled list while being paid about $109,000 per day in salary, for a total of about $10.1 million.
Ryan Lawrence, Daily News Staff Writer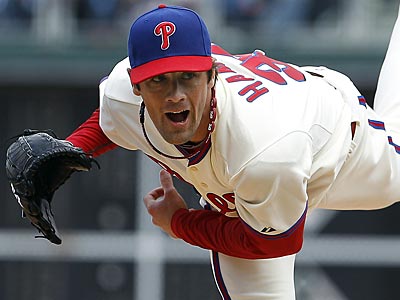 After knocking down a report from earlier this month that he had to be backed off his offseason throwing program because of shoulder soreness, Cole Hamels addressed the on-the-field hurdle he and the Phils will have to face in 2013.
For the first time since he was a young, unproven major leaguer, Hamels and the Phils aren't the favorites in the National League East.
Your thoughts, Cole?
Ryan Lawrence, Daily News Staff Writer
The Phillies lost 16 games last season that they had led in the 7th inning or later in 2012.
Despite signing Jonthan Papelbon to the richest contract for a reliever in baseball history, the rest of the bullpen was a collection of not-ready-for-prime time pitchers. A combination of injuries and ineffectiveness among the relievers was as big of an issue as any other for the Phillies.
On Monday morning, the Phils front office added its second veteran arm this winter to the beleaguered, mostly-green bullpen.
David Murphy, Daily News Staff Writer
The Phillies were in need of a right-handed power bat for the corner outfield, and early in the offseason they made an offer to free agent center fielder B.J. Upton, so it wasn't too much of a leap to think that Ruben Amaro Jr. at some point kicked around the idea of trading for Diamondbacks star Justin Upton, B.J.'s brother and, as of today, a member of the Atlanta Braves.
Turns out, the Phillies did look into Justin Upton, talking to Diamondbacks general manager Kevin Towers on more than one occasion about a potential trade.
Alas, Amaro said, "We just didn't really see a fit."
David Murphy, Daily News Staff Writer
With the Delmon Young signing, the Phillies appear to have completed their work on what is likely to be their Opening Day roster. Barring a late trade or free agent signing, both of which appear to be highly unlikely, the club should open the season with a payroll under $160 million for the first time since 2010, when their total salary expenditures was around $140 million.
A quick breakdown of the projected 25-man squad:
Lineup
Jimmy Rollins SS - $11 million ($9.5 AAV)
Ben Revere CF - $0.515 million
Chase Utley 2B - $15.0 million ($12.143 AAV)
Ryan Howard 1B - $20.0 million ($25 million AAV)
Michael Young 3B - $6.0 million
Domonic Brown LF - $0.500 million
Delmon Young RF - $0.750 million
Erik Kratz C - $0.500 million
Rotation
Cole Hamels - $19.5 million ($24.0 AAV)
Cliff Lee - $25.0 million ($24.0 AAV)
Roy Halladay - $20.0 million
Kyle Kendrick - $4.5 million ($3.75 AAV)
John Lannan - $2.5 million
Bullpen
Jonathan Papelbon - $13.0 million ($12.5 AAV)
Mike Adams - $6.0 million
Antonio Bastardo - $1.4 million
Jeremy Horst - $0.500 million
Mike Stutes - $0.500 million
Jake Diekman - $0.500 million
Justin De Fratus - $0.500 million
Bench
Laynce Nix - $1.35 million ($1.25 AAV)
Darin Ruf - $0.414 million
John Mayberry Jr. - $0.515 million
Kevin Fransen - $0.850 million
Humberto Quintero - $0.850 million
Carlos Ruiz - $4.60 million (SUSPENDED FOR FIRST 25 GAMES)
According to my figures -- everybody who has a salary under $800,000 is projected, although all of those salaries will end up being around $500,000 -- the Phillies should open the season with a payroll right around $157 million ($158 million in AAV, which is the number used for luxury tax purposes). Factor in the $10 million that gets added to the total for player benefits when calculating the luxury tax, and the Phillies will be about $11 million under the threshold.
Last year, the Phillies opened with a payroll around $172 million. In 2011, it was around $165 million.
---
David Murphy, Daily News Staff Writer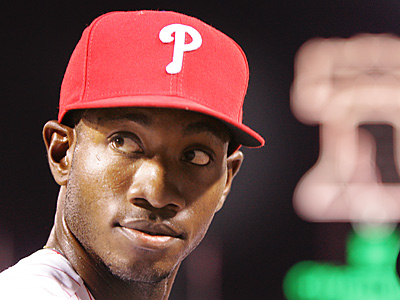 I'm already on record as saying that the Delmon Young signing makes some sense for the Phillies. At $750,000, there is not a lot of downside.
That being said, there is some downside, and that downside is the potential that the signing of Young precludes Domonic Brown from entering a season with the confidence that comes with knowing that he has a regular major league job. Now, I know there is a faction of Phillies fans that is suffering from Dom Brown fatigue. That faction would likely argue that 422 plate appearances is as much of an opportunity as most players can hope for at the major league level. And in the 422 plate appearances that Brown has logged over the last couple of seasons, he hasn't put up the numbers that you would expect out of a prospect who was as highly touted as he was.
But do me a favor and forget about the expectations for a moment. Instead of comparing Brown to the player you were led to believe he would be, why not compare him to the player who the Phillies just signed to replace him as their top option in right field heading into spring training.
Ryan Lawrence, Daily News Staff Writer
Delmon Young signed a contract for a guaranteed $750,000 on Tuesday. It was a $6 million paycut from the $6.75 million he earned last season with Detroit.
But Young can earn as much as $2.75 million in incentives. One pertains to his weight.
The 27-year-old Young, who has had conditioning issues in the past, can earn an additional $600,000 if he stays under weight throughout the 2013 season.
David Murphy, Daily News Staff Writer
A baseball player, a lawyer and a rabbi walked into Ruben Amaro Jr.'s explanation for signing Delmon Young yesterday, and now a once-proud baseball team enters 2013 as a potential off-Broadway farce. In contemplating the general manager's justification for acquiring the 27-year-old outfielder, who in April of last season was suspended after a drunken confrontation that included his allegedly hurling an anti-Semitic slur, you can't help but wonder if the whole thing was an exercise in gallows humor. The punchline isn't that the Phillies' next right fielder had just wrapped up an afternoon of picking up dog droppings in Central Park, or even that Young's exit from perdition was aided by a rabbi and a Jewish lawyer who vouched for his character (the lawyer happens to be his agent). One of the defining characteristics of the American pastime throughout the years has been its remarkable tolerance for intolerance. Besides, what Young requested of the assembled media at Citizens Bank park yesterday is an opportunity that all of us feel we deserve.
"Get to know me," he said, "and then make judgments for yourself."
In the same vein, an honest assessment of character probably requires more than just the cursory due dilligence that Amaro says he performed, or the sessions with a rabbi who also happens to be a long-time Tigers season ticket holder that Young and his agents say he had. In fact, one of the lessons in myth-making that we've received over the last few weeks is very little of what we read or hear about an athlete should be considered a valid representation of his nature. That being said, while few of us know enough about Delmon Young the human being to render an honest verdict, the same cannot be said about Delmon Young the baseball player. And this is where we pick up on our comedy.