Archive: May, 2008
David Murphy, Daily News Staff Writer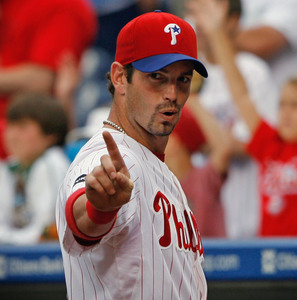 Aaron Rowand is back in Philly tonight. Hopefully, his return will not spark a whole new round of questioning about whether the Phillies miss his leadership. It was a viable topic in spring training and early in the season. But the ship has sailed. I know the Phils are tired of hearing about it, and right now, the only thing that matters is the line-ups both teams are putting on the field.
Kyle Kendrick is on the hill tonight against Pat Misch.
Shane Victorino is leading off for the second straight night. He has swung the bat well the past couple of days, missing a home run two days ago by a few yards to the left of the left field foul pole, and hitting a double and scoring a run last night. He also made a tremendous play in center field to chase down a long fly ball off the bat of Tadahito Iguchi that probably would have put the go-ahead run on second with no out.
David Murphy, Daily News Staff Writer
The Phillies are in first place. If I had a blog last year, which I didn't, and was covering the Phillies, which I wasn't, I wouldn't have been able to write that previous sentence until September. Well, it's Uno de Mayo, and Los Phillies are in primero place (I'm practicing for my inevitable Cinco De Mayo celebracion en Phoenix on Monday).
Florida lost, the Phillies won, and the Fightin's are a half game ahead of the Fish and the Mets in first place.
Ryan Howard was the obvious hero tonight. Reached out and got a 2-0 pitch that he drilled into the seats in right field. The big fella went 2-for-4 with an RBI double in the third inning, in addition to his game-winning blast.
David Murphy, Daily News Staff Writer
I'll tell you why I'm interested in tonight's game.
It's the first time Adam Eaton is back on the mound since he was yanked in the fourth inning of a 6-5 win over the Pirates this past weekend. The right-hander had allowed just three runs on five hits, but ran into trouble in the fourth and manager Charlie Manuel said later he didn't think Eaton would be able to pitch his way out of it.
Which Eaton will we see: the one who allowed just 9 runs in his first 18 2/3 innings of the season, or the one who has allowed 7 in his last 8 2/3.