David Murphy, Daily News Staff Writer
Roy Halladay was in Clearwater when the Phillies fired Charlie Manuel, so tonight was the first time anybody got a chance to ask him about his reaction to the club's decision. His answer was illuminating. While he took care not to pin any blame on Manuel and underscored his love for his boss, he did indicate that it was time for a change.
"I've exchanged texts with him and obviously I loved him -- he was great," Halladay said. "But from what I've seen, Ryne came in and made some changes and addressed some issues that I think were being overlooked. So from that standpoint, as much as I miss Charlie, I think that Ryne is going to do a good job and I think he's going to bring back a little more of the Phillie baseball style than we've had the last couple of years. We really haven't had that whole team effort and that whole team hustle that I think we've had in the prior years."
What were the issues?
David Murphy, Daily News Staff Writer
There is still plenty of time for Roy Halladay to achieve his goal of pitching in the majors this season. But it is hard to imagine that his return will occur on this side of September after watching his performance in Lakewood in his second rehab start. Halladay was adequate enough to to hold a Class A lineup to two runs in six innings. But the majority of the hitters that he faced will never sniff the major leagues. The few who prove to be exceptions are not likely to do so for at least another three or four years. The short stop who played behind Halladay, 2013 first round pick J.P. Crawford, was a senior in high school less than three months ago.
Any significant increase in the quality of the opponent likely would have spelled trouble. Halladay displayed much more control than his last outing with the Phillies, when he walked four batters and hit two with pitches in an ugly start against the Marlins on May 4. But he went through a few stretches where he appeared to suffer variations of the same problems that plagued him throughout April and May, when he allowed 33 runs in 34 1/3 innings over seven starts before landing on the disabled list with what was ultimately diagnosed to be fraying in the labrum and rotator cuff along with an inflamed bursa sac. There were times when he struggled to control the run on his sinker and the pitch would scream outside of the strike zone. He was rarely able to locate his pitches on the glove side of the plate (outside to righties, inside to lefties). Both problems are often indicative of arm slot issues.
Halladay's velocity wasn't much different than what it was when he last pitched for the Phillies, topping out at 89 and generally sitting in the 86 to 88 MPH range. He generated most of his swings and misses on his curveball and change up, getting a hitter to swing through a fastball on only one occasion that I noticed.
Ryan Lawrence, Daily News Staff Writer
As you may have read in the Daily News today, Jimmy Rollins is in a pretty lenghty slump.
How bad has it been?
Since the All-Star break, Rollins is hitting .214 with a .260 OBP. Entering Sunday, Rollins' .576 OPS ranked 195th out of the 220 major leaguers with at least 75 plate appearances since the break.
Philly.com Sports
The Daily News' Ryan Lawrence reports from Citizens Bank Park where the Phillies defeated the Los Angeles Dodgers, 3-2. Ryne Sandberg, Darin Ruf and Cole Hamels spoke after the win.
Get the full High Cheese experience at PhillyDailyNews.com.
Ryan Lawrence, Daily News Staff Writer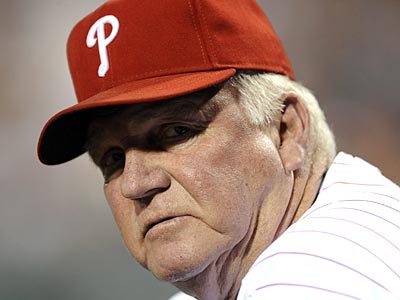 During the Phillies recent road trip through Washington and Atlanta, Ruben Amaro Jr. kept taking Charlie Manuel out for coffee … and to the discuss the job both have of keeping the franchise and team a winning product.
The manager finally grew tired of the general manager's coffee dates.
"Ruben and I had coffee for 6 days in a row and I got tired of having coffee," Manuel said on Friday afternoon at Citizens Bank Park. "Finally one day we were sitting there and I think I asked him, "What are we going to do? Where are we going?"
Ryan Lawrence, Daily News Staff Writer
There's at least a chance Roy Halladay could make his return to the Phillies rotation in less than two weeks.
On Monday at Turner Field, Phils general manager Ruben Amaro Jr. said Halladay will begin an official rehab assignment when he starts a game for the Gulf Coast League Phillies on Thursday. Halladay threw a bullpen session on Monday, two days after facing hitters for the first time since May in a simulated game in Clearwater.
Halladay is expected to throw between 70 and 80 pitches on Thursday. His rapid rehab could be nearing a finish line.
Ryan Lawrence, Daily News Staff Writer
Laynce Nix, a regular member of the Phillies bench in the last two seasons, was designated for assignment on Tuesday. Nix, a lefthanded-hitting outfielder in the second season of a two-year, $2.5 million contract, was basically the reason the Phils non-tendered Nate Schierholtz this winter.
Delmon Young, projected as the Phillies everyday right fielder by general manager Ruben Amaro Jr. when he signed an incentive-laden contract this winter, was designated for assignment on Friday. Young wasn't needed anymore when the player he was ranked ahead of on Amaro's depth chart this spring, Darin Ruf, was recalled last month and hit his way into regular playing time.
Even Amaro admits to letting his mind wander, wondering how things might have turned out if both Schierholtz and Ruf had been on the roster rather than Nix and Young this season.
Ryan Lawrence, Daily News Staff Writer
Domonic Brown was activated from the disabled list on Tuesday, nearly two weeks since suffering from concussion symptoms after diving for a ball in St. Louis.
With Darin Ruf and Cody Asche on the roster, which shifted Michael Young from third to first, and Ruf from first to left, Brown moved to his old position in right field, right? Wrong.
Ruf found out he was the one switching positions yet again while in the lunch room at Citizens Bank Park on Tuesday afternoon.