Archive: April, 2008
David Murphy, Daily News Staff Writer
It was a fairly-well laid plan.
Hop a flight out of a Dayton at 7:11 a.m., land at LaGuardia at 9 a.m., catch a cab to Shea, and arrive 2.5 hours before game time. Alas, we just heard an announcement here at Dayton International that said, "Attention passengers of flight XXXX, we have just received word that the plane is still in the hangar. Our new departure time is 7:30."
Seriously, that's what it said.
David Murphy, Daily News Staff Writer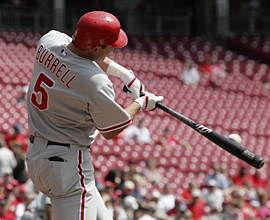 It seems Jimmy Rollins isn't the only Phillie who likes zinging the Mets. We were talking to Charlie Manuel post-game when he addressed the back-and-forth between the two teams the past year or so. Now, keep in mind, Manuel's a little under the weather (he's been sick for the past few days) and thus perhaps a little less judicious than normal. But he had me laughing.
"As long as we whip them, we don't have to make a big deal out of it," Manuel said yesterday after the Phillies' 5-3 win over the Reds at Great American Ballpark. "They'll talk, we'll hit. That's the only way I see it."
Nobody in the clubhouse is pretending not to care about this series.
David Murphy, Daily News Staff Writer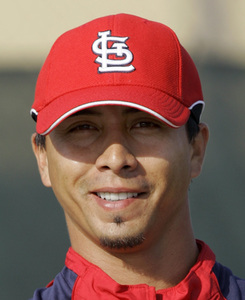 It's easy to forget that Kris Benson is still down in Clearwater working his way back from shoulder surgery. The veteran right-hander had been sidelined for a couple of weeks with biceps tendinitis, but he'll throw a bullpen session today and then another one in the middle of the week as he takes another step toward returning to game action.
Benson hasn't pitched in a game since March 13, when he threw 57 pitches against a Toronto Blue Jays club at the Carpenter Complex.
Benson, who had hoped to pitch in a Grapefruit League game, missed his next scheduled start with shoulder soreness. The Phillies remain hopeful that he can be healthy enough to help the team sometime before the start of June.
David Murphy, Daily News Staff Writer
How big is tomorrow?
The Phils are riding a two-game losing streak with their ace lefty on the mound and a three-game series at Shea Stadium on deck.

"We definitely want to get a split, get that win tomorrow and take a good feeling into New York," right fielder Geoff Jenkins said.
David Murphy, Daily News Staff Writer
The Phillies didn't get any baseball players for Wes Helms, but by the end of his tenure here in Philly, that was the least of the team's concerns. More importantly, they wanted to find someone who would take on a portion of the $2.9 million still owed to him over the next two years. The Marlins apparently did that, and the two teams agreed to a trade that will bring Helms back to the team he played for in 2006.
That, of course, was the year Helms hit over .300 and hit 10 home runs in just 240 at-bats, convincing the Phillies to sign him to a free agent contract the following offseason. Everyone knows the rest of the story.
The Phils announced the move late last night, so it isn't clear how much of Helms' contract the Marlins have agreed to pay.
David Murphy, Daily News Staff Writer
Adam Eaton has made it perfectly clear over the course of the past year that he has never lost confidence in himself, so his performance today against the Reds might not have been important from a personal standpoint. But for his teammates and his manager, it was huge, and they said as much after the Phillies 4-3 loss to the Reds.
"He did a hell of a job," manager Charlie Manuel said.
I've already heard from a couple of emailers who think Manuel should have taken Eaton out after that seventh inning, but I don't think there's any question that the right move was made. Eaton had fewer than 80 pitches after the seventh and had retired 16 of his previous eight batters. Add to that the amount of work the bullpen has put in this first week, and the fact that Ryan Madson was coming off a 23-pitch outing and J.C. Romero had pitched in all four of the Phillies games, and it made sense to keep Eaton in there.
David Murphy, Daily News Staff Writer
Major props to the homeless gentleman who was standing outside the Great American Ballpark prior to the game today. We've all seen folks carrying signs that say, "Need money for bus fare" or "Please help I'm hungry." But this particular man cut right to the chase.
His sign, written in fairly legible ink, said, "Why lie? I need a beer."
That seems as good a point as any to jump off today's ramblings. We don't have a paper tomorrow, but I'll try to fill you in on Adam Eaton's performance following the game. I'm writing right now in the bottom of the fifth. Eaton's settled down after allowing two runs in the first two innings. Through five, he's allowed just four hits, and the Phillies trail 2-1.
David Murphy, Daily News Staff Writer
Chase Utley says its just another hit to him, but its worth noting that his third-inning home run off of Josh Fogg was the 99th of his young career.
Two inning later, he clubbed his 100th.
Utley's two home runs and Pat Burrell's monster shot into the second deck at the Great American Ball Park lifted the Phillies past the Reds 8-4.