Archive: March, 2008
David Murphy, Daily News Staff Writer
Both Brad Lidge and the Phillies were ecstatic with the way he pitched in a bullpen session this morning, and both sides think he is on pace to pitch in the season opener if necesary.
"That's the goal still, and based on today, I'd say we moved a good step closer to that," said Lidge, who injured himself during live batting practice Feb 23. "Barring any setbacks, I think that's a very realistic goal."
David Murphy, Daily News Staff Writer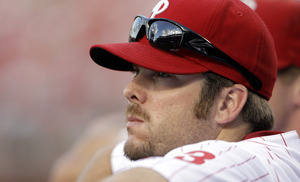 Adam Eaton will push his next appearance back a few days thanks to back problems that have hampered him all spring. The good news is, the pitcher thinks he knows the source of the problem. An MRI yesterday revealed a partially herniated disc, as well as some arthritis in the back. I asked Eaton where that news ranked on a scale from good to bad, and he said "good." The biggest issue, it seems, was finally being able to point to something concrete as the cause of the soreness that has plagued him.
However, arthritis isn't something that just goes away. These aren't muscular issues, as Red Sox ace Josh Beckett is currently suffering. So there's no telling how long they might linger. To combat the conditions, Eaton will focus more on core exercises with head trainer Scott Sheridan. But there really is no long-term prognosis. Eaton is scheduled to return to the mound March 15 against the Twins. Eaton's most recent appearance was on Thursday, meaning he will go eight days between appearances.
David Murphy, Daily News Staff Writer
Conventional wisdom says Travis Blackley had a chance to establish himself as a serious contender for the No. 5 spot in the rotation. But the left-hander was touched for five runs yesterday against the Indians. He entered yesterday with an ERA of 0.00. Now, it sits at 9.64.
So where does that leave us?
Here's my estimation of where the competition stands.
David Murphy, Daily News Staff Writer
Sorry for the lack of updates the past 24 hours. I'm out of Clearwater right now and back up in Philadelphia completing my move from Tampa. It's 40 degrees and pouring rain, by the way. Perfect moving weather.
Paul Hagen previews Kris Benson's scheduled minor league appearance here.
I think he's spot on in the analysis that Eaton's uncertain condition behooves Blackley and Benson the most. Chad Durbin may be the answer in the short term, simply because he started games for Detroit last year. But don't be surprised to see Blackley establish himself as a legit contender.
David Murphy, Daily News Staff Writer
The competition for the No. 5 spot in the rotation took an interesting turn today as Adam Eaton revealed that his back is, in fact, an issue. The veteran righty, whose hefty contract left the Phillies very, very disappointed last year, attributed his struggles today against the Devil Rays to soreness in his back that kept him from properly extending during his rotation.
This is news for a couple of reasons:
David Murphy, Daily News Staff Writer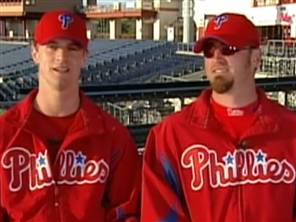 Three things from the day:
1) BRETT MYERS: The starter-turned-closer-turned-starter pitched four scoreless over in Dunedin, according to my colleague Paul Hagen. Everyone downplays spring training. But there's nothing wrong with a nice outing.
2) J.D. DURBIN: Dubrin has to pitch his you-know-what off if he hopes to seriously challenge for the No. 5 spot in the rotation. Today, he allowed four hits in four innings, but three of them were home runs. His line looks worse than his performance, but the feeling I get is that the No. 5 spot in the rotation the first week of the season will belong to one of the two guys pitching tomorrow: Adam Eaton or Chad Durbin. J.D. said after the game the three home runs all came on split-fingered fastball. He was really energized after his performance and said he felt great. It's still wayyyy too early to call him out of contention. But he needs to earn a lot of trust for the team to throw him out there as a starter. One member of the organization who saw him pitch called the performance "so-so." In other words, it wasn't bad, but it wasn't great either.
David Murphy, Daily News Staff Writer
As far as I know, it's still relatively impossible to be in two places at once. So I'm holding down the fort here in Lakeland where once squad of Phillies is facing the Tigers, while the esteemed Mr. Paul Hagen will be on site in Dunedin for a game against the Blue Jays.
Some things to follow throughout the day:
1) THE DURBINATOR: If J.D. Durbin hopes to consider himself a contender for the fifth spot in the rotation, he'll have to start proving it today. The righty allowed two runs on five hits in two innings of work last week against the Pirates. That's not a big deal. Starting today, though, he'll have to show the coaching staff some results. Of the four pitchers who figure into the competition (Durbin, Adam Eaton, Chad Durin and, later Kris Benson), all have considerably more starting experience than J.D.
David Murphy, Daily News Staff Writer
Sitting here in the fading dusk in Lake Buena Vista, just outside Orlando. The good news is, we missed rush hour traffic heading back to Tampa/Clearwater. The bad news is, we're still here.
It was an ugly one today. Phils fell 10-1 to the Braves. Atlanta rocked Kyle Kendrick for seven runs, five of them with two out in the second inning.
The run-down: