Archive: February, 2008
David Murphy, Daily News Staff Writer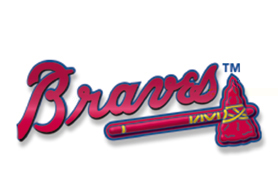 Let's pretend for a second that the Braves are the mythical "Team to Beat" in the NL East. . .
Is it really that hard to imagine?
Chase Utley and Cole Hamels don't think so.
David Murphy, Daily News Staff Writer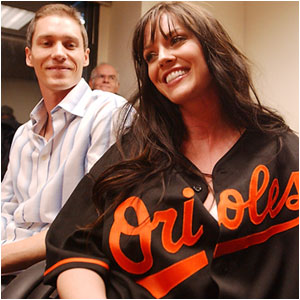 I'm not sure I follow the rationale behind the outrage some fans have against the signing of Kris Benson. Worst case scenario, he is a bust in training camp, the team doesn't move him to the active roster, and the right-hander exercises the out-clause in his contract and looks elsewhere for work. Best case scenario, Benson recovers fully from rotator cuff surgery and provides the Phillies with another veteran arm. But more on that later. . .
. . . For now, I'd just like to say this: the life of a sports writer may sound glamorous, but it ain't all sunshine and cookies. Take, for example, today: It was a Saturday, the third day of pitchers and catchers, and the only story in town was Benson's arrival. Most of us had already written about some of the other intriguing situations out there like Brad Lidge, Adam Eaton, Cole Hamels, and Ryan Howard. The Benson signing isn't a huge story yet -- keep in mind, he signed a non-guaranteed minor league deal -- but we were all interested to talk to the guy and find out where, exactly, he felt his body was at (to recap: Benson had surgery on his torn cuff late last March and missed all of the 2007 season. Various Phillies coaches and scouts have placed him at 60-to-70 percent health right now). Problem is, Benson had just arrived in town, and had about a billion other things to worry about before meeting the press (practice, stretching, treatment, various forms to sign, etc. . .typical first day of work stuff). So after watching him throw off the mound, something manager Charlie Manuel said yesterday that he wouldn't be doing, we headed back to the clubhouse to wait.
And wait.
David Murphy, Daily News Staff Writer
For about 20 minutes Saturday afternoon, Kyle Kendrick thought he had been traded to the Yomiuri Giants, a professional baseball team in Japan.
He was called into an office, where manager Charlie Manuel and assistant general manager Ruben Amaro Jr. informed him of the news. He was handed an official termination letter that stated he had been swapped for a player named Kobayashi Iwamura and $1.5 million in cash.
After the meeting, he walked to his locker, grabbed his cell phone, and called his agent, who confirmed the deal. Later, he stood in front of the media looking like his dog had just died, saying "I don't know what to say right now."
David Murphy, Daily News Staff Writer
It's another beautiful day in Clearwater. Mid-70's. Bright sunshine. No clouds in the sky. Day three of pitchers and catchers.
Some early observations. . .
. . .A few more players have trickled in the past couple days. Newly-acquired rightfielder Geoff Jenkins, who figures to platoon with Jayson Werth, arrived a couple days ago. Today was Pacific Rim day as Flyin' Hawaiian Shane Victorino and Japanese outfielder So Taguchi, formerly of the Cardinals, arrived. Here's an interesting fact about Taguchi: he learned english by watching children's movies like Finding Nemo. He says he watches Finding Nemo three to four times per week. He says his English is only on the level of a "three-year old," but we're pretty impressed.
David Murphy, Daily News Staff Writer
I admire People For the Ethical Treatment of Animals. It takes a lot of chutzpah to continually thrust oneself into situations that have absolutely no relevance to a particular cause.
That said, I can't imagine Roger Clemens will be imbibing on the vegan treats the organization reportedly sent the embattled pitcher earlier this week.
According to the New York Times, PETA was offended that Clemens claimed not to know what a vegan is during his congressional hearing earlier this week.
David Murphy, Daily News Staff Writer
Well, we finally heard from Ryan Howard himself. As expected, he didn't shed much light on his contract negotiations and impending arbitration hearing.
First, here is the sequence of events as it occurred over the past 48 hours here at Bright House Networks Field.
1) On Wednesday evening, the Phillies announced that all-star slugger Ryan Howard would meet the media today after his workout.
David Murphy, Daily News Staff Writer
We've just been informed that Ryan Howard will not be discussing his contract situation today, and that there will be no official availability for the slugger.
Not sure what, exactly, happened, but we'll try to find out.
Phillies general manager Pat Gillick declined to discuss the negotiations, but did say Howard's presence at camp ahead of the official reporting date for position players was a positive sign.
David Murphy, Daily News Staff Writer
This might not exactly qualify as earth-shattering news on most of the planet, but considering the ruckus that accompanied Cole Hamels' request for a chiropractor last year, we figure we'll pass it on: the Phillies are making arrangements for players to have access to back specialists throughout the season.
You might remember Cole Hamels making a public plea for the Phillies to hire a chiropractor. It happened last season while he was on the disabled list with an elbow strain. Hamels contended that if he had access to a chiropractor, particularly on the road, his injury might have been avoided.
The Phillies didn't add a chiropractor last season, but assistant general manager Ruben Amaro confirmed today that the club is planning on hiring one to serve players at Citizen's Bank Park. Also, the club is setting up a network of chiropractors around the country for players to use when they are on the road.