Archive: October, 2009
David Murphy, Daily News Staff Writer
Wanted to run some bullet points down before the start of a potential NLDS-clinching Game 4:
1) Scott Eyre ran under the supervision of head athletic trainer Scott Sheridan and looked to the untrained eye as if he were doing much better than last night, when he sprained his ankle in the seventh inning and limped off the field. Manager Charlie Manuel did not provide a specific update, but both he and general manager Ruben Amaro Jr. said they do not anticipate having to make a roster move before the end of the series. If the Phillies replaced Eyre on the roster, he would be ineligible for the NLCS. Manuel said the Phillies have no plans to summon lefthander Sergio Escalona, where he is working out at the team's spring training complex in case he is needed. That's a pretty good sign the Phillies do not feel Eyre is in danger of a prolonged absence.
2) Chan Ho Park threw a bullpen session today in Clearwater and, according to Amaro, is progressing nicely. There is a still a good chance that Park is able to re-join the playoff roster if the Phillies make it to the NLCS.
David Murphy, Daily News Staff Writer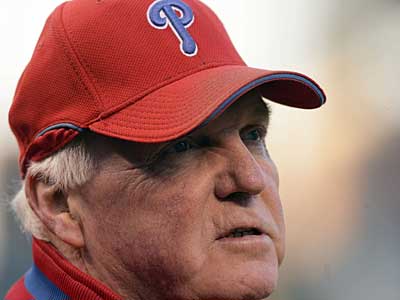 After Troy Tulowitzki's lazy fly ball lofted off the bat and hovered in the airspace above left field before landing safely in the waiting glove of Ben Francisco for the final out of last night's -- or, more accurately, this morning's -- I stared out at the field for a moment to process what had just happened.
"Holy (expletive)," I said to nobody in particular. "He did it."
I then proceeded to flush out that sentiment in 800 or so words. At the time, I was talking about Brad Lidge, who walked two batters in the ninth inning but always seemed in control of his eighth consecutive postseason save. But I could have been talking about any of a number of heros who willed the Phillies to a 6-5 victory that sets up the potential clincher today.
David Murphy, Daily News Staff Writer
By DAVID MURPHY
dmurphy@phillynews.com
DENVER, Col. - Their eyes were drooping and half-glazed over, their bodies slouched, their words delivered in a tired monotone. As Charlie Manuel and Brad Lidge sat inside an interview tent just outside Coors Field and tried to make some sense out of the previous four-plus hours, they looked like many of us might had we spent an October evening outside in sub-freezing temperature waging what felt like a do-or-die fight for the right to keep playing baseball.
But after it was over, after they climbed into a golf cart that whisked them back to the warm confines of the visitor's clubhouse, both men cracked smiles: Lidge riding shot-gun, Manuel seated on a bench attached to the back, his legs dangling over the edge as he he grinned at the various passersby walking behind him.
"I like it," said Manuel, who a half hour before had watched Lidge coax Troy Tulowitzki into a pop-out that sealed a dramatic 6-5 victory over the Rockies in Game 3 of the NLDS. "Even when i hate it, I like it. But it tests you. But you know what, that's the good part about it. That's what the game's all about."
Daily News staff
Greetings from Coors Field, where an hour before first pitch the temperature is a balmy 35.1 degrees, according to WeatherBug.com's tracking station at the stadium. Provided a heat wave does not wrap its arms around the Denver area in the next 60 minutes, Game 3 of the NLDS will likely go down as the coldest game in postseason history. The previous record at first pitch was 38 degrees in Game 4 of the 1997 World Series, which featured Charlie Manuel's Cleveland Indians.
Prior to the game, most players were wrapped up in several layers of clothing, although one notable exception was Shane Victorino, who took batting practice in a short-sleeve jersey and no undershirt. Those long, hard Hawaiian winters must have toughened him up. . .
There will be heaters in both dugouts. Prior to the game, ice could be seen crystalizing on some of the padding behind home plate. But I'm glad to report the temperature inside the press box is in the 60's.
David Murphy, Daily News Staff Writer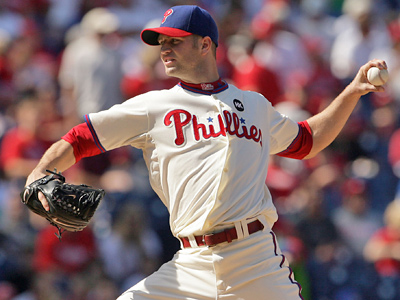 UPDATED: After the Angels' come-from-behind win today, Major League Baseball announced games times for the remainder of the Phillies-Rockies series.
Thanks to the Yankees' 4-1 victory over Minnesota that clinched their series sweep, Game 4 of Phillies-Rockies will be at 6:07 p.m. Eastern on Monday.
If Game 5 is necessary for Tuesday, Phillies-Rockies will be at 8:07 at Citizens Bank Park.
David Murphy, Daily News Staff Writer
David Murphy, Daily News Staff Writer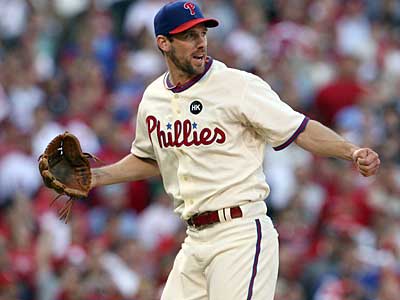 UPDATED: 5:01 p.m.
Charlie Manuel confirmed that lefthander Cliff Lee will start Game 4 on Monday, most likely against Rockies ace Ubaldo Jimenez. Manuel said he told J.A. Happ yesterday that he planned on starting him Sunday. Both Happ and Manuel labelled his bruised left leg - suffered in Game 2 on a comebacker by Seth Smith - a "non-issue."
Poll: Is Happ the right choice to start?

(931 votes)
David Murphy, Daily News Staff Writer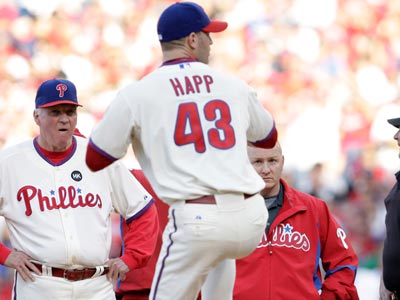 UPDATED 2: Lefthander J.A. Happ will start a rescheduled Game 3 on Sunday night, the Phillies announced. Happ and manager Charlie Manuel will be available to the media later this afternoon.
Happ was hit below the left knee by a line drive from the bat of the only hitter he faced in a relief appearance in Game 2. Afterward, he said he did not think the injury would be an issue.
Had Game 3 been played tonight, as scheduled, Pedro Martinez was expected to start.
Poll: Is Happ the right choice to start?

(931 votes)