Archive: June, 2011
David Murphy, Daily News Staff Writer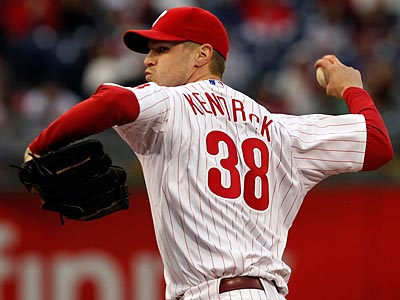 The Phillies will go with Kyle Kendrick and Roy Halladay in their doubleheader against the Marlins on Wednesday, the Phillies confirmed this morning.
The Phillies exact rotation for next week has not been announced, by lefty Cole Hamels will start on Tuesday. Barring a marathon game in which Kendrick is forced to pitch, he and Halladay will face the Marlins on Wednesday.
The Phillies will need a spot starter at some point after the doubleheader, unless they decide to go with Hamels on short rest, which the lefty has never done before. Whether they go with the spot starter against the Marlins on Thursday or in Seattle over the weekend remains to be seen, but righthander Vance Worley has pitched well in his last two starts in Lehigh Valley, where he is scheduled to start on Monday, which would line him up for a start in Seattle on Saturday.
David Murphy, Daily News Staff Writer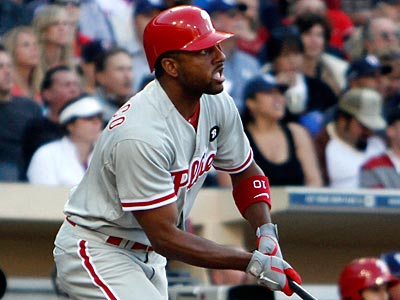 Rookie right fielder Domonic Brown, who enters today with two hits in his last 25 at-bats, will get the day off against Cubs lefty Doug Davis.
Ben Francisco is batting fifth.
Placido Polanco, who has hit fifth the last two nights, also gets the day off.
David Murphy, Daily News Staff Writer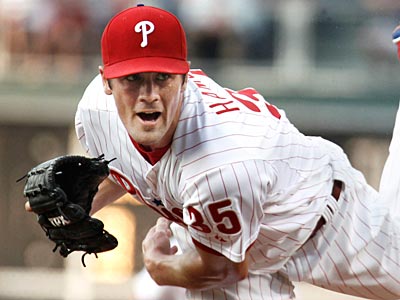 Two pertinent questions involving Cole Hamels:
1) If the Phillies started a playoff series tomorrow, would he start Game 2?
2) What will happen when his contract expires at the end of this season?
David Murphy, Daily News Staff Writer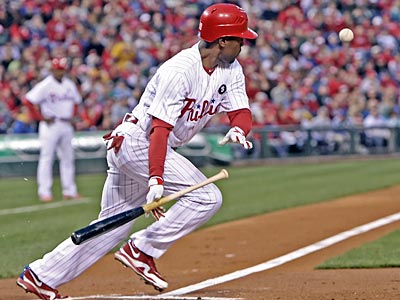 As Charlie Manuel indicated yesterday, shortstop Jimmy Rollins is back in the line-up, his first start since fouling a ball off of his knee against the Pirates on Saturday.
Rollins fielded groundballs yesterday and apparently felt fine. He has pinch-hit once since the injury.
Here is the line-up against Cubs righty Randy Wells.
David Murphy, Daily News Staff Writer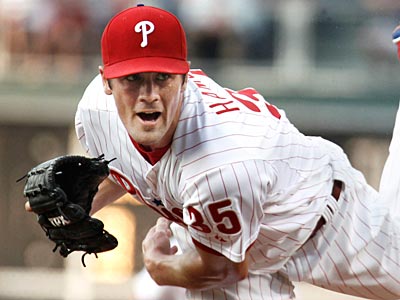 An hour after Cole Hamels put the finishing touches on his latest masterpiece, weathering stifling heat to pitch eight dominant innings in a 2-0 victory over his latest victim, somebody reminded him of the last time he had faced the Dodgers.
"Yeah," Hamels said in a sarcastic tone. "I love that game."
That game was Game 5 of the 2009 National League Championship Series. The Phillies clinched their second straight World Series berth that night, but Hamels watched the majority of it from the sidelines, having been yanked by Charlie Manuel with one out in the fifth inning after allowing his third home run of the game. One year earlier, he had dominated the Dodgers and pitched the Phillies to their first World Series in 15 years, claiming NLCS MVP honors in the process. But in 2009, he could not even make it into the sixth inning.
David Murphy, Daily News Staff Writer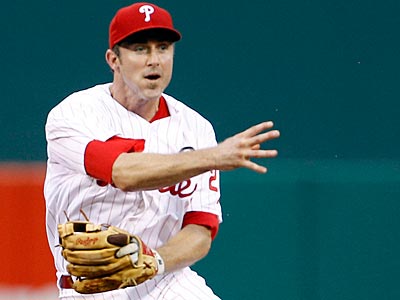 Chase Utley has the most famous wounded knee outside of South Dakota. And that knee just happens to be attached to the leg on which he usually plants to throw to first base. But Charlie Manuel said today he does not think the condition that sidelined Utley for the first three months of the season has anything to do with the rustiness he has displayed on a few of his throws to first.
Last night, Utley skipped a ball to first base on a routine 4-3 double play in the first inning (Ryan Howard scooped the ball on the hop to complete the play). Earlier in the inning, he was unable to get much mustard on an off balance throw to first base, although Dodgers Jamey Carroll looked like he would have beaten it out anyway.
Utley has had a couple other weak throws since returning from the DL, but Manuel said he thinks the problem is more a product of the second baseman's long layoff than it is a product of any difficulty in pushing off his right leg.
David Murphy, Daily News Staff Writer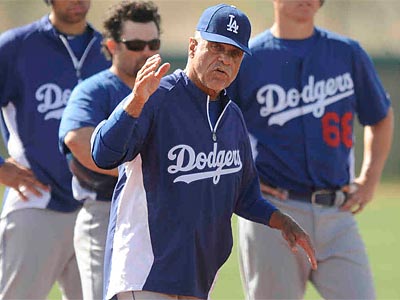 If you were wondering whether there are any hard feelings lingering over Davey Lopes departure from Philly, the answer is no. A resounding no. The former first base coach exchanged a hug with general manager Ruben Amaro Jr. and spent a significant time during pre-game laughing heartily with the Phillies coaching staff as they prepared for batting practice.
"It got a little emotional out there," said Lopes, who is now the first base coach with the Dodgers, who open a three-game series at Citizens Bank Park tongiht.
It even got a little emotional during an interview with reporters as Lopes recounted his time in Philly and the circumstances surrounding his departure.
David Murphy, Daily News Staff Writer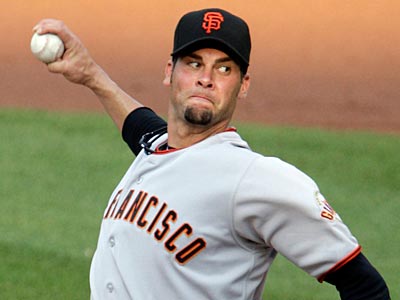 Last year, Ryan Vogelsong helped teach me an important lesson. It was the first week of spring training. The position players who were sure bets for the Phillies roster had only begun to trickle in to Clearwater. The weather was chilly, and the hot water in my apartment was not working. I mention that because we all know how it feels when the water turns cold. It leaves an impression. That's the way I felt one of those early mornings as I stood outside the chain link fence that encircles the row of practice mounds at the Phillies' minor league complex. For those who are not familiar with the first week of spring training, the only real action comes during these short bullpen sessions, when the pitchers in camp throw to the catchers in camp, building their arms for the upcoming season. There are maybe eight pitchers at any given time, winding and firing fastballs and cutters and change-ups into the mitts that are waiting 60 feet, 6 inches away. All you hear is a continues thwacking of rawhide meeting leather, like a disjointed 21-gun salute mixed with an occasional "atta-boy."
On this particular occasion, one set of thwacks stood out. It came from a rubber that supported the strong lower half of a pitcher with a hat pulled low on his forehead. You know how they say the ball sounds different coming off of some hitters' bats? The same goes for a fastball snapping into a catcher's mitt, and the man on the mound was making that sound. He was one of a number of anonymous pitchers preparing for their latest unsuccessful bid for a big league job. But he looked different. His fastball snapped. His cutter popped. I don't remember his curveball or his change-up, probably because they don't make much of a sound. But I do remember the energy that radiated from his eyes. I've covered sports at all different levels, from high school to small-time college to big-time college to the pros. And the one constant among those who excel is the look in their eyes. You've heard of an athlete being in The Zone, and you've probably wondered how the hell anybody can identify such an abstract place. Some militant number-crunchers will tell you such a place does not exist, that it is a ficticious candyland born from observational bias. There is no Zone. There are only results, and when those results defy statistical probability, we convince ourselves that an athlete has some sort of pyschological ability to transport himself to a place where he is able to supercede the physical laws and limitations that govern his performance.
Raul Ibanez and J.A. Happ were not in The Zone during their repsective hot streaks during the 2009 season. Cole Hamels was not in The Zone in 2008 any more than he was out of The Zone the following year. Ryan Madson did not struggle to find The Zone in his previous closing attempts, and he did not suddenly discover it before his latest. There are only random deviations from the Norm, and corresponding regressions back to It.