Archive: June, 2010
David Murphy, Daily News Staff Writer
Many members of the Phillies organization fancy Philadelphia a baseball town. They view these past few years of success as having restored some semblance of order to the sporting landscape, with the American past time back atop the depth chart and that new-fangled tackle football thing relegated to No. 2.

I will not argue them on this point, mostly because I do not have the energy. But whether Philadelphia is a baseball or hockey or soccer town, it still has a football mentality, and it shouldn't take a video clip of a toddler chugging a Miller Lite for people to realize this.

Over the last several weeks, I have received countless emails wondering when the Phillies will cut bait with Raul Ibanez, the veteran left fielder who as of today is hitting .246 with a meager .383 slugging percentage. People look at the Phillies' three-week-long slump and their current second-place standing and insist that now is the time to shake things up, to give Domonic Brown or John Mayberry Jr. or Ben Francisco a chance to do what Ibanez hasn't.

But it isn't going to happen. And it shouldn't happen.

1) It is EARLY

Twenty games might seem like a long time. And it would be, if we were talking about a season that lasts 16 games or 81 games or however many games are on a Major League Soccer schedule. But a baseball season is 162 games, which means the Phillies have struggled offensively for about 12 percent of their schedule. What is 12 percent of an NFL schedule? Roughly two games. If this were football, the Phillies would have struggled on offense for two consecutive games. It might not be an ideal situation, but it certainly isn't one that calls for a major shake-up.

At this point, change for the sake of change can do nothing but hurt the Phillies' chances for success in the long-run. It would be a panic move, and panic moves resonate throughout a clubhouse and an organization.

2) Ibanez has been here before

In 2007, Ibanez finished July hitting .253 with a .306 on base percentage, .695 OPS and six home runs.

In the final 55 games of that season, he hit .357 with a .423 OBP, 1.057 OPS and 15 home runs.

In his first 57 games of the 2008 season, Ibanez hit .264 with a .328 on base percentage, .777 OPS and eight home runs.

In his last 105 games, he hit .308 with a .373 OBP, .867 OPS and 15 home runs.

This year, Ibanez is hitting .246 with a .339 on base percentage, .722 OPS and three home runs through 57 games.

3) Ibanez is a No. 6 or No. 7 hitter

Keep in mind that when Jimmy Rollins is healthy, Shane Victorino is hitting in the bottom of the order. And even if Ibanez remains the poorest hitter in this line-up for the rest of the season, his numbers thus far are still better than Pedro Feliz's were in the two seasons he spent hitting No. 7 here in Philly. In those two years, Feliz combined to hit .259 with a .306 on base percentage, .699 OPS, and 26 home runs in 1005 at-bats.

Again, Ibanez's numbers thus far this season: 246 with a .339 on base percentage, .722 OPS and three home runs in 183 at-bats.

4) Ibanez is a smart hitter

Perhaps the most legitimate concern about Ibanez's performance thus far is his drop in power. And for this line-up to live up to its potential, it needs Ibanez to drive the ball. But even if his power remains diminished, he is a smart enough hitter to make do. He is near the top of the league in sacrifice flies. He is hitting .279 with a .403 on base percentage and .822 OPS with runners in scoring position. He has a .439 on base percentage when leading off an inning. He is 9-for-30 with three walks, one home run, and one triple in late-and-close situations.

5) He is coming off serious surgery, and he has shown signs of turning things around

Ibanez is making contact. Since and ugly April in which he struck out 16 times in 68 at-bats, he has struck out 16 times in 115 at-bats. He is hitting .261/.338/.409 during that time period. He has recorded plenty of hard outs over the last few weeks. In fact, since the Phillies' offensive slump began, he it hitting .262.

Again, those aren't great numbers. And his power numbers are still miniscule.

But you need to keep in mind that Ibanez is coming off a pretty significant injury to the most critical part of a hitter's body. He played through a ridiculous amount of pain last season. Mike Cameron, for example, has played in just seven games since being diagnosed with an abdominal injury in the third week of April.

While Ibanez looks healthy, and says that he feels healthy and strong, he spent the entire offseason rehabbing from his surgery. That means the normal strength, conditioning, flexibility and timing drills that usually filled his offseason were either eliminated or greatly tapered down.

That's not an excuse. That's just a fact.

6) There are no other options

Do not misconstrue this as an argument that Ibanez is destined to return to the player who carried the Phillies for the first two-plus months of last season. This is an argument that the prudent move is to give him plenty of time to turn things around. One of the basic tennets of economics is that a sunk cost is sunk, but there is no conclusive proof that Ibanez's contract, which runs through next season, is a sunk cost.

It is not as if the Phillies have a ferocious right-handed power bat languishing on the bench while Ibanez eats up playing time. Domonic Brown has played less than a season above Class A. You don't take a player like that and put him in a situation where he is expected to produce for a team that is hoping to advance to its third straight World Series. Forget about him right now. John Mayberry Jr. could well get an opportunity if the Phillies call him up prior to this weekend's interleague series in Boston. But even an outside addition would not force the Phillies to part with Ibanez.

You can argue that the Phillies should look for some insurance via trade. There figure to be plenty of options available. Even if Ibanez does revert to equillibrium, the Phillies wouldn't be ill-advised in adding another bat to their bench.

You can argue that if Ibanez is still struggling at the All-Star break, it might be time to think about giving another outfielder more regular work.

But any argument that the Phillies should just jettison a well-respected veteran with a long track record and a recent history of getting hot quick just because the Phillies have struggled offensively for the equivalent of two NFL games shows a lack of understanding of anything deeper than numbers and paper.


Daily News staff
Florida's Hanley Ramirez has moved ahead of sidelined Phillies shortstop Jimmy Rollins in the lastest Natioal League All-Star balloting released today.
Ramirez has 835,275 votes to Rollins' 792,987. Rollins was leading by about 22,000 at the last report. According to MLB.com, the Marlins recently had a voting initiative at their ballpark in which fans who attended games and filled out ballots received tickets to a future game.
Phillies outfielders Jayson Werth and Shane Victorino also fell, with neither currently in the starting lineup. Werth fell from second to fourth and Victorino went from fourth to fifth.
David Murphy, Daily News Staff Writer
Jimmy Rollins was eligible to be activated from the disabled list yesterday. Instead, he began making preparations to return to Clearwater, Fla., where he will continue his rehabilitation program when the Phillies depart for a six-game interleague road trip through Boston and New York City.
In other words, don't expect him back any time soon.
Manager Charlie Manuel indicated a Rollins return was unlikely to occur within the next week, and the short stop himself made it sound like it will take longer than that. Rollins, who returned to the disabled list on May 22 after re-injuring his strained calf while running to first in the sixth inning of a 5-1 win over the Red Sox, has been jogging and taking batting practice, but has yet to sprint or simulate running the bases.
David Murphy, Daily News Staff Writer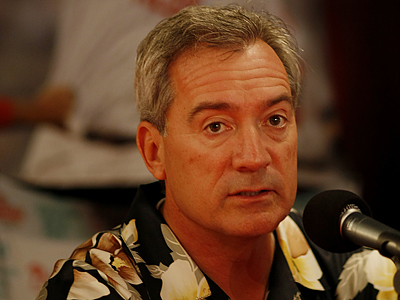 About six hours from now, the Phillies will makes the 27th overall selection in the 2010 first-year player draft, also known as the Rule 4 draft. And while their standing in major league baseball has changed dramatically over the past few years, their draft strategy is not expected to follow suit. The Phillies are like most teams - they do not believe in drafting for need, or drafting with the thought of fast-tracking a player to the big leagues. So even though the most immediate need for the big league club is a few good pitching arms, do not expect that need to dictate the strategy they employ tonight.

"Atlanta did that a few years ago with a kid named Joey Devine, a pitcher they thought could jump right in," Phillies scouting director Marti Wolever said yesterday. "[Ryan] Wagner in Cincinnati. There have been several guys. 'Hey, we need a reliever and this college guy can do it.' Well, I look back now and I'm sure there are some successes, but there have been a lot of failures, too. So, short term, yes, it sounds great. But I think you've got to think long term here.

"We try to stay with the philosophy we've had over the years. We've had our misses, no doubt. But, overall, it's been pretty successful."

In other words, the current baseball season, where recently-graduated pitchers like Mike Leake, Drew Storen, and Stephen Strasburg either have made or are expected to make big impacts, is a rare bar of gold in a chasm of pyrite.

There aren't many quick fixes in the Major League Baseball draft - no Matt Ryans or Adrian Petersons or Troy Polamalus.

And the few that exist are not found in the bottom quarter of the first round, where the Phillies are slated to pick.

Strasburg, who is scheduled to make his MLB debut tomorrow for Washington, was selected with the top overall pick last season. Leake, who is 5-0 with a 2.22 ERA in 11 starts for the Reds, was taken at No. 8. Storen, a flame-throwing reliever who dominated the minors and was recently called up to the Nationals, was taken at No. 10.

Instances of fast-tracked players who were drafted in the bottom half of the first round are rare.

Wolever mentioned Devine, who is the classic case of what can happen to a team if it allows its big-league needs to dictate its strategy.

The Braves drafted the hard-throwing righthander out of North Carolina State in 2005. Coincidentally, they took him with 27th-overall pick. His senior year at NC State, Devine made 28 relief appearances, striking out 13.3 batters per nine and walking just 1.8. He allowed one home run, recorded 12 saves, and posted a 2.03 ERA.

At the time, the first-place and defending division champion Braves were in dire need of bullpen arms at the major league level. John Smoltz had moved back into the rotation after three seasons as closer, and by the end of the season 19 different relievers had appeared in relief for them.

One of those pitchers was Devine, who appeared in less than 30 minor league games before the Braves promoted him to the majors on Aug. 20. But in he allowed seven runs in his five appearances, and by the end of 2007 season had made just 20 more appearances in the majors. He pitched well for Oakland in 2008, going 6-1 with a 0.59 ERA with 9.7 K/9 and 3.0 BB/9 in 42 appearances, but had elbow surgery last season and is still on the disabled list.

There are some instances of players making quick jumps to the big leagues.

Joba Chamberlain was selected with the 41st overall pick in the 2006 draft and was on the Yankees' major league roster a little more than a year later. After debuting on Aug. 7, 2007, the hard-throwing starter-turned-reliever-turned-starter-turned-reliever posted a 0.38 ERA and 12.8 K/9 in 19 games during the stretch run.

That same year, the Yankees drafted Southern Cal standout Ian Kennedy with the 21st overall selection and promoted him to the big league roster in September of 2007, when he threw 19 innings and posted a 1.89 ERA in three starts.

The Red Sox seem to like college pitchers, and have hit big on several, most notably Jonathan Papelbon, selected in the fourth round in 2003. But even then, the turnaround is usually not lightning-quick (Papelbon didn't debut until mid-2005, which relative to tonight's draft would be mid-2012).

Here are how some other college pitchers drafted after the first half of the first round have fared:

Matt Garza: Drafted 25th overall in 2005, debuted for Twins on Aug. 11, 2006, posted 5.76 ERA in 10 games, 9 starts.

Craig Hansen: Drafted 26th overall out of St. John's in 2005, he debuted for the Red Sox on Sept. 19, 2005 but appeared in just four games. He has struggled since, walking 6.1 per nine and posting a 6.34 ERA in 95 big league games for the Red Sox and Pirates.

Daniel Bard: Selected 28th overall in 2006, he struggled as a starter in the minor leagues but has developed into a reliable back-of-the-bullpen power arm. He debuted on May 13, 2009 and went on to post a 3.65 ERA and 11.5 K/9 in 49 games for the Red Sox.

Chris Perez: Cardinals took him out of Miami at No. 42 in 2006. He debuted May 16, 2008 and immediately filled a bullpen role, posting a 3.46 ERA and 9.1 K/9 in 41 games.

Justin Masterson: Selected by the Red Sox out of San Diego State with the 27th pick of the second round in 2006, he debuted on April 24, 2008 and posted a 3.16 ERA in 36 games, nine starts.

Wade LeBlanc: Starting tonight for the Padres, he was taken out of University of Alabama with the 17th pick in the second round in 2006. He debuted in September of 2008.

Brett Cecil: Selected No. 38 in the second round in 2007 by the Blue Jays out of Maryland, he debuted last May and went 7-4 with a 5.30 ERA in 18 games, 17 of them starts. Through nine starts this season, he is 6-2 with a 3.43 ERA.

The way the Phillies see it, they are better off taking the player they think will turn into the best prospect, regardless of the year they project him to be ready.
Take, for example, Jason Knapp, the 17-year-old high schooler they took in the second round in 2008. Although he wasn't expected to help the Phillies until at least 2013, Knapp was one of the key pieces of the trade that landed Cliff Lee last season.
So who might the Phillies land tonight and over the next few days?
Paul Hagen
There are no mulligans in baseball. And, even if there were, Charlie Manuel says, he still wouldn't have double-switched when he brought righthander Jose Contreras out of the bullpen, anyway.
The situation: Score tied at 5. Padres runner at second with one out. Pinch-hitter David Eckstein at the plate. Pitcher's spot leading off for the Phillies in the bottom of the inning.
Manuel could have put Contreras in the eight spot occupied by shortstop Juan Castro and brought Wilson Valdez in at the same time. But he didn't.
Paul Hagen
AROUND THE BASES
Upon further view: Commissioner Bud Selig had to be convinced to approve instant replays just to determine boundary calls involving home runs. He was pretty adamant at the time that he would never want to see the use of technology expanded. That's what made the following, buried at the end of a release sent out in the wake of Armando Galarraga's perfect-game-that-wasn't so significant. "While the human element has always been an integral part of baseball, it is vital that mistakes on the field be addressed. Given last night's call and other recent events, I will examine our umpiring system, the expanded use of instant replay and all other related features," he said. That's big.
Junior's legacy: Ken Griffey Jr., who abruptly announced his retirement Wednesday night, compiled numbers that will eventually land him in the Hall of Fame. He's the rare player, however, whose influence extended beyond that. It's widely believed that without his personal magnetism and skills that helped the Mariners make the playoffs in 1995, Safeco Field may never have been built and the franchise would have been forced to move.
Mets mess: A stalemate has emerged between lefthander Oliver Perez and the club. The front office would like him to go to Triple A Buffalo to try to work on his problems. Perez (0-3, 6.28) has declined the assignment, as is his right. A Mets official told the New York Daily News that the team is not considering releasing Perez, who is in the middle of a 3-year, $36 million contract, but added: "He'll be the last pitcher out of the bullpen."
David Murphy, Daily News Staff Writer
1. What does the Willy Taveras signing mean?

The Phillies signed the outfielder, formerly of the Rockies, Reds and Nationals, today to a minor league contract.

First and foremost, it means Dewayne Wise exercised an out clause in his contract that allowed him to become a free agent. It was a smart move on Wise's part, since right fielder John Mayberry Jr. has established himself as the top outfielder on the minor league depth chart, hitting .284 with an .849 OPS and nine home runs at Triple-A Lehigh Valley. And with Domonic Brown making it very hard for the Phillies not to promote him later this season, Wise likely saw the handwriting on the wall.

But while signing Taveras is an inventory move at this point, don't be surprised if you see him in a Phillies uniform this September. This is a guy who hit .293 and converted 100 of his 129 stolen base attempts while averaging 498 at-bats in his first three years in the big leagues. He struggled at the plate for Cincinnati last season, hitting just .240 with a .275 on base percentage, but he still stole 25 bases and was caught just six times.

The Phillies have looked for a speed-first guy to serve as a pinch-runner the last two Septembers, but they simply did not have anyone with much experience in that role in the minors. Greg Golson had a try-out two Septembers ago, but was used infrequently and was not a serious contender to make the postseason roster.

2. What's up with Figgy?

Nelson Figueroa cleared waivers today and accepted an assignment to Triple-A Lehigh Valley, a huge positive for the Phillies' organizational depth in the rotation. Three months ago, everybody who watched this team closely -- GM Ruben Amaro Jr. included -- thought that pitching depth was the one glaring weakness coming out of spring training. Now, Kyle Kendrick has thus far showed that he can be a capable No. 5 starter, Jamie Moyer is pitching his best baseball since he has been in Philadelphia and Figueroa is available to be recalled as either a starter or long reliever. The bullpen could use another arm, but all-in-all, the Phillies have done an about-face in the pitching department. If J.A. Happ can overcome his arm trouble, it will only add to the pot.

3. When will the Phillies start to hit?

I might be in the minority here, but I think they are already starting to break out of their offensive slump. The box score hasn't showed it over the past two days, but the contact that they made in the last two games against the Braves was more solid than at any other point in this slump. That's my observation, of course. I don't know much of anything about Mat Latos, who will be on the mound for the Padres Friday night, other than the fact that he throws with his right hand and has had decent success thus far this season. But I do know that the Phillies have destroyed Jon Garland in the past. Placido Polanco, who is hoping to return this weekend, is 14-for-37 off of him. Raul Ibanez is 22-for-64. Jayson Werth hit a home run off of him last season, as did Carlos Ruiz.

I think Manuel goes back to his regular line-up this weekend, and I think the Phillies snap out of this epic slump. Of course, the schedule makers didn't do them any favors with a second series against the Red Sox and one against the Yankees on the next road swing.
David Murphy, Daily News Staff Writer
According to pitching coach Rich Dubee, the Phillies aren't likely to start Cole Hamels before his next turn in the rotation, despite the fact that he threw just 24 pitches against the Braves last night.
"We like the order," Dubee said.
As for the reason why Hamels did not return to the mound after the 1:04 rain delay, Dubee pointed to the fact that Hamels was already toward the end of his warm-up in the bullpen in his last start when he was forced to sit through a two-hour rain delay in New York. The Phillies are usually hesitant to send a pitcher back out to the mound after 45 minutes, and they didn't want to have Hamels stop-and-start two turns in a row. Braves righthander Tim Hudson returned to the mound and went on to allow two runs in six innings.