Archive: February, 2011
David Murphy, Daily News Staff Writer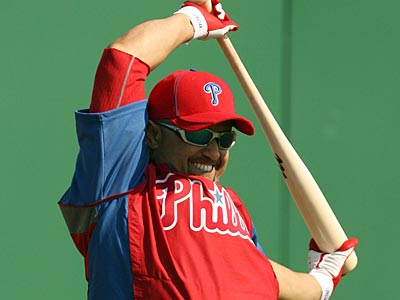 Placido Polanco reported to camp today and gave his surgically-repaired elbow and enthusiastic thumbs up. In November, doctors removed scar tissue and bone spurs from the elbow, which had caused him considerable pain since late-April.
Polanco has hit six or seven times since the surgery, and says he is able to extend his arm on his swing much better than last season.
"You have to extend to hit, especially pitches away," Polanco said. "You have to finish your swing. It makes a big difference."
Philly.com Staff
Video: Domonic Brown's new stance is the talk of spring training, but how concerning is Antonio Bastardo's elbow? The Daily News' Paul Hagen talks Phils with CineSport's Noah Coslov.
David Murphy, Daily News Staff Writer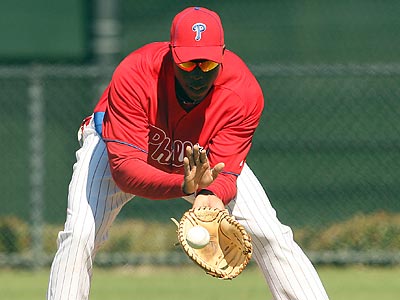 Charlie Manuel said today that the Phillies will get Wilson Valdez some playing time in the outfield during spring training in addition to his usual role in the infield. John Mayberry Jr. will get the opposite treatment, taking some reps at first base in addition to playing all three outfield positions.
Valdez could play some center field, where the Phillies will also feel the effect of Jayson Werth's departure. Werth was the team's back-up center fielder, playing there when Shane Victorino needed a break or went on the disabled list.
Ben Francisco can also play center field. Manuel said Francisco will get playing time at all three outfield positions this spring.
David Murphy, Daily News Staff Writer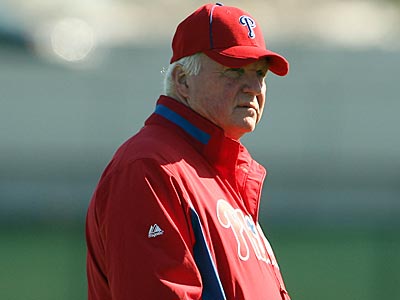 The act of quoting a speaker is a difficult process. Often times, a brilliant observation can fall victim to a person's struggles to express himself clearly through the spoken word. It is why writers are charged not just with relaying what a subject says, but what he means, regardless of the manner in which the sentiment flows from his vocal chords. Imagine if everything you said was recorded and transcribed verbatim. You feel like Winston Churchill, but you sound like Elmer Fudd (Trust me - I listen to myself ask questions on tape).
It is the single most challenging task a writer faces: using a two-dimensional surface to capture a three-dimensional reality that includes body language, voice inflection, context and circumstance.
Every now and then, though, a speaker nails it. These are your Bill-Pullman-addressing-the-air-force-before-the-Alien-battle moments, when a John Williams composition plays through your head as you transfer the words from tape to paper.
Daily News staff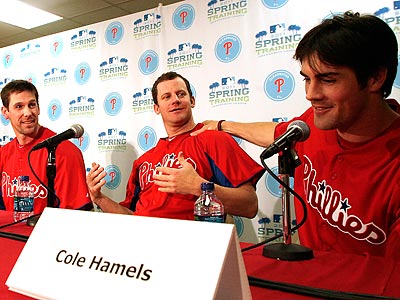 CLEARWATER, Fla. - The five starters of the Phillies rotation gathered this afternoon for a news conference. It was the Big 4 (Roy Halladay, Cliff Lee, Roy Oswalt, Cole Hamels) and Joe Blanton.
The five appeared to be in good spirits as they sat at a table facing the media at Bright House Field. They were hit with all kinds of questions.
Lee was asked what it was like to be in spring training with these other top pitchers. "Basically, it's spring training," Lee said. "Just preparing for the season. I'm honored to be around these guys. But I'm just getting ready for the season."
David Murphy, Daily News Staff Writer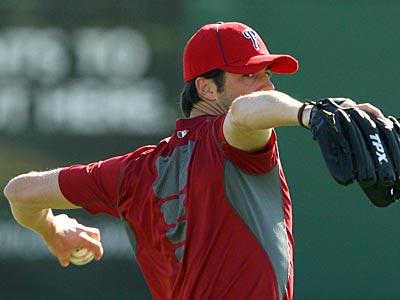 There was some talk yesterday about the Phillies fielding a rotation with the potential of having five guys finish the season with at least 200 innings.
Joe Blanton, the No. 5 starter, has reached 200 innings twice in his career, and has come within five innings in three other seasons.
Roy Halladay has done it in each of his last five seasons. Cliff Lee has done it in five of his last six seasons. Roy Oswalt has done it in six of his last seven. Cole Hamels has done it in two of his last three.
David Murphy, Daily News Staff Writer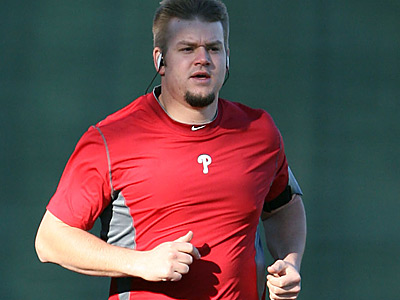 The clubhouse at Bright House Field was buzzing again today as pitchers and catchers reported to Clearwater in preparation for tomorrow's opening workout. Among the core group of position players, only Chase Utley and Carlos Ruiz are here thus far. The first full-squad workout takes place on Feb. 19, although players will trickle in before then.
Not much in the way of news today.
Kyle Kendrick and Vance Worley will get stretched out as starters this spring, but pitching coach Rich Dubee said today there is no competition for the fifth spot in the rotation.
David Murphy, Daily News Staff Writer
Here's the thing about mind over matter. At some point, matter wins. The role of the mind is to postpone the victory as long as possible.
Raul Ibanez is well aware of this.
""The moment that I say, 'I can't have a better season than last season,' then it's probably time to go home," Ibanez told me last week as I interviewed him for a story that runs in today's paper.