Archive: August, 2012
David Murphy, Daily News Staff Writer
A month ago, I didn't know who Adam Morgan was. On Thursday, a scout who watched his Double-A debut labeled him as one of his favorite prospects in the organization. The rough comparison I've heard is Chris Capuano, the veteran lefty who is currently thriving with the Dodgers.
Right now, he projects as a mid-to-back-of-the-rotation guy, but cheap back-of-the-rotation pitching is something that the Phillies are going to need in the coming seasons as Cole Hamels and Cliff Lee play out their deals and Vance Worley's salary stats progressing through the arbitration process. The book on Morgan: not as much of a ceiling as Trevor May or Jesse Biddle, but a higher floor. He's more polished, and could be in a position to contribute as early as later next season. That is a fast timetable for a guy who was drafted in the third round out of Alabama in June of 2011. The 2014 season is a more likely projection. But Morgan has already skipped low-A, and this season posted a 3.29 ERA, 10.2 K/9, 2.0 BB/9 and allowed just seven home runs in 123 innings at Clearwater. Last night, in his Double-A debut, he held the Yankees' Double-A affiliate to two walks and one hit while striking out six in seven scoreless innings.
Morgan, the Phillies' minor league pitcher of the month for July, is 22 years old, which is how old Vance Worley was when he made his major league debut.
David Murphy, Daily News Staff Writer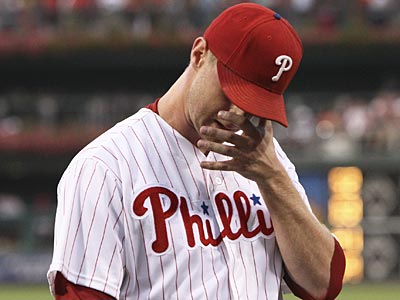 When you consider the emotions of defeat and the persecutory feeling of a tight circle of microphone-wielding reporters, a certain amount of leeway should be afforded to an athlete when he answers a question about his performance. Once you have afforded Kyle Kendrick this leeway, you may proceed to the nearest section of drywall and bang your head against it in a steady yet forceful manner. More than two hours after he trudged off the mound in the fourth inning with a 6-1 deficit on the scoreboard, and long past the time most of his teammates had departed from the post-game clubhouse, the right-hander emerged from a members-only section of the premises and fielding questions about the Phillies' 12-6 loss. He was asked about a second inning in which he threw 50 pitches, walking a light-hitting eight-hole hitter and then surrendering a two-run double to the opposing pitcher.
"I just couldn't find the zone," he said.
He was asked about his tempo, which slowed to the pace of a rush hour crawl, about a perceived lack of aggression, which pushed his manager close to combustion.
David Murphy, Daily News Staff Writer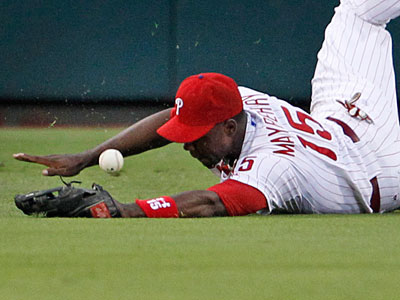 Citizens Bank Park sprung to life a little earlier than normal today as Charlie Manuel scheduled a rare fielding session prior to batting practice, with outfielders and infielders practicing cutoffs and relays. No doubt it was a response to the sloppy play the team has showed as of late, including last night, when there were several fielding miscues during a 6-1 loss to the Braves.
-There isn't much else going on at the moment. I briefly caught up with Placido Polanco, who gave little indication that he is close to returning. Polanco said he has been doing some light running, and that the next step is to field ground balls. But there are no immediate plans to start that fielding work. The only real intrigue about the situation is that Polanco could be a player who another team would take as a veteran glove for the stretch run. Even then, though, the Phillies would not get much for him besides salary relief, and the salary relief would likely be minimal.
-There has been plenty of speculation that the Phillies will target Michael Bourn this offseason, particularly in light of Ruben Amaro Jr.'s confident proclamation that the team is in position to make a run at one or more impact free agents. Yesterday, Bourn spoke briefly to Ryan Lawrence, who will be joining the staff of the Daily News in a couple of weeks after four-plus years at the Delaware County Times. He obviously wasn't interested in delving too deeply into his impending free agency. At this point, I think Bourn and Scott Boras will be looking for a huge contract, so big that any team that signs him will end up overpaying, and I don't think the Phillies are in a position where they can afford to overpay.
David Murphy, Daily News Staff Writer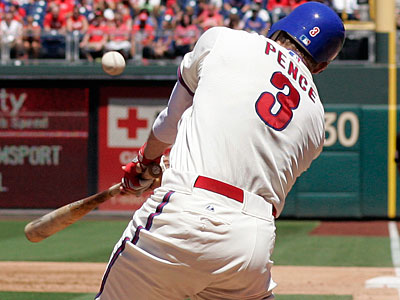 There was a lot of head-scratching on Tuesday afternoon when the Phillies traded away Hunter Pence for a package of players headlined by Giants catching prospect Tommy Joseph. In a recent column, esteemed baseball scribe Jayson Stark relays an email he received from a baseball person who wondered, "What the (heck) are the Phillies doing?"
It is a fair question to ask, provided the focus is the totality of their moves over the last few offseasons. The one thing the last few days have shown is that the Phillies' ability to spend on payroll is a serious issue moving forward. Ruben Amaro Jr. consistently deflects questions about his budget, but with a little deductive reasoning, we can get a pretty good idea of the meaning of his maneuvering prior to Tuesday's non-waiver trade deadline. And what I infer is that $189 million is going to be their targeted payroll for the foreseeable future. That is the number of the luxury tax threshold after next season. I infer that they are willing to spend up to that amount next season, meaning they would be subjected to a 17.5 percent tax (an amount that is hardly a deterrent). But they do not seem willing to go over that amount on a consistent basis, as evidenced by the apparent fact-finding mission they conducted with regard to trade interest in veterans like Cliff Lee and Jimmy Rollins. Even the Yankees are trying to get their payroll under $189 million. The new CBA sets up that number as a near-de-facto salary cap, given the penalties for exceeding it multiple seasons in a row.
So, there we have it: $189 million.
David Murphy, Daily News Staff Writer
Shane Victorino took out an ad in the Daily News to thank Philadelphia, where he developed into a starting center fielder despite long odds early on. Mahalo, Shane. And feel free to keep purchasing ad space.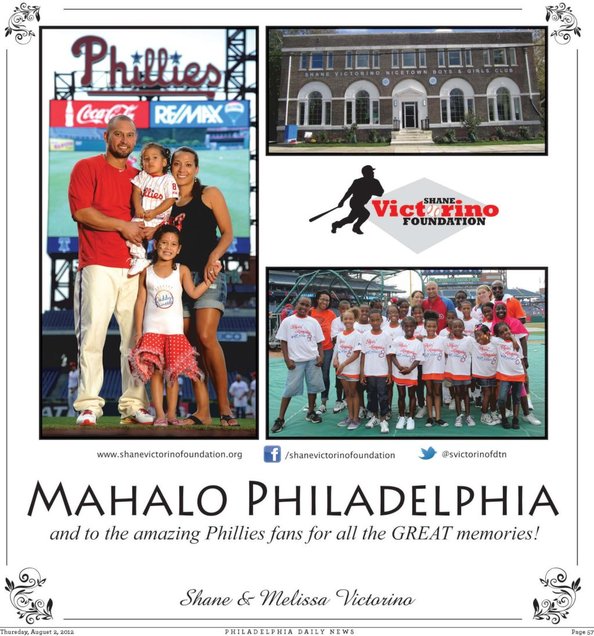 ---