Archive: July, 2012
David Murphy, Daily News Staff Writer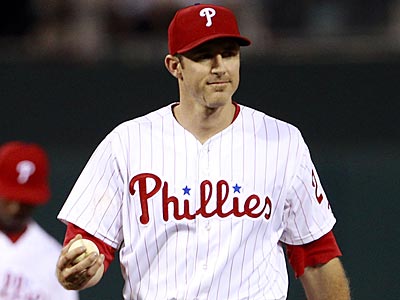 In some ways, the Phillies' horrendous play in the month before the All-Star Break protected Charlie Manuel from having to make some difficult decisions with regard to his deployment of Chase Utley. For an example, see the scenario that could confront him before Wednesday's series finale at Dodger Stadium. Heading into tonight's game, the Phillies have won three straight games. But tonight will also be Utley's second straight game in the lineup. Thus far, Manuel has kept him on a schedue of two games on, one game off. But what if the Phillies are carrying a four-game winning streak into a series finale against Clayton Kershaw?
Manuel remained non-comittal this afternoon.
"It's mine and Utley's call," he said. "But at the same time, we definitely still have to watch Utley. We definitely don't want to set him back. He's come a long ways, but there again, we definitely need him in there."
David Murphy, Daily News Staff Writer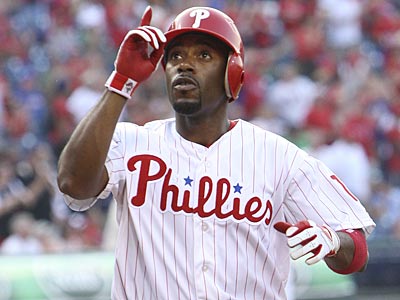 Among the litany of complaints that I have heard about this Phillies team, the one that confuses me most involves the four-year, $38 million deal that Jimmy Rollins signed this offseason. I expounded on that confusion in today's Daily News, which you can read here. Now is an interesting time to have this discussion, because the last time the Phillies played the Dodgers, Rollins was also a focal point. It was early June, and Rollins was coming off an awful two-month start to the season. The start of a four-game home series against the Dodgers brought plenty of questions from reporters about whether Rollins should continue to leadoff, or whether Juan Pierre should assume those duties. They were legitimate questions at the time. So were the questions about Rollins' contract when he signed it.
What I don't understand is how anybody can look at anything that has happened since both of those occasions and use it to denigrate Rollins.
On June 5, I wrote a column defending Rollins, pointing out that he usually hits well after June 1 and that Pierre lacked the power the Phillies needed in their lineup. Since that day, Rollins has hit .292 with a .354 on base percentage, a .569 slugging percentage, and seven home runs in 158 plate appearances. Pierre, meanwhile, has hit .277/.313/.383 with one home run in 102 plate appearances. Rollins has outperformed Pierre in every major category, yet some still think Pierre is more valuable to the Phillies' offense. Same goes for Freddy Galvis. Can somebody explain to me what, exactly they saw out of Galvis that makes them think that he would not be a huge offensive liability next season? In 200 plate appearances this season, Galvis hit .226 with a .254 on base percentage. Every time he stepped to the plate, he had a 75 percent chance of making an out. That matters. I understand the appeal of Galvis' defensive prowess and youthful exuberance. But you gotta hit.
David Murphy, Daily News Staff Writer
It's 10:41 p.m. here at Dodger Stadium, 1:41 a.m. back east, and four days into the second half of the season, the Phillies have yet to flatline. In fact, they've won three straight games, buyoued in large part by starting pitching. Vance Worley, Cole Hamels and Joe Blanton have combined to hold their opponents to five runs in 22 2/3 innings, a trend that will need to continue for the Phillies to put together the kind of run they are going to need to overcome their current deficit.
In Monday night's 3-2 win over the Dodgers, Blanton allowed two runs in eight innings. It was the first time since May 13 that they won a game in which they scored three or fewer runs. They are 5-36 overall this season when scoring three or fewer runs. Last year, they were 30-47 when scoring three or fewer runs, the best mark in baseball.
Blanton says the rotation is confident it can still win enough of these kinds of games to keep the team rolling.
David Murphy, Daily News Staff Writer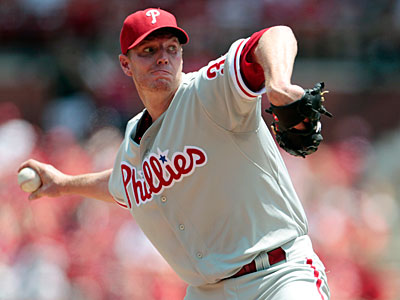 The Phillies will no longer face lefthander Chris Capuano on Monday in Los Angeles as the veteran was forced into duty today when scheduled starter Chad Billingsley was scratched with tenderness in his arm. Capuano, 9-4 with a 2.91 ERA this season, was scheduled to square off against Joe Blanton on Monday night. Instead, Nathan Eovaldi will start the series opener between the Phillies and the Dodgers.
L.A. has yet to announce a starter for Tuesday's game, which will feature Roy Halladay making his comeback from a lat strain that has sidelined him since late May (the Phillies have officially named Halladay their starter for Tuesday). Defending NL Cy Young winner Clayton Kershaw is still slated to start against Cliff Lee on Wednesday.
The Dodgers swept the Phillies in a four-game series at Citizens Bank Park from June 4-7, but both teams have struggled since that meeting. L.A. is 11-20 and averaging 2.8 runs per game, while the Phillies are 10-20. Stars Matt Kemp and Andre Ethier recently returned to the Dodgers lineup.
---
David Murphy, Daily News Staff Writer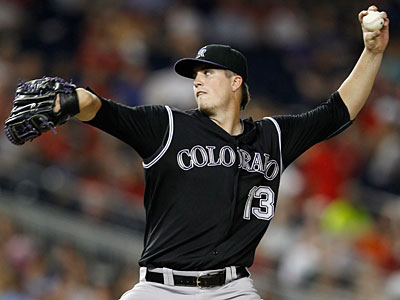 This is one of those match-ups that might not look all that intimidating on paper, but look a little deeper and you'll see that the Phillies could have their hands full today against 23-year-old lefty Drew Pomeranz. Cole Hamels pitched well at Coors Field last year, going six innings while allowing two runs, one home run and one walk with five strikeouts. His only other start in Denver was in 2009, when he allowed seven runs in 3 2/3 innings.
The key, as is usually the case, will be Carlos Gonzalez, who is one of the few name-brand hitters in this Rockies lineup. He is also 5-for-6 with a pair of doubles in his career against Hamels. Colorado catcher Ramon Hernandez is 4-for-9 with a pair of doubles and a home run against Hamels.
As for the Phillies' lineup, Pomeranz is coming off a start in which he held the Nationals to one one hit and two walks in six scoreless innings. The highly-regarded lefty hasn't allowed an earned run in either of his last two starts, and he has only allowed one extra base hit in his last four starts. When he's gotten in trouble, it has been because of walks. Through seven starts he is averaging 5.1 walks per nine innings with a 6.9 K/9 rate and a 3.06 ERA.
David Murphy, Daily News Staff Writer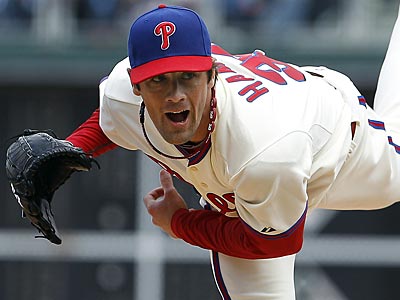 In Ken Rosenthal's latest dispatch for FoxSports.com, he provides us with the latest indication that the expectations harbored by some Phillies fans about a Cole Hamels trade are unrealistic. Rosenthal says that the Rangers are unwilling to trade Mike Olt, Jurickson Profar or Martin Perez for a rental player. Olt is a guy who many fans have targeted as the Phillies' third baseman of the future, and you have to think that Ruben Amaro Jr. would target him as well. The 23-year-old entered Sunday hitting .292/.403/.574 with 22 home runs and 85 strikeouts in 281 at-bats at Double-A Frisco. Only problem is, the Rangers have asked him to play some first base this season, raising the possibility that they find a place for him at the position on the big league level. Conventional wisdom had suggested that Olt was blocked by Adrian Beltre at third and thus could be had in a trade.
The simple truth is that general managers are going to be reluctant to part with a legit prospect at a premium position in exchange for two months of a player, even one who is as good as Hamels. As we noted in our earlier breakdown of the trade deadline, C.C. Sabathia and Cliff Lee both landed Top 50 prospects, as rated by Baseball America, but both of those prospects were first basemen.
-ESPN's Buster Olney says that the Phillies' asking price for Shane Victorino is "very, very high right now." That isn't atypical of two weeks before the trade deadline. No harm in asking for the moon. In reality, though, the Phillies are probably going to have to settle for an uninspiring package. Take, for example, the Braves' trade for Michael Bourn last year. Atlanta gave up four players, none of which were in Baseball America's Top 100, or even among the organization's top five prospects. Brett Oberholtzer was ranked the ninth prospect in the organization by BA, but he projects as little more than a back-of-the-rotation starter or a middle reliever. Paul Clemens, a 22-year-old righty, might have a little more upside. Again, though, not a top prospect. BA didn't even have him in the Braves' Top 10. The other pieces were Juan Abreu, a reliever with command problems, and Jordan Schafer, who was once a top prospect but has struggled in the majors. And that was for a center fielder who was in the middle of a better season and who had another year left on his contract. If the Phillies can get a piece that can help them out of the bullpen or at the back of the rotation in the next couple seasons, it will be a successful trade.
---
Philly.com Sports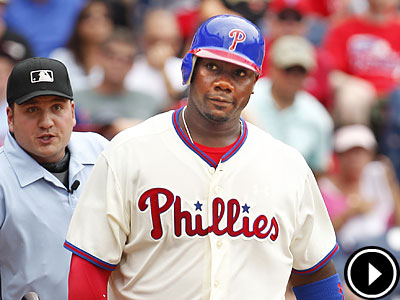 Video: The Phillies were swept by the Braves and sit 14 games out of first place in the NL East at the All-Star break. Has Shane Victorino played his last game for the Philies? Will Charlie Manuel be the fall guy? Marcus Hayes of the Daily News examines the mess that the Phillies have made for themselves.
David Murphy, Daily News Staff Writer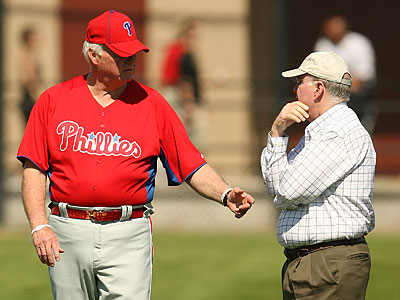 Today was one of those days where you walked through the clubhouse at Citizens Bank Park and felt the effects of a disappointing season settling in. Particularly noteworthy was the door to to Charlie Manuel's office, which was closed for nearly an hour as the manager met with club president David Montgomery to discuss a variety of issues about the team.
The Phillies are well aware that they are fast approaching the point where their focus will need to shift toward 2013 and beyond. I spoke with Montgomery for 20 minutes prior to Sunday's game, during which time he offered his perspective on the team's disappointing first half. You can read his complete comments in Monday's Daily News. Long story short, Montgomery says he feels like the club owes it to injured or recently injured veterans like Ryan Howard and Roy Halladay to give them a chance to get the club turned around during the first couple weeks after the All-Star Break. But he acknowledged that the team needs to plan for the future in an attempt to ensure that 2012 does not repeat itself next season. Shane Victorino, a free agent at the end of the season, could be on the trading block. Young players like Jake Diekman and Domonic Brown could find themselves with extended opportunities. The Phillies could look to make a deal for a third baseman or outfielder who is under contract through next season or beyond.
I asked Montgomery about the potential dichotomy on the baseball operations side of things if the focus does shift so that 2013 is emphasized over 2012. I pointed out that Manuel is a guy who says all the time, "I come to the park to win every day."