Archive: May, 2011
David Murphy, Daily News Staff Writer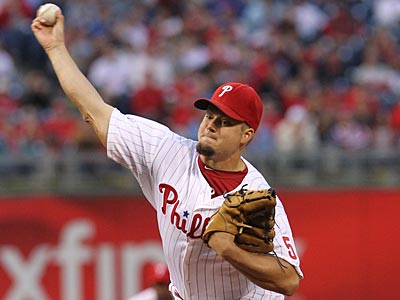 Reports of the demises of Roy Oswalt and Joe Blanton were overblown. At least that is the indication from Phillies pitching coach Rich Dubee, who said that Blanton will start as scheduled against the Braves tomorrow, and that Oswalt is still expected to pitch on Tuesday against the Cardinals.
Oswalt is still in Clearwater, where he is scheduled to throw a bullpen session on Sunday. He will then join the team in St. Louis. Oswalt reportedly lacked life on his fastball last night in a Class A rehab start at Clearwater, but Dubee said he is not concerned.
Other notes. . .
David Murphy, Daily News Staff Writer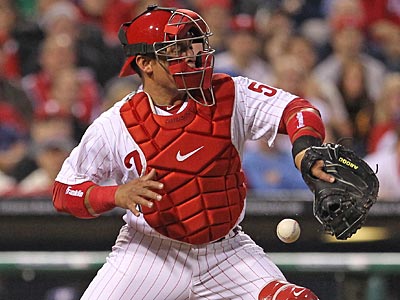 Welcome to Civil Rights Weekend, baseball's annual attempt to make up for a half century of racial exclusion. Actor Morgan Freeman and guitarist Carlos Santana will be among those honored here at Turner Field.
1) On the field, the Phillies welcome back Carlos Ruiz, who was activated from the disabled list earlier today. Ruiz takes the roster spot vacated by Brian Schneider, who was placed on the DL yesterday with a hamstring strain.
Ruiz reported no problems with his lower back last night after a rehab start for Class A Clearwater. The health of his swing remains to be seen. When Ruiz last appeared in a game -- April 27th in San Diego -- he went 0-for-1 to extend his hitless streak to 23 at-bats. After starting the season hitting .341/.400/.561 with eight runs, eight RBI and two home runs in his first 13 games, Ruiz enters tonight hitting .226/.310/.371 with nine RBI, nine runs and two home runs.
Paul Hagen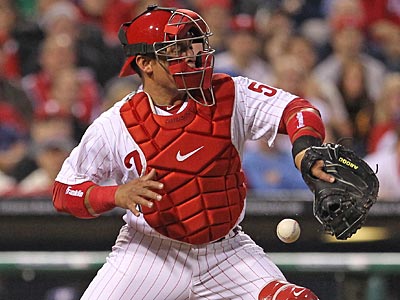 CLEARWATER, Fla. – When Carlos Ruiz returned to Bright House Field after playing in his second straight extended spring game, something had changed in the clubhouse. Two lockers to the right of the one the Phillies rehabbing catcher was using was a new nameplate – Oswalt – and a nice, clean Clearwater Threshers uniform with No. 44 on the back.
Yes, it looks like it's all starting to come together.
Ruiz had a half dozen plate appearances against a ragtag lot of Pirates minor leaguers today. He had a single and a sacrifice fly but, more importantly, had better at-bats.
David Murphy, Daily News Staff Writer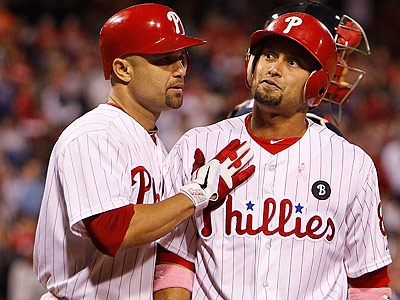 Forget about Josh Johnson. Let's talk about Mike Dunn and Leo Nunez. Last night, the Marlins' set-up/closer combo shut down the eighth and ninth inning to finish off the Phillies' 2-1 loss. On the surface, that shouldn't make you spit up your Cheerios. After all, Dunn and Nunez did what set-up men and closer are supposed to do: they set up a victory, and the closed it out. Problem is, opposing relievers have been succeeding at their jobs against the Phillies at an amazing rate.
Including last night's victory, the Phillies have scored just three runs in their last 35 innings against opposing bullpens. That is not a typo (although there may be others in this post). Three runs. 35 innings. The Phillies have put runners on base during that stretch -- 36, to be exact -- but they have struck out 33 times and have rarely managed to come up with a big hit.
The numbers for the entire season aren't nearly as ugly. In 112 innings against opposing bullpens, the Phillies have scored 44 runs, an average of 3.54 per-nine-innings. But their recent struggles -- again, three runs in their last 35 innings -- do call to mind last year's National League Championship Series, when they managed just six runs while striking out 22 times in 20 1/3 innings against the Giants' bullpen.
Paul Hagen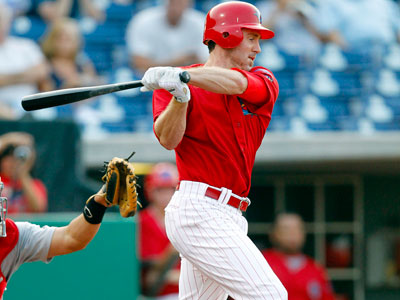 CLEARWATER, Fla. -- Chase Utley won't be playing Wednesday for the Clearwater Threshers. That much the Phillies will say. It would be his third straight game and it starts at 10:30 a.m.
They won't say much more about his timetable, but here's the supposition, though: Utley, the Phillies All-Star second baseman, could be back in time to play the next time the Phillies are at home, a week from today against the Colorado Rockies.
Make no mistake. The pace of Utley's rehab from the patellar knee tendinitis that has sidelined him all year is quickening. Last night he played in his first official rehab game, which starts the 20-day clock to the time when he must be activated. It was also the first time he's played back-to-back days.
David Murphy, Daily News Staff Writer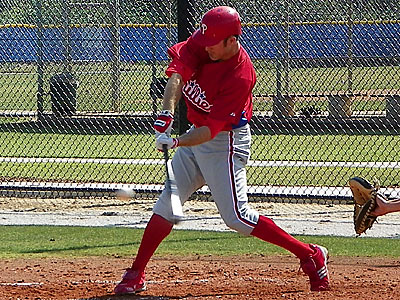 Breaking news from the Clearwater Bureau of the Daily News, also known as Paul Hagen. . .
Chase Utley will step up his rehab tonight, making his first official rehab start for Class A Clearwater. This is significant first, because it is his first affiliated game. Second, it will be his first action on back-to-back days. Utley played in extended spring training games on Saturday and Monday.
The move also means that the clock is started for his return to the Phillies. Players can only stay on rehab assignments for 20 days, meaning until May 29. Presumably, though, the clock could stop if he has a setback.
David Murphy, Daily News Staff Writer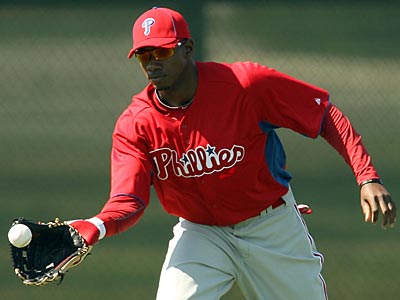 There are two points of view, and I'm glad it is not my job to pick one to adhere to. We are, as usual, talking about Domonic Brown, who continues to torch Triple-A pitching and seems intent on making it incredibly difficult for the Phillies to keep him in the minor leagues. In seven games since he was activated from the disabled list, the 23-year-old right fielder is 10-for-26 with two home runs, one double, six strikeouts and three walks. For those of you who are not Rain Man, that equates to a .385 batting average, .452 on base percentage, and 1.105 OPS. Including five games at Class A Clearwater, where he spent a rehab stint while working his way back from hand surgery, Brown has the following line: .378/.442/.689, 1.131 OPS, 4 HR, 10 RBI, 11 RS, 9 SO, 5 BB in 52 plate appearances.
There are plenty of arguments for keeping Brown in the minors. But with each day that passes, the counter-arguments seem to get stronger.
Here's a look at them:
David Murphy, Daily News Staff Writer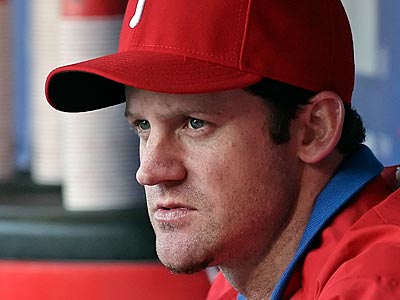 Greetings from Sun Life Stadium, where there is usually far more Sun than Life. Lots of notes to cover. A more expansive version will be in tomorrow's paper:
1) The Phillies have tentatively penciled in Roy Oswalt as the Tuesday starter next week in St. Louis. The veteran righthander threw a bullpen session yesterday and responded well. He'll throw off the mound again tomorrow. Assuming all goes well, he will make a rehab start on Thursday, likely in Clearwater, before re-joining the team in Atlanta. Oswalt will then be activated from the disabled list and start against the Cardinals on Tuesday, exactly three weeks after his last start in Arizona.
2) Oswalt could end up throwing to his regular catcher on Thursday, as Carlos Ruiz is expected to head to Clearwater this week to continue rehabbing his back. He took some swings in the cage today. The Phillies will try to get him in a game this week, although nothing has been announced.
Daily News staff
TAMPA -- Chase Utley's second game in extended spring training was a little bit more difficult than the first.
Utley went 1-for-7 today against the Yankees, with his only hit coming on an infield single. Five of his at-bats came against right-handers and two against left-handers.
Utley hit just one ball out of the infield, a flyout to centerfield. He also struck out twice.
David Murphy, Daily News Staff Writer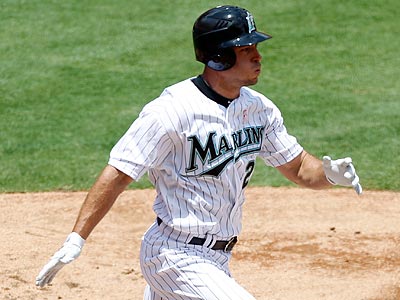 . . .that was the headline staring back at me as I looked at the Fort Lauderdale Sun-Sentinel today. It looks like Greg Dobbs is back in 2008 form. In 73 plate appearances for the Marlins this season, the third baseman is hitting .359/.411/.500 with 17 starts. His 12 RBI are more than three Phillies regulars -- Jimmy Rollins, Wilson Valdez, Carlos Ruiz -- and his 12 runs ties him with right fielder Ben Francisco.
Dobbs finished with just 15 RBI and 13 runs for the Phillies last season. He's playing a lot more this year for Florida. Last season, he did not reach 73 plate appearances until June 19. In his last two years in Philly he hit .221 in 345 plate appearances.
^