Archive: April, 2011
David Murphy, Daily News Staff Writer
The cool thing about Twitter is that it makes market research available to anybody. And if Charlie Manuel's use of John Mayberry Jr. were a pilot episode, there's a good chance it never would have made it onto the airwaves. Most people weighing in at Twitter.com/HighCheese felt the manager erred in tapping Mayberry to hit with the bases loaded in the seventh. And the ensuing strikeout gives their beef some merit.
Long story short, Manuel played a hunch. Ross Gload wasn't hurt. There wasn't a lefty warming in the bullpen. Manuel just wanted to use Mayberry.
According to the Official Managerial Handbook, the situation called for Gload, a veteran left-handed hitter who had faved the soft-tossing Livan Hernandez six times in his career (with a couple of singles to show). The bases were loaded and the Phillies were trailing 5-1 with the pitcher's spot in the order due up. So with righty Heranandez on the mound, the pinch-hitter-to-be represented the tying run. But there was only one out in the inning, and there were still two more frames to be played.
David Murphy, Daily News Staff Writer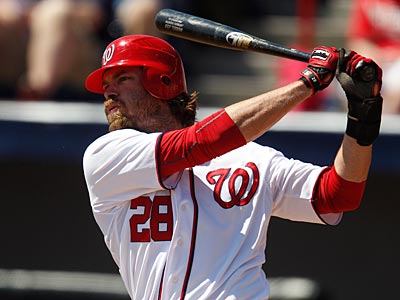 We talked to Jayson Werth in December after he signed a contract, and in March at spring training, and over the weekend in New York City. But, hell, it's April, and if you get bored of this you are more than welcome to cruise on over to the latest episode of That's Baseball.
Away we go. . .
(When Phillies signed Jim Thome a year before moving into Citizens Bank Park, it sent a message that the organization was ready to take the next step. Do you see your signing sending a similar message for the Nationals?)
David Murphy, Daily News Staff Writer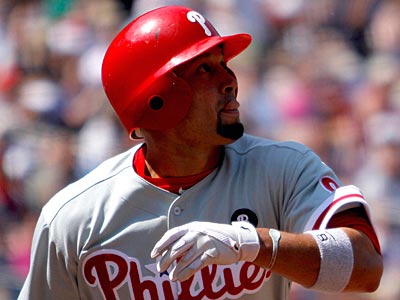 No surprises here, although the weather does not look promising.
They always find windows.
Shane Victorino CF
Placido Polanco 3B
Jimmy Rollins SS
Ryan Howard 1B
Ben Francisco RF
Raul Ibanez LF
Carlos Ruiz C
Wilson Valdez 2B
Joe Blanton RHP
---
Download our NEW iPhone/Android app for easy access to all of our Phillies coverage, plus app-exclusive videos and analysis. Get it here.
David Murphy, Daily News Staff Writer
We're back from Atlanta, which is always a good thing, but it remains to be seen if baseball will be played tonight in the nation's capital. High Cheese correspondent Matthew Hoffert just checked in from Fairfax, Va. to report that Kevin Costner is currently cruising around town looking to peddle his dirt. Yes, the mid-Atlantic states are under water. The forecast calls for thunderstorms all day with a 60 percent chance of rain running through 9 p.m. I'm sure they'll find a window, though.
A few things to get to...
1) One of our goals this season is to provide you with better coverage of the Phillies minor league system, since we realize there is a huge appetite for that amongst the fan base. Check out today's Daily News for the second installment of our weekly minor league page, "The System." Daily News staffers Joe Berkery and Ed Barkowitz will do the bulk of the heavy lifting, so feel free to give them a shout: berkerj@phillynews.com and barkowe@phillynews.com
David Murphy, Daily News Staff Writer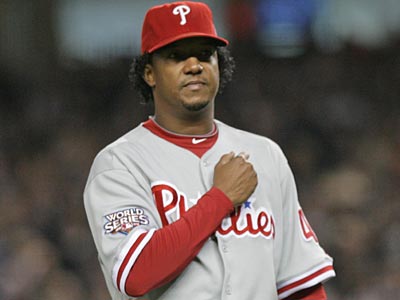 There's a decent interview with Pedro Martinez in today's New York Times.
You can get the whole thing here, but to sum it up: He doesn't consider himself retired, he could sign a contract today and pitch in a month, and he is open to pitching this season. Obviously, the Phillies have no need for him, and probably don't have much of an ability to pay him.
But the Times did ask Martinez an interesting question: If the Yankees, Red Sox and Phillies each offered you a contract, which would you pick?
David Murphy, Daily News Staff Writer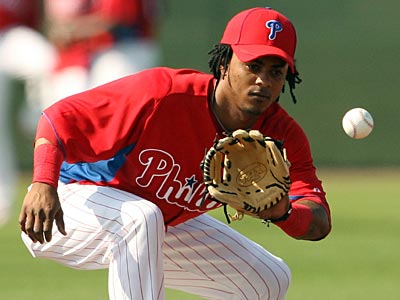 The forecast today in Atlanta calls for a high of 87 degrees. The last time Cole Hamels pitched, the game-time temp was 49 degrees, with a steady wind that made it feel far more frigid.
The Phillies enter today 6-2, tied with the Reds for the best record in the National League.
Here are the line-ups:
David Murphy, Daily News Staff Writer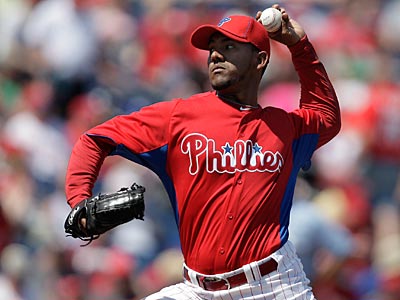 Well, the pitching news wasn't all bad. . .
Although Cliff Lee allowed six runs in 3 1/3 innings against the Braves Friday night, Antonio Bastardo gave Phillies fans a reason to be excited about the future of the club's bullpen. The 25-year-old lefty turned in a dynamite performance in the sixth and seventh innings, allowing a base hit to Chipper Jones and then striking out the final six batters he faced.
Bastardo mowed through the heart of the Braves' order, striking out Brian McCann on a 94 MPH fastball, Dan Uggla on a slider, Jason Heyward on a slider, Alex Gonzalez on a 95 MPH fastball, Freddie Freeman on a slider, and Tim Hudson on a 94 MPH fastball.
David Murphy, Daily News Staff Writer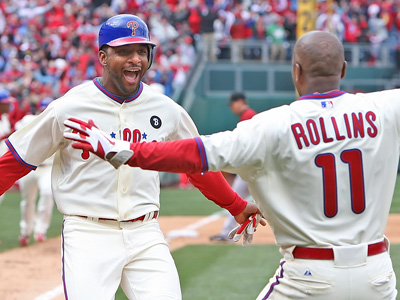 Atlanta isn't my favorite city in the world, but it is in the 70's so I'll take it.
The Braves enter tonight having lost three straight games to fall 2.5 games behind the Phillies in the early NL East standings.
Of course, that could change in a hurry this weekend.