Archive: February, 2012
David Murphy, Daily News Staff Writer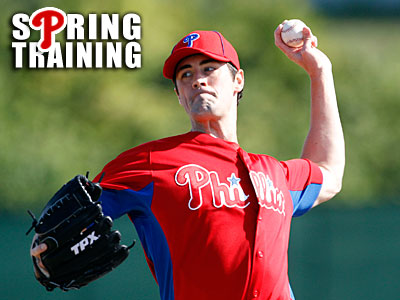 It seems like only yesterday Cole Hamels was publicly expressing his dissatisfaction at having his contract renewed for $500,000. On Monday, the 27-year-old lefty chuckled ruefully at his youthful outspokeness, then did everything in his power to avoid creating a headline.
In a press conference designed to address his thoughts on heading into his final year before free agency, Hamels left the impression that he wants to re-sign with the Phillies, a sentiment the club has echoed.
As for the type of contract such a union will require?
David Murphy, Daily News Staff Writer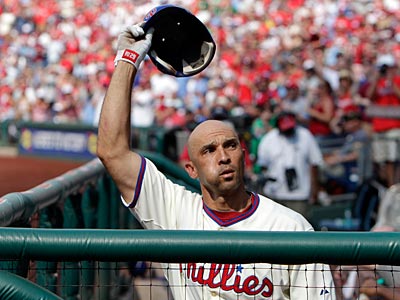 Raul Ibanez faced an uncertain future this fall after struggling to make contact and reach base in the final year of the three-year, $31.5 million deal he signed with the Phillies after the 2008 season.
But the Yankees were in need of a left-handed power bat to share designated hitter duties, and today ESPN's Buster Olney reported that New York had agreed to a $1.1 million deal with Ibanez. The 40-year-old veteran hit just .245 with a .289 on-base percentage for the Phillies last season, both of which were career lows and well below his career averages of .280 and .342. Ibanez did, however, hit 20 home runs in 435 at-bats, with a left-handed pull swing that should translate well to the short right-field fence at the new Yankee Stadium.
Ibanez's numbers in his three seasons as a Phillie:
David Murphy, Daily News Staff Writer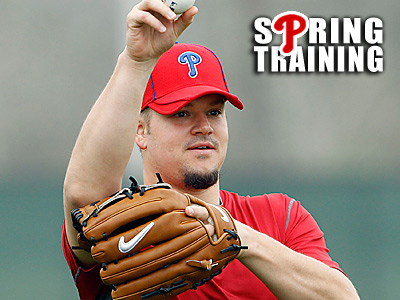 Don't be surprised if Joe Blanton is one of the more popular players in camp this year, at least when it comes to the Phillies front office and pro scouts from opposing teams. Two of ESPN's national writers have reported Ruben Amaro Jr.'s interest in trading the veteran right-hander, one of them Jayson Stark, the other Buster Olney, who yesterday suggested that the Phillies were talking to the Yankees about A.J. Burnett before New York finalized a deal with Pittsburgh.
Whether Blanton stays or goes likely depends on the answer to two questions:
1. How desperate are the Phillies to stay under the luxury tax threshold?
David Murphy, Daily News Staff Writer
If you have not yet checked out our podcast, or even if you have, make sure to download this week's episode for a lot of Phillies talk as I throw some over/unders at Rich Hofmann, Sam Donnellon and Marcus Hayes and get their predictions on the length of Cole Hamels' next contract (o/u 5.5 years), the Average Annual Value of that deal (o/u $20.1 million), the Phillies' 2012 win total (o/u 97.5) and the Phillies' 2012 postseason win total (o/u 2.5). You can hear Rich and Sam explain why they honestly believe a World Series is in the Cards, and you can hear me tell Marcus why he is drastically underestimating Cole Hamels worth on the open market.
Also, I had an interesting conversation with Will Bunch, a senior writer at the Daily News who spent a lot of time researching the 1948 NFL championship game featuring the Philadelphia Eagles and Steve Van Buren for his new book (Check out Amazon.com). Not only did we talk about the game itself, but about Philadelphia as a city and sports town in 1948 and the evolution of the Philadelphia sports fans' psyche between then and now.
Also, Les Bowen checks in to share his thoughts on the Todd Bowles hiring and what it means for Juan Castillo.



David Murphy, Daily News Staff Writer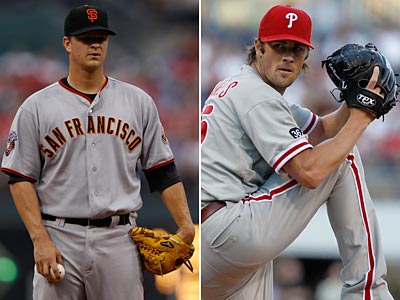 I'll admit: I just returned from 96 hours in New Orleans, so my head is rather sensitive to bright lights and loud noises. But what I saw when I opened up ESPN the Magazine this morning made my brain feel like Vince Wilfork's yoga mat. Apparently, former Nationals and Reds general manager Jim Bowden has added "ESPN Insider" to the numerous media posts he holds, and in a recent edition of the network's over-sized publication he handicapped next year's free agent crop, including two young starters who are sure to draw heavy interest if they hit the market. Those starters would be San Francisco's Matt Cain and your Cole Hamels.
In addition to breaking down the likelihood of both players returning to their teams, Bowden included a bid that he would make for each pitcher.
To Bowden's credit, you can at least make a logical argument for the five-year, $90 million bid for Hamels. In reality, there is no way in hell Hamels would earn less than $20 million a year if he hit the free agent market right now. But the case for not shelling out C.C. Sabathia money pretty much makes itself when you look at the history of such long-term deals. So the offer seems somewhat reasonable. . .until you get to the part where Bowden says he would offer one more year and $42 million more to Cain.
David Murphy, Daily News Staff Writer
Several recent emailers have wondered about the relative anonymity that young outfielder Domonic Brown has been afforded this offseason. Last year at this time, the then-23-year-old top prospect was one of the top stories heading into spring training as he looked to compete for the right to replace Jayson Werth in right field. Brown had torn up every level of the minor leagues and was one of the top prospects in baseball according to Baseball America.
So what happened?
Well, not as much as you might think, at least according to the scouts and executives who talk to Baseball Prospectus minor league guru Kevin Goldstein. On this week's edition of the Philadelphia SportsWeek Podcast, Kevin tells us that Brown is still regarded as an immense talent with a big future by most talent evaluators around the game. Rich Hofmann, meanwhile, thinks the Phillies have to find a way to get Brown into their line-up. And I have a feeling that such a promotion will happen this season.