Archive: October, 2010
David Murphy, Daily News Staff Writer
Three short hours until Game 6 here, and there certainly seems to be a positive vibe percolating throughout the city. The feeling amongst the populous: Game 5 was the big one. Vegas seems to be reflecting this thinking, as the Phils are going off at -160 right now, making them the heaviest favorites they have been since Game 1.
Of course, they lost Game 1, and if they lose tonight, there will be no Game 7. Win, and it's the first decisive Game 7 in postseason history (the Phils won a decisive Game 5 over the Astros to advance to the World Series in 1980. You know the story from there).
Jimmy Rollins certainly feels the mojo. The other night, he talked to fans via a Comcast SportsNet camera and urged them to get rowdy. Hopefully, he isn't arrested later for inciting a riot. Whatever the case, he is batting leadoff tonight. I like the move by Charlie Manuel a lot. Rollins has actually been swinging one of the better bats on the team here lately (I know, I know, damning with faint praise), and the other night stole two bases to put himself in position to score a run. It was his first stolen base since early-September.
Daily News staff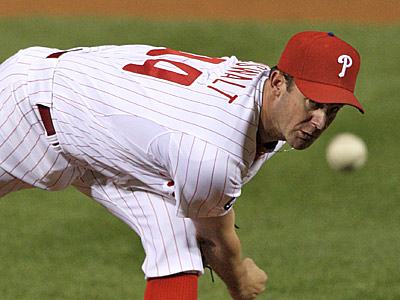 Phillies pitcher Roy Oswalt said throwing the ninth inning Wednesday night will have no impact on his ability to pitch in tomorrow's Game 6 of the National League Championship Series.
Oswalt threw 18 pitches in getting the loss in the Giants' 6-5 victory and said it was "probably the same thing" as throwing a bullpen session in between starts. Oswalt essentially threw two bullpens, his regularly scheduled session before the game and then warming up and entering the game in the ninth.
"I didn't want to get the loss for sure, but you never know when you're going to get back here," Oswalt said at Citizens Bank Park. "So that's one of the reasons I want to be in the game the other night. I don't know how much longer I'm going to play. But may not get to this spot again. So I'm going to try to do everything possible to get to that final game."
David Murphy, Daily News Staff Writer
Roy Halladay isn't sure what got Pat Burrell upset. But he certainly heard the choice words the former Phillie and current Giant shouted his way after he struck out Burrell to end the first inning.
Burrell disagreed with the called third strike, and as he was talking to home plate umpire Jeff Nelson, Halladay stared at him while walking off the field.
Burrell took exception. According to our best lip-reading efforts, the left fielder inquired, "What the (bleep) are you looking at? What the (bleep) are you looking at, mother-(bleeper)?"
Daily News staff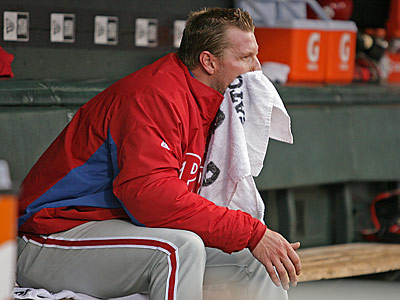 Charlie Manuel announced that pitching ace Roy Halladay suffered a groin pull in the second inning of tonight's game.
"In the second inning he had a mild groin pull in his right groin," Manuel said. "He was determined he was going to stay in there.
"He said he hurt it when he tried to hump up on [Buster] Posey in the second inning. He was determined he was going to stay in the game. He wanted to try it and stay in the game ... He gutted it out and we needed it. I was kidding with him after the game. I said to him, 'When are you going to be able to play? Next year?' He said, 'Five days.'
Paul Hagen
What we're talking about after the Phillies win, courtesy of Daily News baseball writer Paul Hagen:
1. They'll play another day. If nothing else, the Phillies didn't go away quietly. By beating the Giants, 4-2, in Game 5 of the National League Championship Series last night, they not only stayed alive but brought the playoffs back to Citizens Bank Park.
The Phillies are now 5-0 in Game 5 of the NLCS, beating the Astros in 1980, the Braves in 1993, the Dodgers in 2008 and 2009 and the Giants this year.
Daily News staff
Here are some excerpts from Charlie Manuel's meeting with the media before tonight's game:
* On his team's resiliency: I think we've been down quite a bit since I've been in Philly, and I've seen us in tough times. It's something that we rise to the occasion. And this is a test right here. This is a good test.
And our guys -- and I'll walk around today and I'll talk to every one of them, probably, and make eye-to-eye contact with them. I don't know if it will be about baseball or not. It will be the fact we know what we've got to do.
We know when the season started we had one thing in mind, and that was our goal was -- our ultimate goal was to get to the World Series and win. And we know that's what we're playing for. But now we can't afford to lose tonight, of course. We know that. We know exactly where we're at. We've got to keep going. We came to the ballpark today determined we were going to win.
* On changing back his lineup to Placido Polanco hitting second and Chase Utley third: That's been my lineup most of the year, except for Jimmy at times -- earlier in the season that was basically kind of the lineup I had on Victorino, when Jimmy was healthy, but we didn't have it very long. But I like -- I wanted to put as many left-hand hitters as possible kind of join them, because I figure like we've got to score runs on Lincecum. And we'll have a lefty situation if it arises, and hopefully it will come up. We've got to score runs to get to it. But at the same time, too, I also think that, I said before, Utley's average against left-hand pitchers a little bit higher than Polanco's. Like I went back to what's been the best for us against right hand pitchers.
David Murphy, Daily News Staff Writer
For the last three years, this Phillies team has been a lot like those you-know-what's who always end up killing Kenny in South Park. It doesn't matter what trajectory the plot arc happens to be traveling, at some point, you know what is going to happen. And so you sit there, and you wait for it. For the refridgerator to fall from the sky, or the street sweeper to fly around the corner, or the pack of wild dogs to congregate. Or, in the Phillies case, for the big hit or timely defensive play that changes everything.
You wait for Brett Myers working a walk off of C.C. Sabathia, or Ryan Howard throwing out the potential winning run at home, or Matt Stairs hitting a home run against Jonathan Broxton, or Jimmy Rollins knocking a walk-off hit.
Four games into this National League Championship Series, you continue to wait for that moment. Today, you wake up to the possibility that baseball season might be over, the earliest you have done so over the past three seasons. It is Oct. 21, and the Phillies' are facing elimination. We aren't used to the season ending before daylight savings time does.
Paul Hagen
Some key talking points from Daily News baseball writer Paul Hagen, who breaks down last night's Game 4 loss to the Giants.
Looking for a hat trick. Last night's 6-5 loss means the Phillies are down, three games to one in the best-of-seven NLCS and have no margin for error remaining if they hope to advance to the World Series for the third straight year. In case you were wondering, the Phillies had winning streaks of 3 or more games 14 times this year.
Whatever it takes. The Phillies didn't bring Roy Halladay back on short rest last night in part because they didn't want to look like they were panicking. But when it was all on the line in the ninth inning last night, it became clear how much importance they placed on not falling behind three games to one. With the score tied in the bottom of the ninth, starter Roy Oswalt came out of the bullpen. He was used in that unfamiliar role even though he had thrown on the side before the game as a tune-up for a possible Game 6 start on Saturday and even though Brad Lidge, J.C. Romero and Kyle Kendrick were still available in the bullpen. It didn't work. The Giants scored and Oswalt took the loss.