Archive: January, 2012
Daily News staff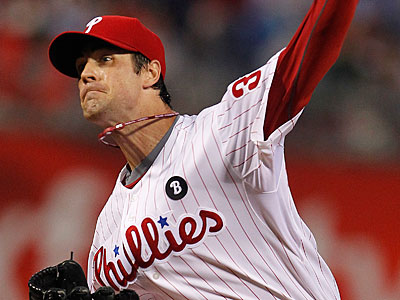 The Phillies have never been a team that cared much for arbitration hearings.
Their actions leading into today's 1 p.m. deadline to trade numbers with their eligible players seem to support that position.
The Phillies have agreed to a 1-year, $15 million contract with Cole Hamels and also have agreed to a 1-year, $950,000 deal with infielder Wilson Valdez.
Daily News staff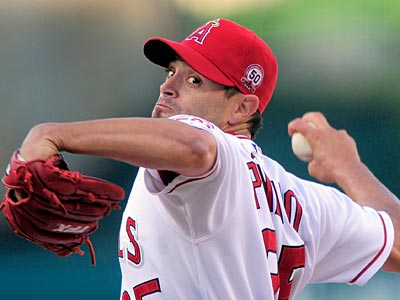 The Phillies officially announced the signing of righthander Joel Pineiro to a minor league contract with an invitation to spring training.
Piñeiro, 33, went 7-7 with a 5.13 ERA in 27 games (24 starts) for the Los Angeles Angels of Anaheim last year. In 20 of those starts, he was 7-4 with a 3.84 ERA.
Piñeiro tied for the ninth-most ground-ball double-plays (23) among American League starting pitchers.
Daily News staff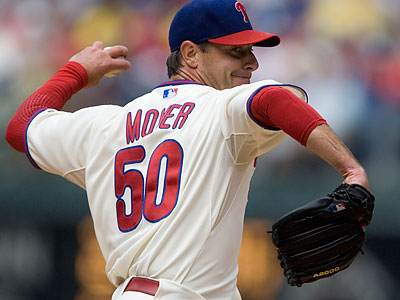 Jamie Moyer has been offered a minor league contract by the Colorado Rockies, a source confirmed to the Daily News.
The source said Moyer could be awaiting an offer from another team as well.
Moyer, who turned 49 in November, spent the last 4 1/2 of his 24 major league seasons with the Phillies. Moyer, 267-204 lifetime with a 4.24 ERA, was 56-40 for the Phillies, including 16-7 when they won the World Series in 2008.
Daily News staff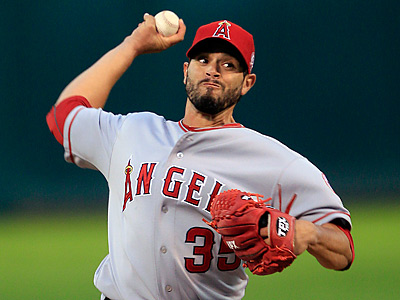 The Philles have agreed to a minor league contract with righthander Joel Pineiro, according to a report.
The contract includes an invitation to big-league spring training, ESPN.com reported.
Pineiro, 33, went 7-7 with a 5.13 ERA last season in 27 games, including 24 starts, with the Angels. He spent part of the season on the disabled list with shoulder tightness.
David Murphy, Daily News Staff Writer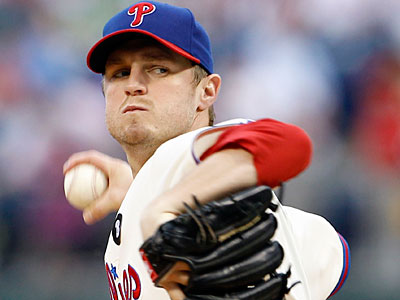 What is rotation depth worth to the Phillies? Apparently, $3.6 million. That's the salary Ruben Amaro Jr. and Co. will pay Kyle Kendrick this year as the two sides avoided arbitration and reached an agreement on a one-year, $3.585 million contract.
Kendrick is likely to enter the season as a long man in the bullpen, provided that Joe Blanton, Vance Worley, Roy Halladay, Cliff Lee and Cole Hamels remain healthy through spring training.
The righthander provided valuable depth last season as Blanton and Roy Oswalt battled injuries throughout the season. Kendrick went 8-6 with a 3.22 ERA, 4.6 K/9, 2.2 BB/9 and 1.1 HR/9 in 34 outings, including 15 starts.
David Murphy, Daily News Staff Writer
If you ever get the opportunity to throw a witty comeback into the face of Alex Trebek on national television, hopefully you will take better advantage of it than Brandon Libby of Mt. Ephraim, New Jersey did tonight. Libby, a new contestant on tonight's episode of Jeopardy, describes himself as an actor and Phillie Phanstormer in the open, which, naturally, prompted a question from Trebek during the get-to-know-you interlude in the middle of the opening round. To be honest, I had never heard of the Phanstormers until tonight, but Libby says that the Phanatic is a "near, dear friend" of his, so I'll take him at his word.
Anyway, as you will see in the video below, Trebek absolutely CLOWNS the Phillies after Libby boasts that the team's accomplishments "speak for itself." Now, there are many ways to respond to Alex Trebek after he busts on your favorite baseball team:
-In your best Sean Connery voice, say, "You think you're pretty smart, don't you, Trebek? What with your [ethnic slur deleted] mustache and your greasy hair!"
David Murphy, Daily News Staff Writer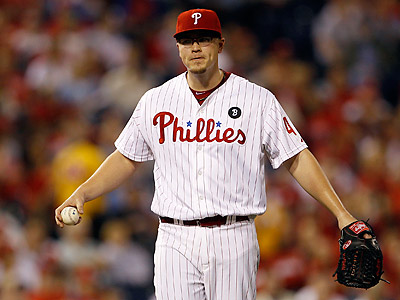 I just finished answering a question for one of the baseball preview magazines that will be hitting shelves over the next couple of months, and because it is one that we have not really addressed here, I figured I'd share.
The question: Was the Vance Worley we saw as a rookie the real deal or will he settle in as more of a mid-rotation starter?
It is easy to forget how integral a role Worley played in last year's 102-win season. Injuries to Roy Oswalt and Joe Blanton left the Phillies with a rotation filled with power at the top and uncertainty at the bottom. It never became much of an issue because of Worley, who went 11-3 with a 3.01 ERA in 131 2/3 innings, averaging 8.1 strikeouts, 3.1 walks and 0.7 home runs per nine innings as a 23-year-old.
Daily News staff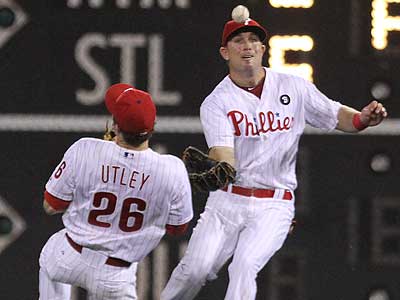 The Phillies have released outfielder John Bowker to allow him to pursue an opportunity with a team in Japan, the club announced.
In a combined 31 major league games between the Phillies and Pittsburgh Pirates last season, Bowker, 28, batted .133 with two RBI.
He spent the majority of the 2011 season at Triple A Indianapolis in the Pirates minor league system, where he hit .306 with 15 home runs and 76 RBI in 106 games.