Archive: September, 2011
Paul Hagen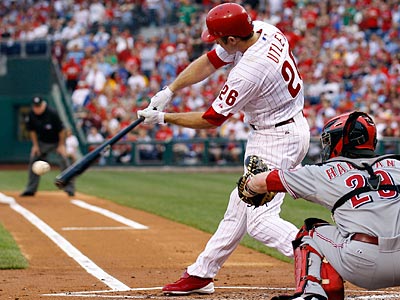 Charlie Manuel unveiled a shuffled lineup for today's game against the Mets that he said could well be the same one he uses in the postseason against righthanded starters.
The new look: Jimmy Rollins, Chase Utley, Hunter Pence, Ryan Howard, Shane Victorino, Raul Ibanez, PLacido Polanco and Carlos Ruiz.
It was the first time the Phillies have had all their regulars in the lineup since clinching their fifth straight division title. They have since lost eight straight games.
Paul Hagen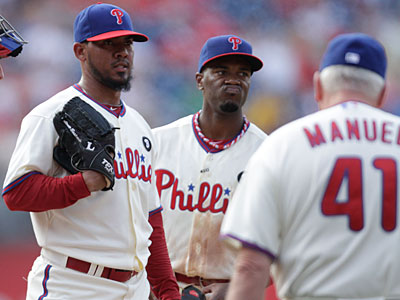 NEW YORK -- Lefthander Antonio Bastardo was dominant for much of the season but has struggled in his last several outings. At first, it was thought that he was just tired. Even after being given plenty of rest, though, he still had trouble getting hitters out.
After last Wednesday night's outing, when Bastardo gave up a run on 2 hits against Washington, manager Charlie Manuel observed that it almost looked like the Nationals knew what was coming.
Maybe they did.
Philly.com Sports
Video: The Daily News' Bob Cooney breaks down the Phillies' 6-1 loss to the Nationals at Citizens Bank Park.
---
Download our NEW iPhone/Android app for easy access to all of our Phillies coverage, plus app-exclusive videos and analysis. Get it here.
Daily News staff
Hunter Pence, who was scheduled to have a precautionary MRI today, took to Twitter to assure the fans that he is OK
"Knee is feeling great everyone," he tweeted. "Thanks for your concern. Excited to get back at it today. No complacency."
Pence, who had two hits in Game 1 yesterday against Washington despite a noticeable hitch in his gait, wanted Charlie Manuel to keep him in the lineup for the nightcap. The training staff requested otherwise.
David Murphy, Daily News Staff Writer
Charlie Manuel apparently had a change of heart. Hunter Pence, who was hobbled by what Manuel said was a sore knee in Game 1, is not in the line-up for Game 2. All of the other healthy Phillies regulars are in to start the game against the Nationals:
Jimmy Rollins SS
Placido Polanco 3B
Shane Victorino CF
Chase Utley 2B
John Mayberry Jr. 3B
Raul Ibanez LF
Ben Francisco RF
Carlos Ruiz C
Cliff Lee LHP
---
Download our NEW iPhone/Android app for easy access to all of our Phillies coverage, plus app-exclusive videos and analysis. Get it here.
David Murphy, Daily News Staff Writer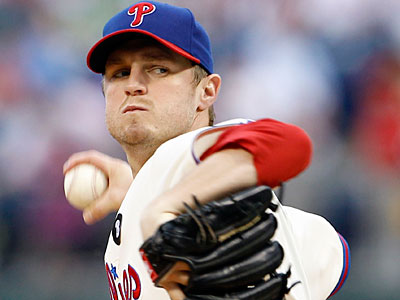 Hunter Pence had a little hitch in his giddy-up during Game 1 of today's doubleheader, which featured a Nationals' victory over a team wearing Phillies uniforms.
But manager Charlie Manuel said that Pence is well enough to play in Game 2. Manuel said Pence had some knee soreness.
Also, Manuel sounded confident that he would have room in his playoff bullpen for Kyle Kendrick, who had another solid start today. Kendrick said he has been told that he will be moving to the bullpen for the rest of the season to get ready for the playoffs.
---
David Murphy, Daily News Staff Writer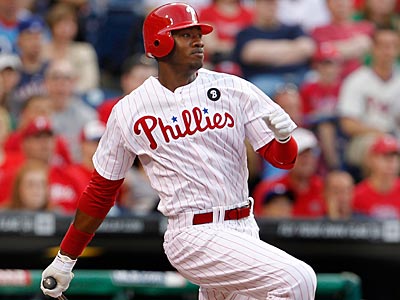 UPDATED, 6:!1 p.m. -- Changing it back. Manuel sounded pretty confident in Kendrick as a reliever after today's game.
UPDATED, 2:52 p.m. -- Made a change to the pitching projections after looking at some numbers. David Herndon has held righties to a .206/.241/.294 line with 24 strikeouts and three walks this season. If the postseason started tomorrow, I think Herndon would be on the roster and Kendrick would be out until the NLCS.
Well, we've got nine days to kill. Any ideas?
Paul Hagen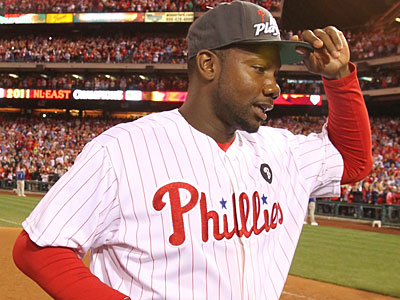 The batting order went up, Ryan Howard was sitting down. Which was no big whoop since he'd been planning to have a cortisone shot to try to alleviate the bursitis he's been experiencing in his left ankle as soon as the Phillies clinched the division here.
The twist here is that Charlie Manuel showed up at Citizens Bank Park before last night's nationally televised game against the Cardinals fully intending to start the National League RBI leader; the injection isn't scheduled until this morning.
The plan changed after the manager talked to Howard and found out that he hurt his right big toe in Saturday night's game.