Archive: September, 2008
David Murphy, Daily News Staff Writer
Charlie Manuel doesn't always have a way with words, but he is a smart man, and month and a half ago he said seemed strangely prophetic as the celebration at Citizens Bank Park unfolded. It was in the middle of the whole Jimmy Rollins fiasco, when the MVP short stop took Philadelphia fans task for their whimsical nature. The Phillies were in Los Angeles at the time, leaving a bunch of media types - particularly those who have been in the city for awhile - to wonder how the remarks might tarnish the legacy Rollins has built here. Manuel shrugged it off.
"You win," he said, "they'll forgive."
As the champagne spray mixed with a light mist and coated everything that dared peek its head out of the home dugout after last night's 4-3 NL East-clinching victory over the Nationals, it was interesting to watch a number of story lines complete their full circles.
David Murphy, Daily News Staff Writer
It seemed appropriate: crowd roaring, towels waving, that familiar siren signaling his entrance.
Brad Lidge trotted out to the mound and did what he has all season.
David Murphy, Daily News Staff Writer
It doesn't seem particularly fair that a guy who has contributed so much to the Phillies over the past year-and-a-half will likely be in Florida with a bunch of minor league prospects while the Phillies open their playoff campaign in the middle of next week. But professional sports are a meritocracy, and right now, Kyle Kendrick simply doesn't have enough of a role to warrant a playoff spot. That's what the Phillies decided yesterday when they informed him that they wanted him to leave Monday for the instructional league in Florida. Kendrick obviously was a mixture of mad, disappointed, upset and frustrated. About an hour before game time pitching coach Rich Dubee called him into a laundry room near the entance to the Phillies clubhouse for one final Come-to-Jesus talk.
Marcus Hayes caught up with Kendrick after last night's game. Here's the story (For what it's worth, Adam Eaton also was informed he won't be on the roster).
Now, onto the ramifications.
David Murphy, Daily News Staff Writer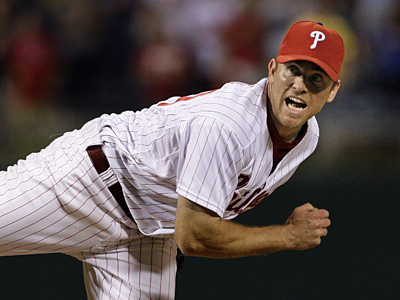 I touched on this in my story today about Greg Dobbs, J.C. Romero and Jayson Werth and their respective contributions to this Phillies team. GM Pat Gillick and the Phillies front office has taken considerable heat from the fan base for some of its higher-profile mistakes, namely the signing of Adam Eaton to a big multi-year deal and the trading of Gavin Floyd for Freddy Gonzalez last offseason. In both cases, you all know the rest of the story.
But for today's story, I looked at three successes of Gillick and his regime: Dobbs, the pinch-hitter extraordinaire, Werth, the new everyday rightfielder, and Romero, who for most of the season was the only lefthander in the bullpen.
It got me thinking: how will history judge Pat Gillick? Granted, the Eaton signing and Garcia trade will be hard for people to overlook. But what if you look back on all the moves the regime has made since Gillick was named general manager in November of 2005?
Poll: What was Gillick's best signing?

(414 votes)
David Murphy, Daily News Staff Writer
Here's my nightmare scenario:
Tomorrow night's game gets rained out. Double-header Sunday. Phillies, Mets and Brewers all finish the regular season tied. Game against the Mets for the division Monday. Game against the Brewers for the division Tuesday. Playoffs start Wednesday.
I'm sure the Phillies are hoping tonight's Mets-Cubs game doesn't get rained out. If it does, the Mets will be able to skip over Pedro Martinez, AKA the Weakest Link, in their rotation. That would not bode well.
David Murphy, Daily News Staff Writer
Here's a press release from the Phillies on today's bomb scare at Citizens Bank Park:
"After looking into the matter of today's incident, the Phillies have determined that a commercial shoot was conducted at Citizens Bank Park during which hot dogs heavily wrapped in white packaging and duct dape were used as projectiles by the Phanatic's hot dog launcher. Three of these projectiles were inadvertently left behind on a light post at our First Base Gate.
The Phillies would like to express their appreciation to the Philadelphia Police Department for their important assistance, particularly during this difficult time for all law enforcement."
David Murphy, Daily News Staff Writer
Here's a short story about a guy named Steve Green. I shared it briefly in the comments section of the Happ post yesterday. Steve Green has pitched six innings in his major league career. He's currently a 30-year-old pitcher for Triple-A Lehigh Valley. Went 5-1 with a 3.09 ERA in 35 appearances this season, all but one in relief. Seven years ago, however, he was a 23-year-old pitching prospect in the Angels organization. After starting the season in Triple A, the Angels called him to make a start against Oakland in place of Ismael Valdes, who was on the disabled list with a split fingernail on his right hand. After allowing two runs in six innings of a 4-2 Angels loss, he was optioned back to Triple-A Salt Lake. A couple months later, Green suffred a torn flexor muscle and ulnar collateral ligament, causing him to undergo Tommy John surgery.
Green hasn't appeared in the big leagues since, but he did spend the entire 2002 season on the Angels' disabled list.
This is significant, because in September of 2002 the Angels called up a young pitcher named Francisco Rodriguez from their minor league system. Rodriguez pitched 5 2/3 innings in September, striking out 13 of the 21 batters he faced. Because Rodriguez was called up after September 1, he was technically inelligible for the postseason. But MLB rules stipulate that any player on the disabled list at midnight on Aug. 31 is eligible for the postseason. And MLB teams are allowed to substitute a member of their minor league system for a player who is injured. So the Angels added Rodriguez to their playoff roster in place of Green. Rodriguez went on to win five games for the Angels in the postseason. In the World Series, he struck out 13 batters in 8 1/3 innings as the Angels beat the Giants to become world champs.
Now that I made you sit through all of that, here's how it impacts your life: as of Aug. 31, the Phillies had five players on the disabled list: Mike Zagurski, Scott Mathieson, Francisco Rosario, Tom Gordon and Geoff Jenkins. Which means that, should they choose, they could add any of their minor leaguers who weren't on the roster Aug. 31 to replace one of those five players.
David Murphy, Daily News Staff Writer
I've come up small in blogging the past couple days, for which I offer my heartfelt apologies.
Let's let bygones be bygones.