Archive: August, 2013
Philly.com Sports
The Daily News' Ryan Lawrence reports from Citizens Bank Park where the Phillies defeated the Los Angeles Dodgers, 3-2. Ryne Sandberg, Darin Ruf and Cole Hamels spoke after the win.
Get the full High Cheese experience at PhillyDailyNews.com.
Ryan Lawrence, Daily News Staff Writer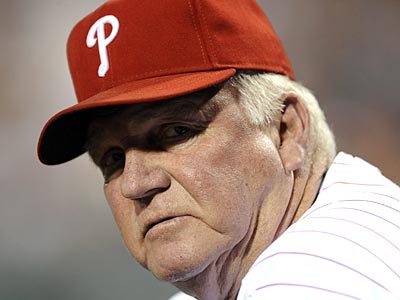 During the Phillies recent road trip through Washington and Atlanta, Ruben Amaro Jr. kept taking Charlie Manuel out for coffee … and to the discuss the job both have of keeping the franchise and team a winning product.
The manager finally grew tired of the general manager's coffee dates.
"Ruben and I had coffee for 6 days in a row and I got tired of having coffee," Manuel said on Friday afternoon at Citizens Bank Park. "Finally one day we were sitting there and I think I asked him, "What are we going to do? Where are we going?"
Ryan Lawrence, Daily News Staff Writer
There's at least a chance Roy Halladay could make his return to the Phillies rotation in less than two weeks.
On Monday at Turner Field, Phils general manager Ruben Amaro Jr. said Halladay will begin an official rehab assignment when he starts a game for the Gulf Coast League Phillies on Thursday. Halladay threw a bullpen session on Monday, two days after facing hitters for the first time since May in a simulated game in Clearwater.
Halladay is expected to throw between 70 and 80 pitches on Thursday. His rapid rehab could be nearing a finish line.
Ryan Lawrence, Daily News Staff Writer
Laynce Nix, a regular member of the Phillies bench in the last two seasons, was designated for assignment on Tuesday. Nix, a lefthanded-hitting outfielder in the second season of a two-year, $2.5 million contract, was basically the reason the Phils non-tendered Nate Schierholtz this winter.
Delmon Young, projected as the Phillies everyday right fielder by general manager Ruben Amaro Jr. when he signed an incentive-laden contract this winter, was designated for assignment on Friday. Young wasn't needed anymore when the player he was ranked ahead of on Amaro's depth chart this spring, Darin Ruf, was recalled last month and hit his way into regular playing time.
Even Amaro admits to letting his mind wander, wondering how things might have turned out if both Schierholtz and Ruf had been on the roster rather than Nix and Young this season.
Ryan Lawrence, Daily News Staff Writer
Domonic Brown was activated from the disabled list on Tuesday, nearly two weeks since suffering from concussion symptoms after diving for a ball in St. Louis.
With Darin Ruf and Cody Asche on the roster, which shifted Michael Young from third to first, and Ruf from first to left, Brown moved to his old position in right field, right? Wrong.
Ruf found out he was the one switching positions yet again while in the lunch room at Citizens Bank Park on Tuesday afternoon.
Ryan Lawrence, Daily News Staff Writer
The Phillies sent out the following statement from team president David Montgomery after MLB officially announced Antonio Bastardo's 50-game suspension:
"Obviously, the Phillies are very disappointed to learn of Antonio Bastardo's violation of Major League Baseball's Drug Program. We strongly believe in the Program and look forward to a time when performance enhancing drugs are completely out of baseball. Hopefully the sanctions announced today will bring us closer to that day. We respect the fact that Antonio has acknowledged his serious mistake and accepted his 50-game suspension."
Get the full High Cheese experience at PhillyDailyNews.com.
Ryan Lawrence, Daily News Staff Writer
Throughout Major League Baseball's investigation into Biogenesis, an anti-aging clinic accused of distributing performance-enhancing drugs, there were more than a handful of names clearly out there for the public to see: Ryan Braun, Alex Rodriguez, Nelson Cruz.
But, all along, there was also a list of mystery names, players who's identities wouldn't be revealed until the investigation was finalized and the penalties were levied. One of the Phillies few veteran relievers is one of those players.
Antonio Bastardo has agreed to serve a 50-game suspension for his involvement in the Biogenesis scandal, which was first reported by Fox Sports.
Ryan Lawrence, Daily News Staff Writer
Milt Thompson chatted with Jimmy Rollins on the field before Sunday night's game at Citizens Bank Park.
It's been over three years since the Phils fired the former hitting coach in an effort to fix a slumbering offense. In case you haven't noticed, offense remains a problem.
The Phillies have lost 13 of their last 14; in seven of those games they've scored fewer than two runs.