Archive: August, 2012
Ryan Lawrence, Daily News Staff Writer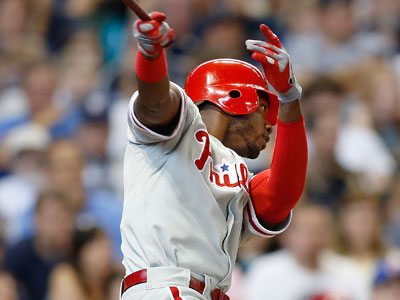 After the Phils traded Hunter Pence and Shane Victorino, the only constant in the new-look outfield was Domonic Brown. Whether in left or right, Brown was an everyday fixture in the lineup.
Until this weekend, at least.
Brown, who has been plagued with injuries in the last three years, was out of the lineup on Sunday while battling soreness in his knees. It was the second straight game Brown didn't start after making 24 starts in a row.
Ryan Lawrence, Daily News Staff Writer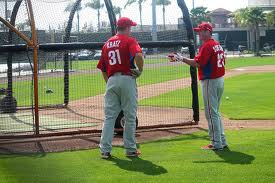 Brian Schneider quietly returned from the disabled list on July 31, the day the Phils made a massive roster makeover, with Hunter Pence and Shane Victorino being shipped out west.
Brian Schneider went back on the DL Friday.
The veteran backup catcher, who was sidelined for a month with a right ankle sprain earlier this summer, has a left hamstring strain.
Ryan Lawrence, Daily News Staff Writer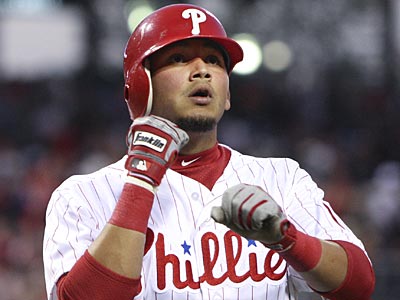 Mike Stutes jogged along the warning track in right field. David Herndon was hanging out at Citizens Bank Park, too.
More than a few familiar faces were back in South Philly Thursday afternoon. It was team photo day.
It was also the day Freddy Galvis talked to reporters for the first tie since suffering a season-ending back surgery in June and, late rin the same month, was suspended for 50 games for testing positive for a performance-enhancing drug.
David Murphy, Daily News Staff Writer
Jimmy Rollins enters tonight with a .694 OPS, which is notable because that was his final OPS in his miserable 2010 season, when he played in just 88 games and hit .243 with a .320 on base percentage and .374 slugging percentage. The shortstop's season has been typical of this year's team. He got off to a horrendous start, hitting just .235/.283/.271 in the month of April. From May 1 to the All-Star Break he posted a solid .779 OPS (.266/.322/.457) with eight home runs in 267 at-bats. But since the All-Star Break, he is hitting .196/.265/.385, albeit with six home runs in 148 at-bats.
So it probably isn't surprising that Rollins is not in the lineup tonight against Reds righty Johnny Cueto, who will face one of his chief competitors for the NL Cy Young Award in Cole Hamels.
In his post-game press conference last night, Charlie Manuel seemed to dwell on the poor approach of his team, which managed just four hits against Bronson Arroyo and Aroldis Chapman. When asked about the team's approach, he brought up Rollins' name unprompted. He didn't really say anything really critical. Just kind of talked randomly about getting good balls to hit, which is usually a pretty good sign that Manuel is less than pleased with what he is seeing out of somebody.
David Murphy, Daily News Staff Writer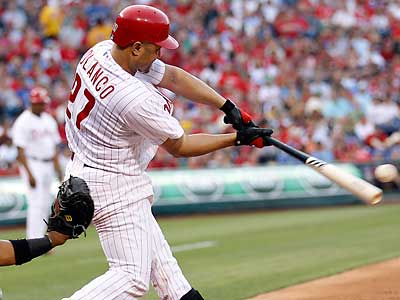 Kevin Frandsen went 3-for-4 with a key triple and a clutch defensive play, but he'll be on the bench for tonight's game against the Reds as Placido Polanco returns to the starting lineup. Perhaps the Phillies are still hoping to deal away Polanco, who has an option on his contract for next season that is all but sure to be declined.
Frandsen is 6-for-10 with an RBI and two runs in his last two starts.
The only other lineup change is Brian Schneider catching Vance Worley.
Ryan Lawrence, Daily News Staff Writer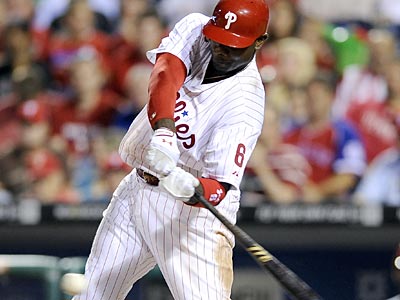 Roy Halladay was in the middle of talking about the balanced, one-through-nine offensive attack from the Phillies last night, a performance he called the best of the season, when he decided to single one player out.
"Howie - I feel like he's really been swinging the bat better in the last few days," Halladay said.
"Howie," of course is Ryan Howard. The same Ryan Howard who was mired in a nightmare of a slump during the last Phillies homestand.
David Murphy, Daily News Staff Writer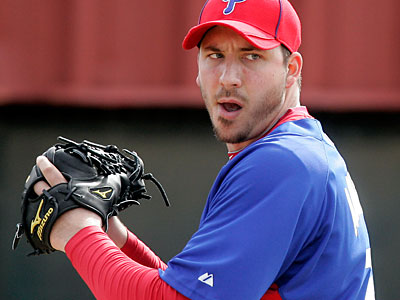 The Phillies' bullpen auditions just got a lot more interesting. The team announced after tonight's win over the Reds that it had recalled right-hander Phillippe Aumont to replace lefty Jeremy Horst, who was placed on the three-day paternity leave list. Aumont, you probably remember, was the centerpiece of the trade that sent Cliff Lee to the Mariners after the 2009 season. It has been an up-and-down season for the big righty. In 41 appearances at Triple-A Lehigh Valley, he recorded 15 saves, posting a 4.26 ERA with 49 strikeouts and 34 walks in 44 1/3 innings.
His last 10 games tell the story of his time in the system. His last time out, he allowed four runs on three hits and a walk without recording a strikeout in 2/3rds of an inning. In the three outings before that, he allowed one baserunner and struck out four. In the three outings before that, he allowed five hits and five walks with five strikeouts and three runs in four innings. And in the three outings before that he allowed one baserunner with three strikeouts in three scoreless innings.
Aumont has a huge arm. He also throws a curve ball and a splitter. Command and composure have been the two big issues with him. Assuming he is here for the rest of the season, it will give fans something interesting to watch as the Phillies try to get a read on their bullpen in advance of what is sure to be a busy offseason.
Ryan Lawrence, Daily News Staff Writer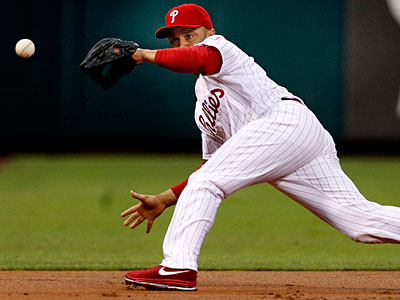 That's the question Charlie Manuel had to answer before the Phillies begin a 10-game homestand against the Cincinnati Reds at Citizens Bank Park on Monday night. About four hours before game time, he came up with that answer: Placido Polanco.
Polanco, an All-Star and Gold Glove winner in 2011, was activated from the disabled list this afternoon. Polanco has been sidelined with lower back inflammation since July 23.