Archive: July, 2012
David Murphy, Daily News Staff Writer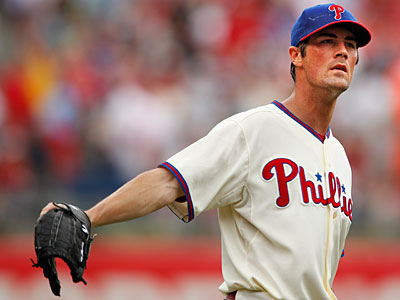 Don't read too much into reports that Cole Hamels has not accepted the Phillies' latest contract offer. The two sides are actively involved in negotiations on a six-year contract that could trump the $137.5 million that Johan Santana landed from the Mets prior to the 2008 season.
It is too early to say that the negotiations are entering the home stretch: Sources with knowledge of the talks said that there are still several issues that need to be worked out before a deal is consummated. But the hope, according to one source with knowledge of Hamels thinking, is that the end result will be a contract that keeps Hamels in Philadelphia well beyond the 2012 season.
Hamels next scheduled start is Friday. It is unclear if the Phillies need some sort of resolution by then.
David Murphy, Daily News Staff Writer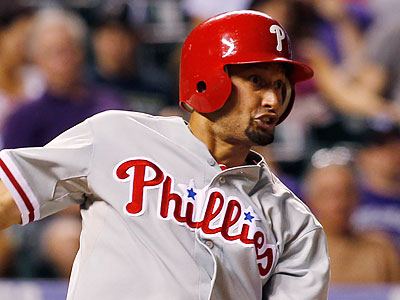 Shane Victorino's absence from last night's win over the Brewers apparently was not serious. The center fielder is back in the lineup today, batting second behind Jimmy Rollins. Victorino was hit on the elbow with a pitch in the first inning, apparently on the funny bone. That forced him from the game after the inning.
Not in the lineup is Placido Polanco, who will miss a second straight game with what Charlie Manuel has described as lower back tightness. Ty Wigginton once again gets the start at third base.
The lineups:
Rollins SS
Victorino CF
Utley 2B
Howard 1B
Ruiz C
Pence RF
Wigginton 3B
Mayberry LF
Lee LHP
Brewers
Aoki RF
Gomez CF
Braun LF
Ramirez 3B
Hart 1B
Weeks 2B
Maldonado C
Izturis SS
Greinke RHP
---
David Murphy, Daily News Staff Writer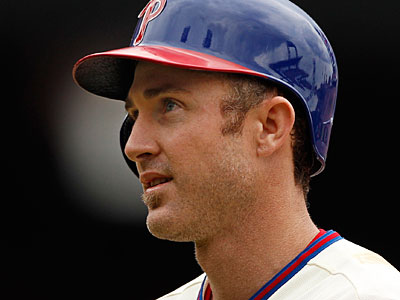 Placido Polanco has been battling a sore back for at least the last week, Phillies manager Charlie Manuel revealed prior to Monday's series opener against the Brewers. The veteran third baseman was not in the starting lineup, and was scheduled to be examined by team doctor Michael Ciiccotti. Polanco also had the day off on Saturday.
"He started telling me about it in Los Angeles (early last week)," Manuel said.
While Polanco's glove work remains solid at third base, the 36-year-old veteran is on track to finish with career lows in batting average (.255), on base percentage (.300) and slugging percentage (.628). After signing with the Phillies in 2010, Polanco hit .298/.339/.386, driving in 52 runs while scoring 76. But his production has slipped as injuries have mounted: he appeared in 132 games in 2010 and 122 in 2011.
David Murphy, Daily News Staff Writer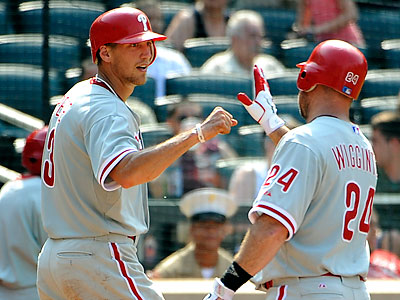 The Phillies are 5-4 since the All-Star Break, still 10.5 games back in the Wild Card race. The trade deadline is eight days away.
Here's tonight's lineup: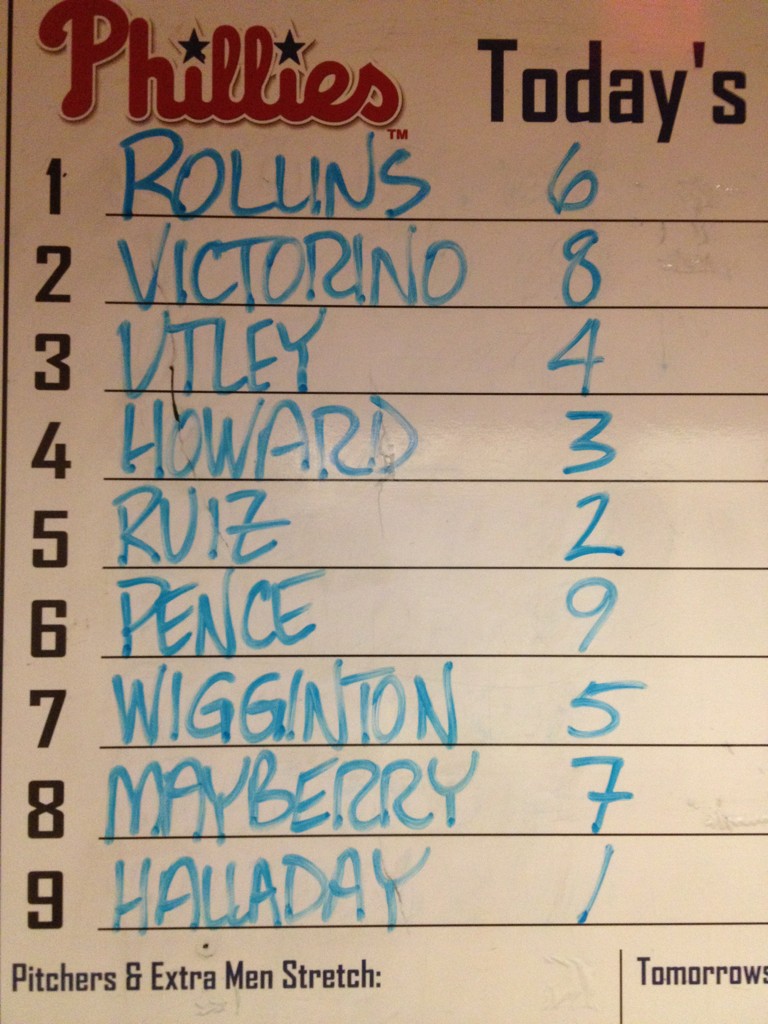 ---
David Murphy, Daily News Staff Writer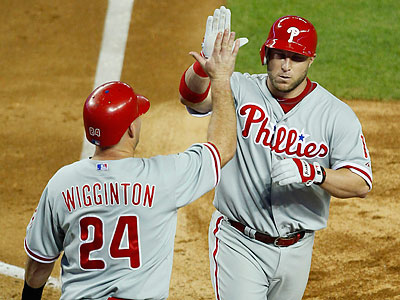 The last time Laynce Nix was active for a game, the Phillies were 14-18 and a mere five games out of first place in the National League East. Who knew that those would be the glory days of the 2012 season? Anyway, Nix has been activated from the disabled list, where he has spent nearly three months recovering from a calf strain that he suffered on May 9 while running out a pinch-hit single.
Nix was one of the offensive stars of the early going, hitting .326/.392/.587 with two home runs, 11 RBI and seven run-in 51 plate appearances before his injury.
To make room for him on the roster, the Phillies designated Jason Pridie for assignment.
---
David Murphy, Daily News Staff Writer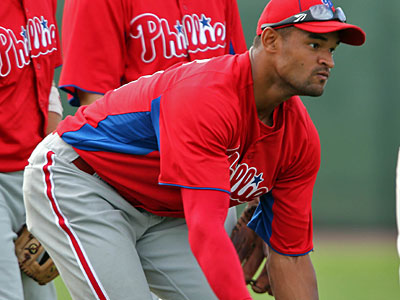 The hits keep on coming for Tyson Gillies, the centerfield prospect acquired as part of the ill-fated Cliff Lee trade of December, 2009.
Gillies has been suspended from Double-A Reading for what the club says is a violation of team rules. No further information is available at this point in time.
Gillies has struggled to stay on the field since the Phillies acquired him from the Mariners along with righthanders Phillippe Aumont and J.C. Ramirez in exchange for Lee.
David Murphy, Daily News Staff Writer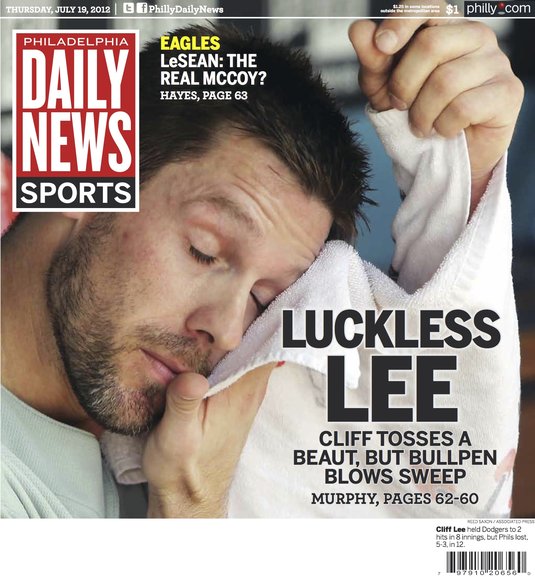 ---
David Murphy, Daily News Staff Writer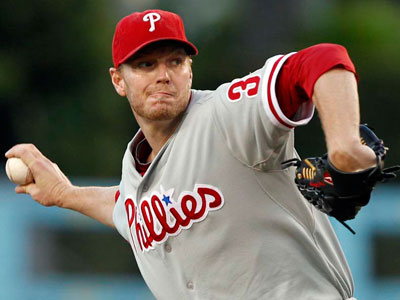 Want to know why I've been so adamant about my belief that the Phillies will not end up trading Cole Hamels? Because I keep trying to picture Ruben Amaro Jr. and Charlie Manuel calling Roy Halladay into an office to inform him of the news, and I just can't do it. I realize that you cannot govern an organization based on sentiment, but think about this: the Phillies are now 9.5 games out of a playoff spot, which is the same deficit the Cardinals faced at the end of August last year. That's not to say the Phillies look like a team that can make a similar run. But to a player like Halladay, who is 35 years old and playing out the second-to-last year of a contract that he signed at a discount rate in order to pursue a title, a 9.5 game deficit is not grounds for dismantling a team that led the majors in wins one year ago.
"We saw what happened last year in Atlanta with St. Louis getting in and going all the way to win the World Series," Halladay said. "I mean, it's happened before. It's going to be difficult. There's a long way to go and it's a steep hill to climb, but I think there's got to be a positive mentality, especially when you have the players that we have. It's not like we have players that can't compete and can't win. We have those players here. It's just a matter of being able to go out and do it and give ourselves a chance. You look at the way baseball has gone the last few years, there's definitely a chance. I don't think there is any reason to believe there wouldn't be."
Since the end of May, Halladay has sat on the sidelines and watched the Philies spiral further under .500. Over the last couple of weeks, he has heard trade speculation about the team intensify, with general manager Ruben Amaro Jr. surveying interest in crucial pieces of the roster like Cole Hamels and Shane Victorino. And he hasn't been able to do a damn thing about it.