Archive: March, 2012
David Murphy, Daily News Staff Writer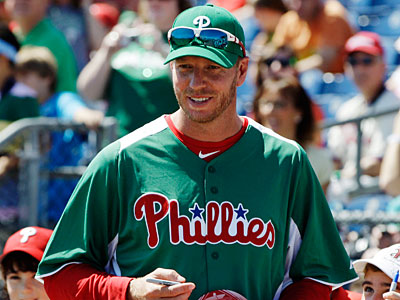 It is the middle of the third inning here at Ed Smith Stadium in Sarasota, where Roy Halladay is in the middle of facing the Orioles and the Phillies' lineup is in the middle of facing up-and-coming young lefty Brian Matusz.
Halladay's velocity does not appear to be an issue, at least not if the stadium scoreboard is accurate. He's sitting at 90-92. As you might recall, there was a brief panic after Fox Sports reported that Halladay's velo was down in his last start. Halladay dismissed the report, as did Charlie Manuel, Rich Dubee and Ruben Amaro Jr.
A few other notes...
Philly.com sports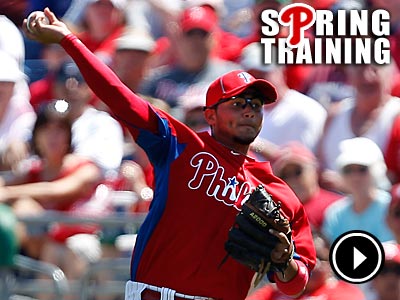 Video: Chase Utley left Phillies camp Monday to see a specialist because of his chronically injured knees. The Daily News' David Murphy reports from Clearwater on who could be Utley's replacement.
---
David Murphy, Daily News Staff Writer
As expected, Placido Polanco is not in the line-up for today's game against the Tigers and righthander Max Scherzer. The veteran third baseman sprained his finger on Saturday and is expected to miss a few days.
Otherwise, the line-up looks a lot like one you might see once the regular season begins, with Laynce Nix in left field and John Mayberry Jr. at first base.
1. Jimmy Rollins SS
David Murphy, Daily News Staff Writer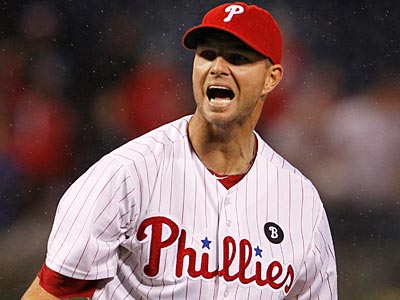 We'll probably never know for sure what, exactly, went down between the Phillies and Scott Boras this offseason. As you probably remember, long-time set-up man Ryan Madson had been under the impression that Boras and general manager Ruben Amaro Jr. were closing in on a deal worth $44 million over four years when the Phillies announced that they had signed Jonathan Papelbon to a four-year, $50 million contract.
Boras believed that Amaro had verbally offered the deal, and Madson had decided to accept. But no offer was ever put into writing. Amaro, for his part, denies that the Phillies ever made an offer.
Now, Madson is in Cincinnati after having signed a one-year, $8.5 million deal with the Reds. He will be a free agent again after this season. The veteran righthander recently told CBSSports.com that he still believes the two sides had a verbal agreement.
David Murphy, Daily News Staff Writer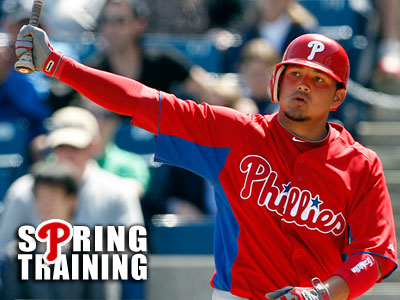 Listed below is today's lineup for the Phillies home game against the Braves. You can look at this one of two ways:
1) Just another list of players who will provide background for a whole lot of beer-drinking.
2) A good indication of the Phillies' thought-process with regards to their Opening Day roster.
David Murphy, Daily News Staff Writer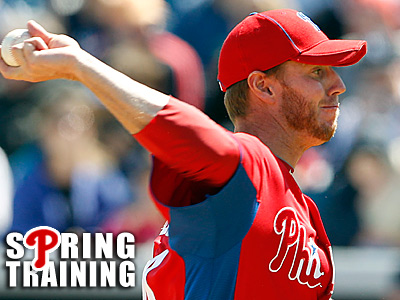 Got a paper bag handy? You might need it after reading Ken Rosenthal's latest over on FoxSports.com. The well-respected MLB insider for Fox and the MLB Network talked to a couple of scouts who noted two things about Roy Halladay's performance against the Twins today: one, he changed his arm slot, and, two, he was only throwing 89 miles per hour.
As Ken notes, this could be little more than some spring training fatigue. Halladay normally sits between 91 and 93 miles per hours, which really isn't that far off from 89. Keep in mind he still has three more outings before the start of the regular season, and he is getting older, so even though Halladay usually looks terrific in the spring, this could just be a case of offseason rust that has lasted longer than usual.
Halladay has allowed nine runs, 13 hits and five home runs this spring. Two encouraging numbers: he has 10 strikeouts and one walk in 7 2/3 innings and he's recording 2.25 ground-outs for every fly ball out. Both of those numbers are Halladay-esque.
David Murphy, Daily News Staff Writer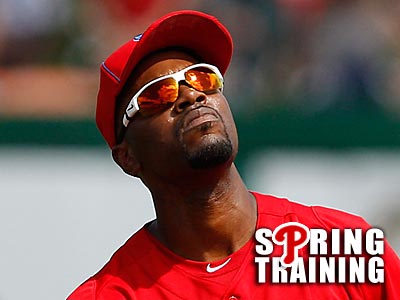 Jayson Stark, the venerable ESPN.com scribe and former Inquirer beat writer, has an interesting piece on the web site right now. It's always interesting to get the national perspective on things, and Stark's perspective sounds a lot like the local perspective.
But the thing that really jumped out at me was this passage, where Stark talks to Jimmy Rollins about Ryan Howard's battle with an infection near his surgically-repaired Achilles.
"I don't know what to think, honestly," Rollins tells Stark. "If you ask me, with this infection, I don't know if he's going to play this year, because after all the work that he's done, now he's got to hit the reset button."
David Murphy, Daily News Staff Writer
According to CSNPhilly.com, the Phillies are exploring the trade market for infielders. The news makes sense, because the infield play here at camp has been a whole lot of ugly. The Phillies knew they were parting with their most reliable defender when they traded Wilson Valdez away to the Reds this offseason, but the competition to fill in for him hasn't exactly been crisp. Michael Martinez, Kevin Fransden and Pete Orr are among the utility men in camp.
It's also worth mentioning again that Chase Utley has yet to play in a Grapefruit League game. The Phillies still say they expect him to be ready by Opening Day, but it's pretty clear that he is going to need a lot of rest this season to combat the chronic tendinitis in his knee. Ty Wigginton can play some second base, but he is not known for his glove. The concern is more second and third base since the Phillies think that prospect Freddy Galvis can provide stability there in case of a long-term injury to Jimmy Rollins.
Here are four players currently on major league rosters who could fit the bill: