Archive: February, 2011
David Murphy, Daily News Staff Writer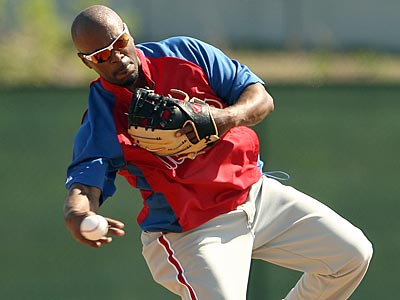 Mike Schmidt spent about 30 minutes fielding questions for a small group of reporters today at Bright House Field, and the Hall of Fame third baseman had some interesting things to say.
I'm in the middle of transcribing the tape, but for right now I'll leave you with his thoughts on the Phillies' offense, which in his opinion has underperformed the last few years. Specifically, he zeroed in on Jimmy Rollins, who he said hasn't played within himself.
"I look for Rollins to push a 200-hit year," Schmidt said. "I look for Victorino to have a 200-hit year. We are talking in those terms. 100 walks. 200 hits. Sort of out-there goal for these guys that you haven't seen in the last few years. They are part of a winning team, don't get me wrong, but I still think they are underachieving as players. Jimmy Rollins can't do what Pete Rose did. Just take a year. Pete Rose had 200 hits 10 straight years. Jimmy's faster, you know.
David Murphy, Daily News Staff Writer
UPDATE: 8:46 p.m.
One of the reasons why a Durbin/Phillies reunion seemed unlikely (other than the fact that the Phillies said it was unlikely) is that the Phillies payroll had swelled to more than $165 million with the signing of Cliff Lee. There was some thought that they would trade Joe Blanton and free up some money that could have been used for a right-handed bat or a bullpen piece, but the Phillies seem content to go into the season with their current starting five.
Durbin could, however, end up signing a minor league deal with a decent salary should he make the major league club.
Paul Hagen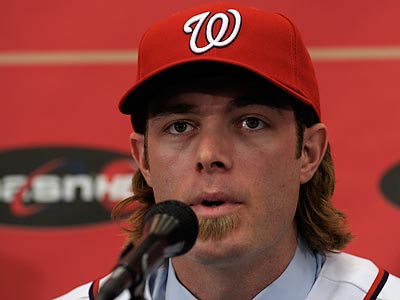 Jayson Werth arrived at Nationals spring training today and reflected on his time with the Phillies and the way it ended:
(Hard feelings all those guys got extended and you didn't?)
"Hard feelings? No. It's a business. It really is. Baseball is the same game I've been playing since I've been a kid. But when it comes to the business side of it, it really is dollars and cents. And the team has more to do on that end than anybody else."
David Murphy, Daily News Staff Writer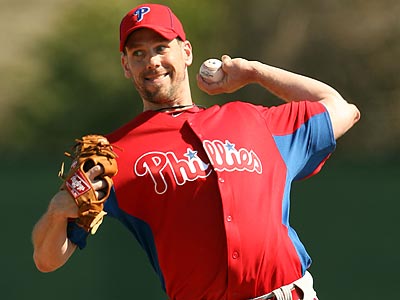 Cliff Lee's arm-pit looked A-OK today as he threw about 40 pitches in live batting practice this morning. Lee estimated yesterday that he is maybe 5 or 10 pitches behind the other guys in camp, but the other guys in camp have all thrown around 40 pitches in live BP, so it appears as if Lee is right on schedule.
The veteran lefty is scheduled to make his Grapefruit League debut on Tuesday.
I have some video that I shot Zapruder-style and I'll see if I can't load that up here for you guys to gander at. It isn't of the highest quality. Probably makes Blair Witch Project look like it was shot by Scorsese. But watching it is probably better than doing whatever it is that your employer pays you to do.
David Murphy, Daily News Staff Writer
Not a whole heck of a lot going on down here in Clearwater right now. The Phillies will finally play a game on Thursday against Florida State before opening their Grapefruit League schedule on Saturday against the Yankees in Tampa.
Yesterday was Day One of live batting practice, which means today is Day Two, which really doesn't mean a whole lot in the grand scheme of things. But there is one interesting match-up you might keep your eye on if you wander down this way. On the mound, a left-handed gun-slinger from the Great State of Arkansas. At the plate, a left-handed slugger from the streets of Pasadena. Cliff Lee. Chase Utley. A battle to the death.
I might be over-hyping that just a tad. Whatever it takes to get through a day, right? In reality, live batting practice is heavy on the practice and light on the batting. Yesterday, most veterans used the sessions to track pitches. Swings were few and far between. Live 11-on-11's this wasn't.
Paul Hagen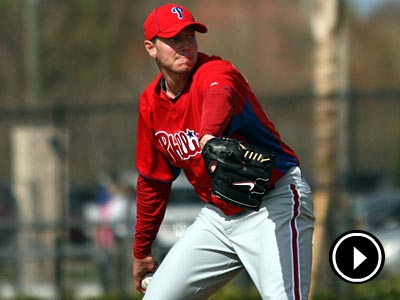 Video: CineSport's Noah Coslov checks in with Paul Hagen of the Daily News in Clearwater, where the Phillies have set their spring rotation, which aligns Roy Halladay to start Opening Day.
---
Download our NEW iPhone/Android app for easy access to all of our Phillies coverage, plus app-exclusive videos and analysis. Get it here.
David Murphy, Daily News Staff Writer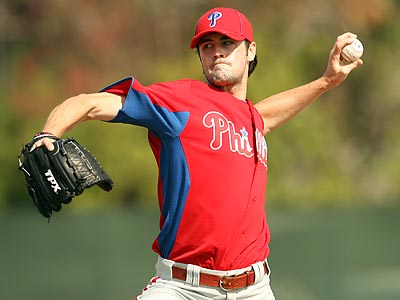 Cole Hamels will face the Yankees on Saturday in Tampa in the Phillies' Grapefruit League opener. Drew Naylor will start against Florida State on Thursday at Bright House Field.
Here are the pitching rotations for the first few days of the season:
Thursday vs. Florida State
RHP Drew Naylor
LHP Juan Perez
RHP Mike Stutes
RHP Mike Schwimer
RHP Justin DeFratus
RHP Scott Mathieson
David Murphy, Daily News Staff Writer
Cliff Lee stood in front of his locker with a bemused expression on his face as reporters peppered him with questions about a pain he no longer feels.
This is what it is like to be the $120 million man: Every wince, every limp, every burp is subject to become headline news.
Lee re-iterated what Ruben Amaro Jr. said yesterday, that the lefthander is 100 percent and no longer battling any sort of ailment.