Archive: February, 2008
David Murphy, Daily News Staff Writer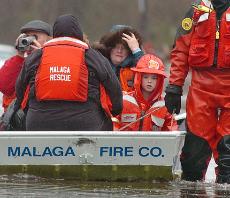 First pitch is scheduled for 7:05 p.m. . .for now.
The skies are gray, and we're getting high winds and bursts of rain. There's a band of strong thunderstorms moving through the area. I just checked out the Weather Channel, and though I do not have a degree in meterology, it looks as if the rain should move through in time to save the game.
Last year this exhibition drew close to 5,000 fans. I ran into Florida State's Sports Information Director earlier, and he estimated that close to half of those were Florida State fans. The Seminoles are big in the Tampa Bay area. First baseman Geoff Parker played locally at Zephyrhills High.
David Murphy, Daily News Staff Writer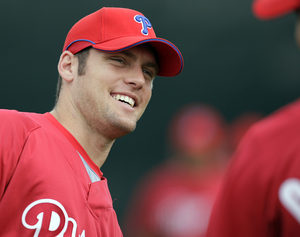 In today's paper, we take a look at 22-year-old pitcher Joe Savery, who will get the start tonight in the Phils' exhibition game against Florida State. He's a left-handed, fastball/change-up type of guy who was a star hitter and pitcher for four seasons at Rice.
The Phillies drafted him 19th overall last June (as a point of reference, the team took Cole Hamels 17th overall).
When Savery was drafted, he told reporters he hoped to be in the team's rotation by opening day of 2009. It's still way too early to tell whether he'll get his wish, but Savery has, in the words of one member of the Phillies' personnel staff, "opened some eyes" early this spring training. Charlie Manuel told me a couple days ago that he loves how Savery's fastball takes off out of his hand. And at 6-foot-3, 215 pounds, the kid certainly has the size and build you look for in a power pitcher.
David Murphy, Daily News Staff Writer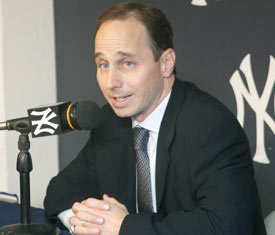 While scanning the morning headlines, I ran across this story from George King in the New York Post. Yankees general manager Brian Cashman is in the last year of a three-year contract, and all indications are the two sides will not discuss an extension until after the season.
In the story, King cautions that waiting to sign Cashman could eventually mean losing him to another major league team. King mentions the Phillies, simply because Pat Gillick is retiring and the Phillies reportedly showed interest in Cashman back in 2005.
The Phillies aren't going to make a decision on Gillick's succesor until after the season. It seems as though the team's two assistant general managers - Ruben Amaro Jr. and Mike Arbuckle - are the leading candidates. Amaro Jr. has essentially served as the franchise's spokesman for the past year, briefing reporters on trades and the like. Arbuckle, in charge of scouting and player development, has helped build the team's home-grown nucleus, discovering talents like Ryan Howard, Chase Utley, Jimmy Rollins and Cole Hamels. He was also named in a Baseball America survey in 2002 as one of the best GM candidates in the game.
David Murphy, Daily News Staff Writer
If you happen to be headed down to Clearwater, you might be interested in who you are going to see on the mound.
Here are the scheduled pitching rotations for this week:
David Murphy, Daily News Staff Writer

Got an update this morning from trainer Scott Sheridan and assistant-GM Ruben Amaro. Brad Lidge had successful surgery this morning and is expected to return to Clearwater tomorrow. He'll begin long-tossing in about a week. Amaro and Sheridan are still hopeful that he'll get some innings in before the end of spring training.
As we told you yesterday, the normal recovery timeline for this type of operation is three to six weeks. Opening day is 34 days away, so if Lidge's recovery falls closer to three weeks, he should be able to get some time on the mound in spring training.
"Basically, they went in and cleaned out 15 to 18 percent of (the miniscus) which leaves him about 80 percent of the meniscus left, which is nice" Sheridan said. "For us, it was really the best case scenario, that that was the only thing going on. His other side of the knee tha the had repaired was fine."
David Murphy, Daily News Staff Writer
It's shaping up to be a beautiful day here at the Carpenter Complex in Clearwater. About 70 degrees, partly cloudy, highs expected to reach 76.
Some odds and ends from the morning. . .
Players and coaches had their annual umpires meeting with Umpire Supervisor Rich Garcia this morning before heading out to practice. . .
Yesterday featured an abbreviated session as players, coaches and staff hit the links in the afternoon for the organization's annual golf tournament. Word is pitchers Chad Durbin and J.D. Durbin anchored the winning team, which also included ace public relations man Kevin Gregg. . .
We'll try to catch up with Tom Gordon today to get his mindset on becoming, for now, the team's closer. Gordon has done it before, saving 36 games for the team two years ago. . .
Mercifully, tomorrow is the first game of the spring season. It'll be a nice change of pace to actually see these guys playing against someone other than themselves. Joe Savery, a 2007 first-round draft pick out of Rice, will get the start on the mound. Expect to see plenty from other young pitchers like Carlos Carrasco and Josh Outman. . .
MORNING READING. . .
David Murphy, Daily News Staff Writer
It was hard to read Brad Lidge when we talked to him this afternoon. On one hand, he seemed relieved that a relatively minor surgery would correct the injury he suffered yesterday during practice. On the other, he seemed disappointed that he'll miss three to six weeks recovering, which puts his status for opening day in jeopardy.
"I'm upset that it happened, but obviously, potentially it could have been worse and I'm happy to see there was no big damage done and that I'll be able to get back in there fairly quick," Lidge said. "But of course you don't want something like this to have to happen. Better now than during the season."
Lidge said he had two options: under go a partial miniscectomy, a procedure in which part of the miniscus is actually removed. The other was to rest the knee for two to three weeks before attempting to pitch again.
David Murphy, Daily News Staff Writer
Phillies closer Brad Lidge will undergo surgery tomorrow to remove a portion of his miniscus and will miss three to six weeks of spring training.
Lidge is planning on flying home tonight and will undergo surgery tomorrow. The closer injured the knee, which had been surgically repaired this offseason, yesterday.