Archive: December, 2012
Ryan Lawrence, Daily News Staff Writer
First, the Phils agreed to terms on a two-year contract with one of baseball's best set-up men, righthander Mike Adams.
But a busy Saturday morning continued when they also plucked former Washington Nationals starter John Lannan off the free agent market, too.
According to multiple reports, begining with CSNPhilly.com, the Phils have come to terms on a one-year, $2.5 million deal with Lannan, a lefthander who is the odds-on favorite to assume the rotation spot vacated by Vance Worley. The 28-year-old Lannan is 42-52 with a 4.01 ERA in 134 career games, all starts, from 2007 to 2012.
Ryan Lawrence, Daily News Staff Writer
Phillies fans have been waiting for Ruben Amaro Jr.'s signature offseason "big splash" move all month.
Signing a setup man might not qualify, unless it's a player regarded as one of the best 8th inning men in baseball. The Phillies have reportedly came to an agreement with that guy.
Late Friday night, KRIS-TV in Corpus Christi, Texas, reported that the Phillies and free agent setup man Mike Adams had come to terms on a three-year
David Murphy, Daily News Staff Writer
It has been an interesting couple of weeks for the Phillies, who at times have projected a quiet confidence in the way the offseason has progressed, and at others have seemed to be scrambling to adjust to a free agent market in which dollars flowed like chocolate water in Wonkaville.
As I wrote yesterday, my sense is that the Phillies' reported offer to Josh Hamilton is little more than a formality, with the Rangers remaining the slugger's likely destination. One further sign that Ruben Amaro Jr. and Co. do not view Hamilton as a strong possibility is a report that David Waldstein of the New York Times issued on Twitter last night, saying the Phillies "were making a big push" for Ichiro Suzuki, who he suggests is likely headed back to the Yankees.
Signing the left-handed hitting Suzuki would not make much sense if the Phillies had Hamilton penciled in as their right fielder. You could argue that it would not make much sense in any situation, given the fact that Suzuki will be 39 years old in 2013 and is coming off two seasons in which he combined to hit .277/.308/.361 in 323 games for the Mariners and Yankees. Ichiro was slightly better against right-handed pitching last year, posting a .283/.316/.408 line. Still, you would think that the Phillies would aim for more production than that out of a platoon guy. And, again, he is going to be 39 years old.
David Murphy, Daily News Staff Writer
We'll start with the caveats. The Phillies could have far more cash at their disposal than they are letting on. They could have an ownership group that is willing to risk four or five years on Josh Hamilton. They could be trigger-happy. Or the Rangers could just be claiming interest in retaining Hamilton out of politeness. But absent a significant extenuating circumstance, I simply cannot envision a scenario in which Hamilton signing with the Phillies makes sense.
Yesterday, Sports Radio 610 WIP reported that the Phillies have made the free agent slugger a three-year, $80 million offer. I have no reason to doubt the veracity of that information. In fact, it makes perfect sense.
What doesn't make sense is why the Rangers would not match that offer. The conventional wisdom at the winter meetings last week was that both sides would like their partnership to continue. Early in the free agent signing period, various national reports cited anonymous sources saying that Hamilton was looking for a contract of six or seven years, which led to the speculation that the Rangers might wave goodbye to their star slugger. But if Hamilton's best offer really is for three years at about $27 million per year, and if the Rangers really do want to retain him, then I have to think that they will.
Ryan Lawrence, Daily News Staff Writer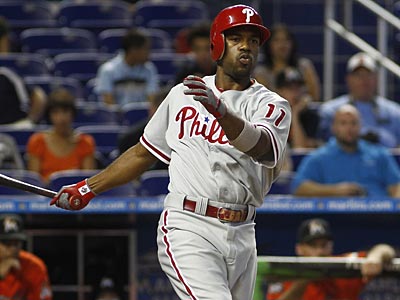 The last time Charlie Manuel addressed the Phillies beat scribes, we were all in Nashville having lunch and the front office hadn't done a thing to improve the roster.
But just before Manuel and Co. boarded a plane bound for Philly on Thursday, Manuel knew there was a very good chance he had two new pieces for his starting lineup. The Phils traded for center fielder Ben Revere and were awaiting word for Michael Young to accept the third base job.
On Monday, with most of his starting nine accounted for, Manuel tried to take a stab at his 2013 batting order.
David Murphy, Daily News Staff Writer
The Phillies wrapped up the winter meetings by landing a center fielder who they hope will hold down the position for at least the next four years. There are plenty of indications that Ben Revere can be that man. But to acquire him, the Phillies made themselves weaker in the rotation, at least for time being, by sending Vance Worley to the Twins. They also parted with a player who entered the 2012 season as a Top 100 prospect as rated by Baseball America.
So what's the verdict?
As we noted, there are two issues to evaluate in this deal. Clearly, there is a lot to like about Revere. He has the reputation as a defensive whiz, with speed and base-running ability comparable to Michael Bourn, whom the Phillies decided against pursuing on the free agent market because of his asking price. Those abilities alone virtually guarantee that he will be, at the very least, an everyday major leaguer. His arm, according to scouts, is one of the weakest in the game, but in center field that should not be a huge issue. Everybody seems to agree that Revere can play stellar defense at the major league level.
Ryan Lawrence, Daily News Staff Writer
Ruben Amaro Jr. stood in a small circle of Phillies executies just in front of the front desk and next to the door out of the Opryland Hotel around 10 a.m. on Thursday.
Minutes later, when approached by reporters if he had time to talk, Amaro replied, "No, I don't."
Amaro has been awful busy in the last few hours of baseball's winter meetings.
David Murphy, Daily News Staff Writer
As always, the wisdom of any trade for Michael Young, which the Dallas Morning News reports is in advanced stages, will depend entirely on two key details: the salary the Phillies are taking on, and the talent with which they are parting. According to Rangers beat writer Evan Grant, the Rangers would assume more than half of $16 million. For the trade to make much sense from the Phillies perspective, they would likely have to eat WELL more than half, as any salary approaching $8 million for a player who hit .277/.312/.370 in 651 plate appearances simply would not make sense, especially if a free agent like Kevin Youkilis could be had for the one-year, $12 million contract that the Yankees have reportedly offered him.
As for the talent departing, I can't imagine it would be much more than a B.J. Rosenberg or Michael Schwimer type, although if the Rangers eat all of the salary that might change.
Now that we have all of those caveats out of the way. . .