Archive: October, 2010
Jonathan Tannenwald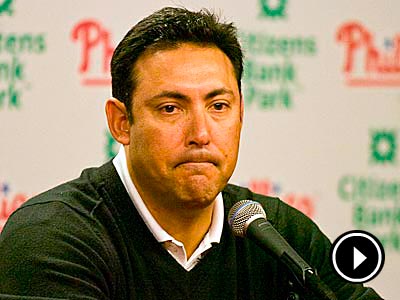 Phillies general manager Ruben Amaro Jr. held his end-of-season press conerence Monday. He addressed the possibility of re-signing Jayson Werth and also building up a younger team. David Murphy reports from Citizens Bank Park.
Daily News staff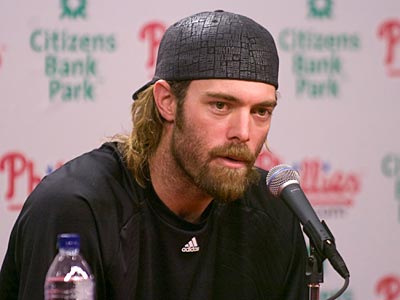 Jayson Werth, who will be a free agent after the World Series, said the Phillies will be one of the teams in consideration for his services next season and he is willing to listen to any offer the ballclub would make.
"I've obviously had the best time the last 4 years playing baseball with these guys, with these fans," the Phillies rightfielders said at a news conference this afternoon at Citizens Bank Park. "The team has taken the necessary steps to create a winner. Obviously, their business is good here in Philadelphia. The fans are happy. From the economic side of the club, I would think they could sign anyone they want.
"Going forward, Philly will be one of the teams in consideration. It's a business. This is definitely not the same game I played in my grandparents' backyard as a kid. This is definitely a business."
Daily News staff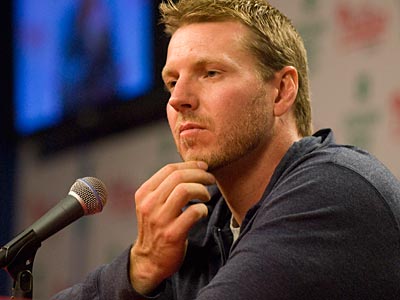 Roy Halladay reflected on his first season with the Phillies and making the playoffs for the first time in his career:
On the season: "It's definitely the most fun I've ever had and it's bittersweet because obviously the goals we had as a team, you come up short of that. That part is tough, but I think what we accomplished as a team, it's stuff I will never forget. The whole year was a dream come true for me, really. We would have all loved to win it all. It's hard to go on after the year we had. There was so much good stuff that happened … It was everything I ever hoped it would be."
On his first playoff experience: "I spent 12 years not even coming close. I think you're well aware of how hard it is … Not only do you have to have the best team, but you have be hitting things at the right time. There's a lot of good timing. You hate to call it luck because you put in so much preparation. I don't think luck is as big as a factor. A lot goes into it. To be playing your best baseball for a 2-3 week period at the end of the season is hard to do. I don't think anybody had any illusions about that."
Daily News staff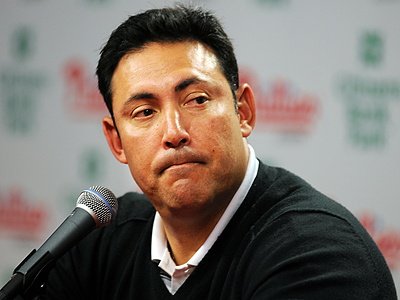 Phillies general manager Ruben Amaro Jr. knew as soon as he sat down for his season-ending news conference where the initial questions were headed. "Shoot, ask whatever Werth questions."
Amaro said the Phillies want Jayson Werth to return and have enough money to re-sign him, but said that will "depend on what the ask is" and "how it will affect other things."
Werth figures to be the main attraction among position players on the free-agent market. Amaro said he will talk with agent Scott Boras within the next 48 hours.
David Murphy, Daily News Staff Writer
It's never too early to look forward. So even as you digest the end of this Phillies season, here is a look at where they are headed. By my calculations, the Phillies have a minimum of $135.35 million committed to 16 players, depending on how they decide to allocate the $11 million they received from Houston in the Roy Oswalt trade (they could use some of it to defray this year's bottom line).
We'll have more in tomorrow's paper, but here are some key points:
1) The Phils have five players who are headed toward free agency: Jayson Werth, Chad Durbin, Jamie Moyer, Mike Sweeney and Jose Contreras.
David Murphy, Daily News Staff Writer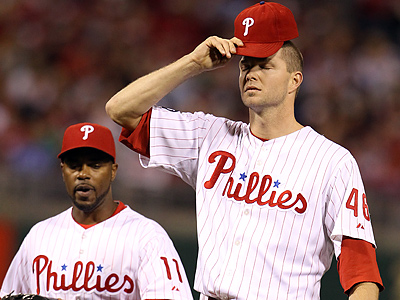 Jayson Werth stood on the warning track and looked up at the top of the right field wall in disbelief. Jimmy Rollins trotted in from short stop, grabbed the rosin bag, and spoke a few words to the pitcher standing on the mound. All around them, a stunned silence hung in the late-October air.
The final blow in this National League Championship Series was delivered by Juan Uribe in the form of a two-out home run off of Ryan Madson in the eighth inning. It was an opposite field shot that barely cleared the top of the wall in right, but for a Giants team that has never left itself much in the way of breathing room, the 3-2 lead it provided was more than enough.
"We let a lot of people down," Madson said, "and ourselves as well."
David Murphy, Daily News Staff Writer
I'm not sure whether it was the shadow of the Cliff Lee story, or whether it was the weariness of West Coast travel, or whether last night's 7-2 Phillies loss was exactly as it seemed: unexciting. A normally sure-handed team committed two key errors, and the Phillies suffered a rare second straight off-night. It was their first back-to-back losses since July 1-2 in Atlanta.
The one piece of action that did occur - other than Pablo Sandoval's personal quest to show Charlie Manuel that he was wrong for leavin ghim out of the All-Star game - was a sixth-inning at-bat between Chase Utley and Giants lefty Jonathan Sanchez. Sanchez's first pitch of the inning sailed screamed directly at the head of Utley, who ducked out of the way. Although it didn't seem like a situation in which Sanchez would be throwing intentionally -- Manuel said he thought Sanchez deserved the benefit of the doubt -- Utley reacted the way many of us would if another grown man unleashed a deadly object at our noggin. He took a step toward the mound and glared menacingly -- although, having been around Utley, that might have been his version of smiling -- before returning to the batters box. Later, he stepped out of the box as Sanchez was getting set to start his wind-up.
Gamesmanship?
David Murphy, Daily News Staff Writer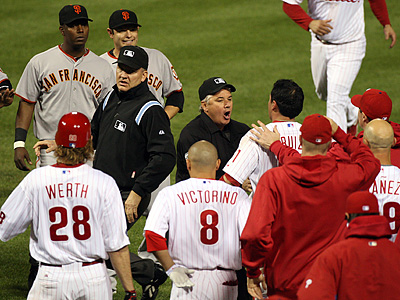 We are off to a rollicking start here at Citizens Bank Park, where Game 6 has already had an evening's worth of action packed into a few innings. Things reached a boiling point in the third inning, when Chase Utley picked up a ball that had just hit him in the back and tossed it back in the direction of Giants starter Jonathan Sanchez as Utley trotted to first base. Sanchez took exception to the toss, Utley took exception to Sanchez taking exception, and both benches took exception to all of it, emptying out onto the field of play. It took awhile for umpires to restore order, but it did not appear as if any punches were thrown.
Utley's toss back to the mound did not appear to be malicious. He had just been struck on the back, and as he ran to first base the ball bounced in front of him. He plucked it from the air and tossed it onto the grass behind the pitcher's mound.
The two players have squared off before. Last July, on the night before Cliff Lee made his Phillies debut against the Giants in San Francisco, Utley appeared to take exception to a Sanchez fastball that screamed toward his head. He took a step toward the mound with a glare before returning to the batter's box. Later in the at-bat, he stepped out of the box just before Sanchez delivered a pitch. The at-bat ended with Utley hitting a home run on a 2-2 pitch.