Archive: January, 2012
David Murphy, Daily News Staff Writer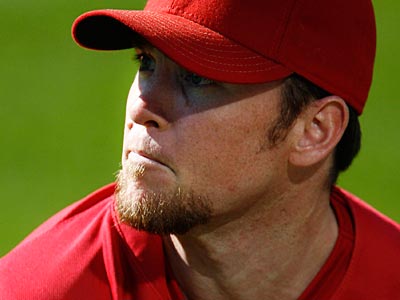 The lasting image will always be of a man on his knees, reaching up toward the glowing sky, teammates swarming and fans cheering as entire city spun on his axis. Brad Lidge says he will always have that moment: will always remember the sound of the crowd, the feel of the grass bleeding through his pants, the incomparable high that comes with being a world champion.
"I enjoyed the hell out of my time there," Lidge said yesterday from New Orleans, where he was scheduled to take part in a Triple-A Hall of Fame banquet. "I'd thank every fan personally if I could."
He was professional to the end, saying only that he was "disappointed" that the Phillies decided not to offer him a contract to remain with the club for a fourth season. Lidge said that at the end of the season, he talked with general manager Ruben Amaro Jr. and left the meeting with the impression that if he could not find an opportunity to close, the Phillies would be ready to offer him a modest contract to help set-up for newly-signed Jonathan Papelbon.
DAILY NEWS STAFF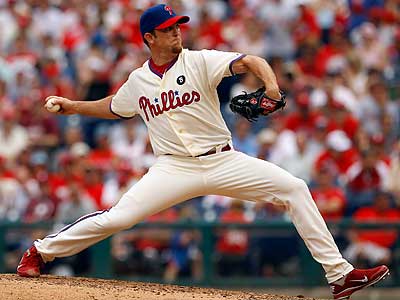 Brad Lidge is officially gone, but he won't be forgotten.
Lidge signed a one-year deal with division rival Washington for a reported $1 million.
Though the latter stages of his four-year tenure with the Phillies was packed with injuries and inconsistency, Lidge's effectiveness during the 2008 championship run will forever make him beloved in this town.
Daily News staff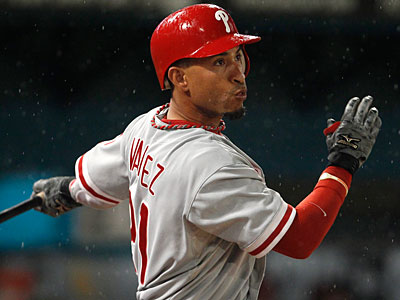 The Phillies have traded versatile infielder Wilson Valdez to the Reds for lefthanded relief pitcher Jeremy Horst, according to general manager Ruben Amaro, Jr.
Valdez, 33, spent the last 2 years with the Phillies, hitting .249 this past season with one home run and 30 RBI in 99 games. Valdez played second base, shortstop and third base for the Phillies and went 1-0 in one pitching appearance on May 25 against the Reds in that 19-inning game.
Horst, 26, made 12 relief appearances for the Reds last year and went 0-0 with a 2.93 ERA. He spent most of the season with Triple A Louisville, where he was 1-4 with a 2.81 ERA in 36 games. Opposing batters hit .219 against him.
David Murphy, Daily News Staff Writer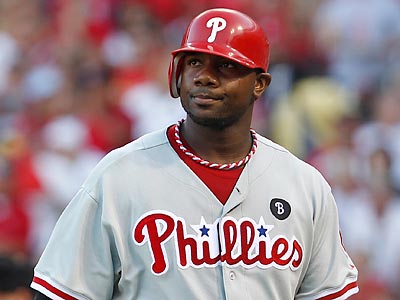 Now that Prince Fielder has landed in Detroit and Albert Pujols in Anaheim and Adrian Gonzalez in Boston, one thing has become unmistakably clear: one way or another, the Phillies erred in their management of Ryan Howard's service time and salary.
Heading into 2012, the Phillies can only hope that their decision-making on the back end of Howard's career proves wiser than it did on the front-end. But that is very much up in the air, and has been since April of 2010, when they signed the slugger to a five-year, $125 million extension that begins this season.
I have little doubt that Ruben Amaro Jr. meant what he said when he told Rich Hofmann that he views Howard's contract as a positive in light of Fielder's nine-year, $214 million deal with the Tigers and Pujols' 10-year, $254 million pact with the Angels.
Philly.com Sports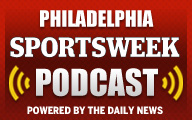 The Eagles finished with eight wins. The Phillies finished with 102. But who was the bigger disappointment? And, more importantly, what does each team need to do to make 2012 a year of fulfilled expectations?
Daily News writers David Murphy and Rich Hofmann tackle both questions in full detail in the first episode of our new weekly sports talk show, The SportsWeek Podcast, available to stream or download in mp3 format below.
Among the highlights of this week's hour-long episode:



Daily News staff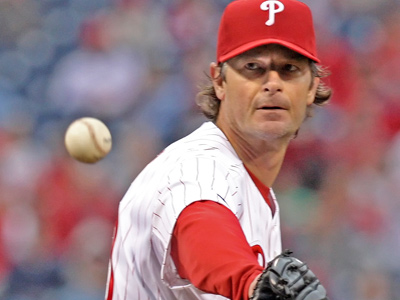 Jamie Moyer has accepted a minor league contract from the Colorado Rockies, pending a physical the team announced tonight. The deal includes an invitation to big-league spring training.
"We think (he's the ultimate pro)," general manager Dan O'Dowd told the Denver Post. "If he can still get people out will be the question."
Moyer, who turned 49 in November, spent the last 4 1/2 of his 24 major league seasons with the Phillies. Moyer, 267-204 lifetime with a 4.24 ERA, was 56-40 for the Phillies, including 16-7 when they won the World Series in 2008.
Philly.com Sports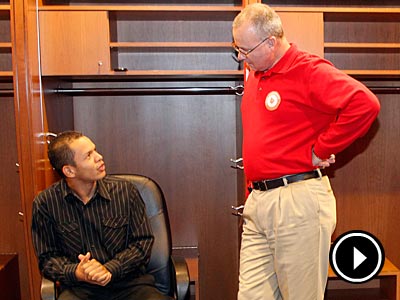 Video: Ten of the Philadelphia Phillies' top prospects received media training on Wednesday including Phillippe Aumont and Trevor May. Marcus Hayes of the Daily News reports.
---
Daily News staff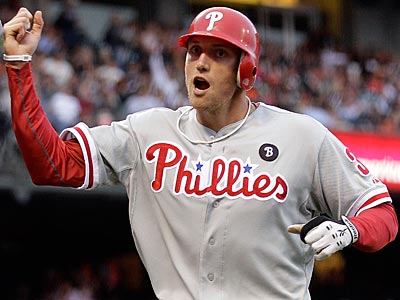 Calling the 2011 Phillies "one of the greatest teams ever assembled to not win the World Series," outfielder Hunter Pence says the 2012 edition will have a hunger to take care of unfinished business.
"I'm getting ready every day," Pence said during an interview on WIP. "We have a lot of unfinished business to do this year. It can't get here soon enough. I think a lot of us are looking forward to this year."
He also used the phrase "World Series or bust" in describing the mood of the team as the countdown to spring training continues.